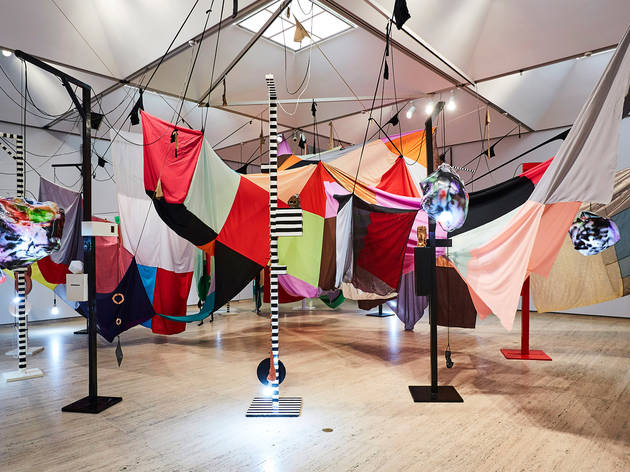 1/5
Photograph: Jessica Maurer
Mikala Dwyer 'Square cloud compound' (2010) at AGNSW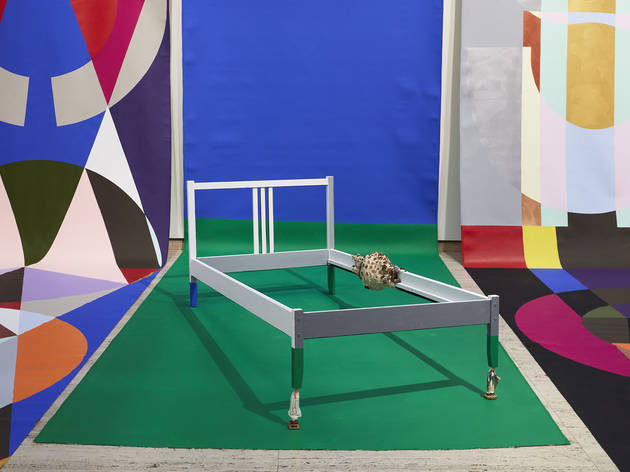 2/5
Photograph: Mim Stirling
Installation view: Mikala Dwyer at Art Gallery of NSW, feat 'The letterbox Marys' (2017)
3/5
Photograph: Mim Stirling
'A weight of space' (2017)
4/5
Photograph: Mim Stirling
'Divisions and subtractions' (2017) – detail
5/5
Photograph: Mim Stirling
'The silvering' (2017)
Over four galleries, this exhibition offers a thorough overview of the Sydney artist's playful, colourful and sometimes enigmatic work
When it comes to art that's 'fun' it's hard to go past Mikala Dwyer. The Sydney local has been bewildering audiences for over three decades with playful installations that imbue ordinary objects with an edge of the occult, while still keeping a sense of childlike innocence.
Dwyer's latest exhibition, A Shape of Thought, expands on many of her go-to visual ploys (hello silver balloons) to explore themes including childhood, shelter and our relationships – between ourselves and with objects.
Dwyer has been given a long leash in this instance, with four of the Art Gallery of NSW's contemporary galleries in which to unleash her playful modernist style. Walking through the rooms is a tour of Dwyer's creative practice: in one space you'll be met with a childlike yet mildly unnerving circular gathering of sculptures; in another you're encompassed in the reassuring and colourful fabric folds of Dwyer's suspended "cubbyhouse".