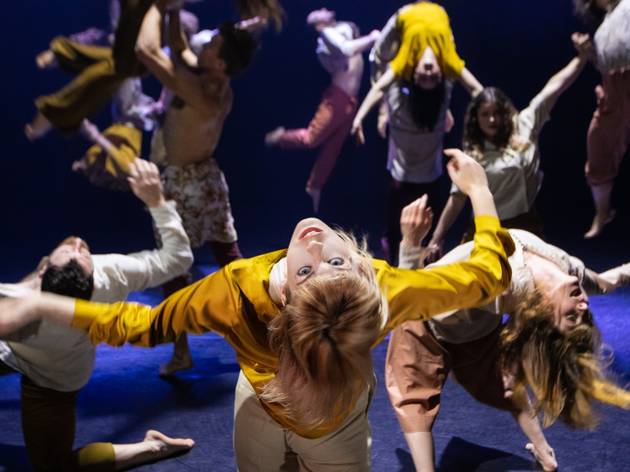 It's gonna be a mighty all-Australian Sydney Festival this year
Here's our insider's guide to the the 2021 program
You'd be forgiven for thinking this year might have been a bit stressful for Sydney Festival artistic director Wesley Enoch. For is last hurrah in the top gig before Olivia Ansell steps in to program 2022, he had to deal with the minor inconvenience of a city in lockdown and international borders sealed until goodness knows when.
Truth is, the eternally effervescent Noonuccal Nuugim man kinda took in his stride. "I've always found moving on to be very positive anyway," he says. "What I found is during this period is focusing on: what do you value? What do you think's important?"
Providing a platform for Australian and particularly First Nations work has always been a bedrock of what Enoch does. Pivoting to homegrown is in his blood, and Sydney Festival has commissioned 39 works for 2021, only a teeny haircut off 45 this year. "Even more importantly, we're spending close to $6 million, and it's all going to Australians, and that's really important to Australian artists, who've done it so tough."
Embracing the new normal, there will be a brand-new hub: a purpose-built stage called the Headlands in Barangaroo, with the stunning backdrop of the Harbour Bridge playing host to a satellite of stars including Katie Noonan, Paul Capsis and iOTA, Bangarra Dance Theatre, Sydney Symphony Orchestra and circus superstars Gravity and Other Myths. With shows running from Jan 6-25, tickets will be a super-affordable $25.
"Lockdown has taught us new lessons," Enoch says. "How do we look after each other? How do we value the people? Barangaroo is this notion of a gift to Sydney, saying here, here are these big shows, here's Katie Noonan. And sure, it's got to be socially distanced, but in the outdoors, people feel safer."
There will also be a free livestream of all shows, so even if you're broke, you can party on at Headlands. "Our instinct was to make the live shows free and the advice given to us is, actually, if you make it free, people will book in, and then choose whether they're going to come or not. There's something extra about the live experience, but we just want to make it a free gift and provide access as well."
Looking back to the very first Sydney Festival presented by Stephen Hall, Enoch notes his predecessor said it was a for the people of Sydney. "It's for us first, how we celebrate our own city. With twin problems of the lockout laws and then lockdown, people have got out of the habit a little bit of going out. So how do we encourage people? Our Allowed and Local program is all about celebrating live music in venues again."
That takes over treasured venues from the Lansdowne to the Factory Theatre, presenting stars like Christine Anu, Urthboy, Emily Wurramara, Ngaiire and more. And Enoch is particularly proud of his expansive Blak Out program, which features a host of exciting First Nations voices.
"Once you get 12 or more, you start to lift up away from representation, and you get a sense of the diversity of voices," Enoch says. "The more diversity, the stronger the program is. So Blak Out for me is saying, look at all the different ways of telling stories, and all the different cultural perspectives. And that's a really important part of how Australians get to accept and understand the power of First Nations voices."
Tick off your Sydney bucket list
We've picked out 50 things to do in Sydney at least once, from kayaking on the harbour and cocktails with a view to our favourite weekly markets.
Best selling Time Out Offers