Tjungu Palya: As We Come Together We Stand Strong For Our Story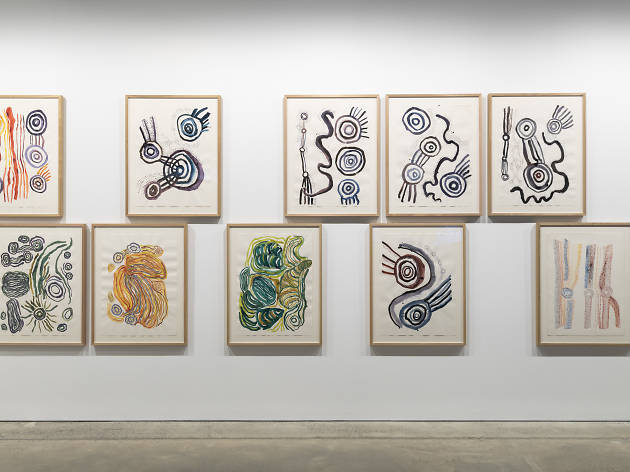 Time Out says
See artworks from a leading Aboriginal art centre at this free exhibition
Tjungu Palya is an Aboriginal-owned and run art centre in South Australia, around 450 km south-west of Alice Springs at the base of the Mann Ranges. Given that it's situated in the Nyapari community, of which there are only around 85 members, it's a significant and influential force in Australian art.
This exhibition from the centre is two years in the making and is taking place across both Artbank in Sydney and Melbourne. If you've not heard of Artbank, it's an Australian government initiative that purchases works from contemporary Australian artists and rents them to the public. But they also throw some wonderful exhibitions to show their own collection.
This exhibition, the full title of which is Tjungu Palyangku Tjukurpa titutjara kunpu ngaranytja-ku: As we come together we stand strong for our story, tells Tjukurpa (sacred stories) through painting, drawing and performance. There are 12 artists displaying work: Teresa Baker, Maringka Baker, Kani Tunkin Baker, Ruth Fatt, Kunmanara (Wipana) Jimmy, Beryl Jimmy, Imitjala Pollard, Keith Stevens, Bernard Tjalkuri and Ginger Wikilyiri.
Details