Under the Sun: Reimagining Max Dupain's Sunbaker
1/7
Photograph: Michael Waite
Julie Rrap 'Speechless', 2017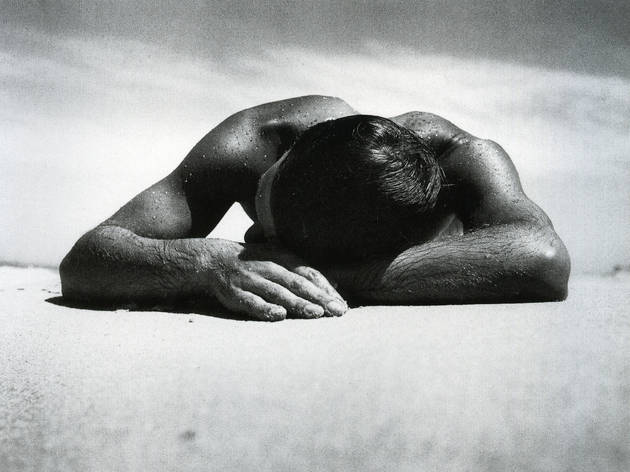 2/7
Max Dupain 'The Sunbaker', 1937 (image cropped)
3/7
Photograph: Michael Waite
4/7
L-R: Christian Thompson 'This Brutal World', 2017; Angelia Tiatia 'Dark Light'
5/7
Photograph: Michael Waite
Peta Clancy 'Fissures in Time' series, 2017
6/7
Photograph: Michael Waite
Khaled Sabsabi '229', 2017
7/7
Michaela Gleave 'Under One Sun', 2017
Fifteen Australian artists respond to an iconic image in this exhibition of provocative new work curated by the Australian Centre for Photography
Curator Claire Monneraye, of the Australian Centre for Photography, describes Under the Sun as "very much about how we represent national identity – and the whole point is there isn't one way. A multiplicity of voices informs that identity."
The exhibition is the result of an ambitious curatorial vision: 15 Australian artists from diverse cultural backgrounds and artistic practices were invited to make new works responding to Max Dupain's photograph 'Sunbaker' ­– now iconic as a badge of Australian identity – for its 80th anniversary.
The resulting exhibition is a wide-ranging investigation into Australian history, cultural identity, national myths, and the medium of photography.
Angela Tiatia inverts just about every aspect of Dupain's work in a striking image of herself, reclining naked in a tropical grove under a chandelier – breaking a cultural taboo to reveal the Samoan familial tattoos on her legs.
Michaela Gleave takes the 'Sunbaker' as the quintessential representation of 'White Australia' and responds with a work about colonisation. Inspired by colonial-era systems of navigation, her 63 silver gelatin prints show the position of the planets at the time of every significant massacre of Australia's indigenous population since Cook's first contact.
Peta Clancy also focused on sites of Indigenous massacres, specifically in her home state of Victoria – some of them places she had visited often and thought she knew, but had hidden histories. "She wanted to draw attention to the landscape and our relationship to sites of trauma," says Monneraye.
Clancy's landscape photographs look unreal – for good reason. To complete each one, she took large format photographs of a particular landscape, then returned with large prints and installed them in the same landscape, on frameworks, but sliced through. The final image is a photograph of the photograph as well as the landscape itself. The effect is an unsettling layering of 'real' and 'imagined' landscape, and time. "It's very much about scarring the landscape, and then trying to reconstruct it," says the curator.

Elsewhere over the three rooms, various artists explore environmental issues, body politics, gender politics, and our relationship to photographs.
Only a handful of the artists identify as 'photographers', and the works range from sculpture to performative videos and photographs and multi-channel installations. "It's a really important project for ACP, in terms of looking at the history of photography and the diversity of the medium now – and challenging how we think about it."
Under the Sun features new work by Peta Clancy, Christopher Day, Destiny Deacon, Michaela Gleave, Nasim Nasr, Sara Oscar, Julie Rrap, Khaled Sabsabi, Yhonnie Scarce, Christian Thompson, Angela Tiatia, Kawita Vatanajyankur, Daniel Von Sturmer, Justene Williams and William Yang.
Check out our hit list of the best art to see in Sydney in April.