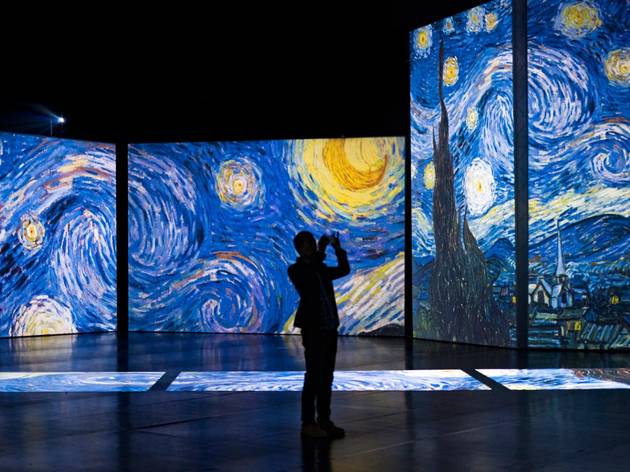 Time Out says
Witness 'The Starry Night' and 'Sunflowers' brought to life with this mind-blowing immersive exhibition
If you were panicking about getting along to see blockbuster immersive exhibition Van Gogh Alive before it closes – like the staggering 200,000 Sydneysiders who've already done so, then you just got a handy extension. The demand is so starry sky high for the Royal Hall of Industries show that brings the Dutch post-impressionist painter's work alive they've added another month. But don't dilly daddle, it must close December 20.
Travelling the world from Rome to Singapore via Berlin and more before touching down in Sydney, locals have adored the sweeping, soaring beauty of works like 'Wheatfield with Crows', 'Vase with Twelve Sunflowers' and 'Starry Night over the Rhone' digitally projected at unimaginable scales. With a combined surface area of more than 30 IMAX screens, the paintings ripple across them like light dappled on the surface of water.
Devised as a multi-sensory experience, the incredible shimmering visuals are accompanied by fragrances designed to place you within the paintings. You can also get in the mood with this beautifully curated Spotify playlist of inspiring classical music. Making the magic of art come alive for all ages, the Van Gogh Alive experience uncovers new angles and amazes afresh. And you can also check out the painstaking process behind the masterpieces thanks to accompanying photograph and video exhibits.
Emma Triggs, founder of M-Live, the brains behind Van Gogh Alive, says it's been emotional for the crowds who've swept into the socially distanced show. "We've had people leave in tears because they're so moved by the experience. It's been such a traumatic year and people turn to the arts in tough times, but there have been no major events to enjoy. Sydneysiders and regional visitors have welcomed the chance to get out and enjoy art ."
Tickets are on sale now, starting from $30. They've been in such high demand, so get in real quick before it's all over just in time for Christmas.
Take to the streets for your art fix now. Here's the best street art in town.
Details