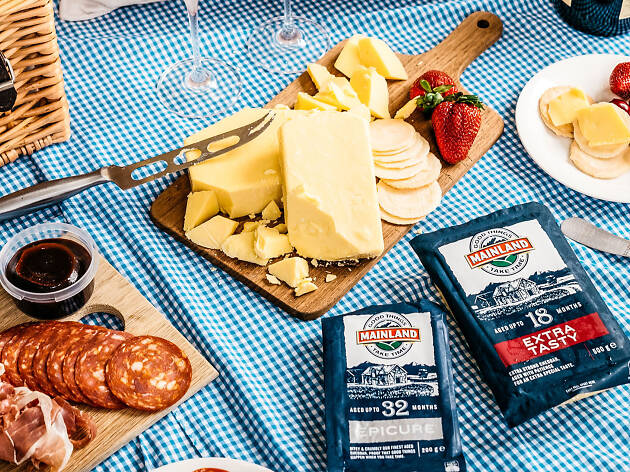 How to pack the perfect picnic with Mainland Cheese
Long summer nights are the perfect occasion for cheese, charcuterie and Champagne
There is an art to packing the perfect picnic. It requires a few choice practical items, quality ingredients and, happily, only enough forethought to have gotten the Champagne into the fridge in time to chill. Make the most of the long summer nights and take your charcuterie and cheese outdoors – because the only thing better than a cheese plate for dinner is an alfresco cheese plate with all the trimmings.
If you're thinking cheddar, then you'll be wanting to check out the the Mainland Aged Cheddar range: Epicure, Vintage, Extra Tasty and Tasty. This cheddar is aged longer (from 12 months up to 32 months) for a sharper, bolder flavour and a pleasing crumbly texture.
We've broken down the essential packing list for a picnic into five simple steps to ensure you take every opportunity to make the most of our beautiful weather...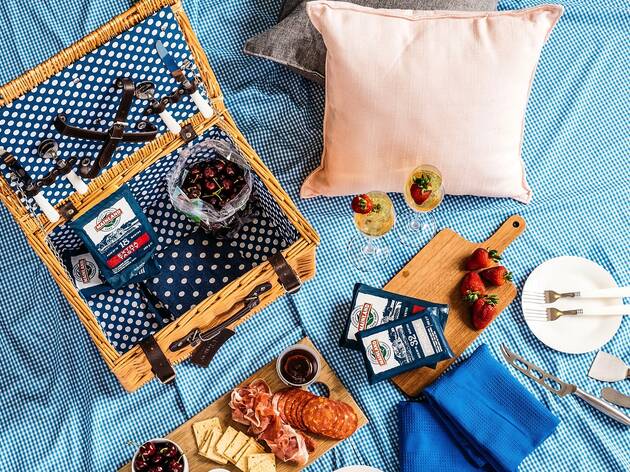 Photograph: Arianna Leggiero
If you don't have a dedicated picnic set, don't worry. The essential building blocks for a successful picnic are all things you can find at home. A blanket to sit on is key, as is a basket to make transporting your evening repast a snack. Next you will require something to present your ingredients on: don't forget the cheeseboard. A knife is critical, but we recommend you pack more than one to allow a dedicated cheese knife in addition to condiment spreading. Ramekins or little serving dishes allow you to serve the perfect amount of your sides, be they pickles, preserves or chutneys, and a napkin is always handy in case of spills. But to really elevate your picnic experience it's the Champagne flutes that mark your preparation as a cut above.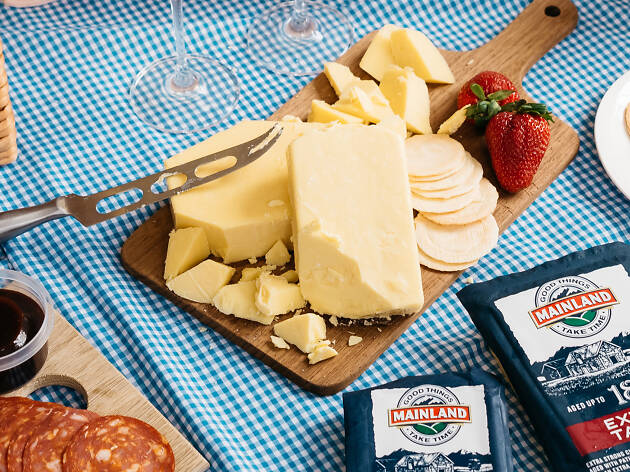 Photograph: Arianna Leggiero
Not all cheeses are suited for picnicking. You need something that ticks all the boxes and travels well; a people pleaser that goes with all the tasty tidbits in your basket; and importantly, something that provides the rich, savoury mouthfeel that only a good cheddar can provide. If you prefer a creamier texture but still want that extra strong aged flavour, Mainland's Extra Tasty Cheddar is the way to go. This cheese is from the special reserve and is aged up to 18 months to ensure you get a strong flavour. Of course, if you like even more oomph on the palate, the Epicure Cheddar is the ticket. It's aged up to 32 months for that that distinct crumbly texture and a rich flavour that is exactly what you need to counter the sharpness of a pickle, a spicy chutney or balance the sweetness of a fruit paste.
Photograph: Arianna Leggiero
It's not always possible to have fresh baked bread in the house, but a packet of quality crackers is an essential pantry item. It means at a moment's notice you can turn your cheese and biccies into an occasion, out on the lawn, under a tree or in front of a beautiful view. A water cracker is a good catch-all, but to really upgrade your basket go for a more robust vehicle for your cheddar, like lavosh. Those crisp flatbreads provide the structure for the perfect combination of a mature cheddar, meat, and accompaniments. Prosciutto's sweet nuttiness blends seamlessly with a strong, savoury cheese like the Epicure, and a slice of garlic-spike salami is tempered by the slightly gentler Extra Tasty. Coppa is a great compromise between salami's size and prosciutto's flavour, but if you prefer beef to pork, make sure you include some bresaola in the mix, the umami of the meat find a perfect echo in cheddar's natural savouriness.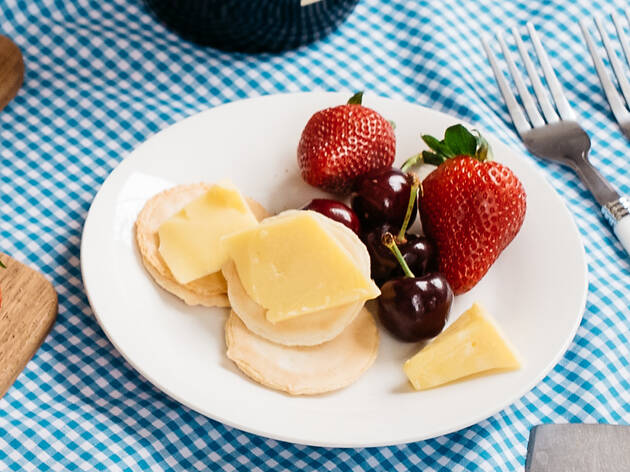 Photograph: Arianna Leggiero
You want a symphony of flavours and textures so that no one element dominates. Texture, flavour, sweetness, acid, and heat are all important elements in making your picnic come alive. Slices of fresh fruit, such as Granny Smith apples, red grapes and pear reset the palate for another serve of cheese and meats. The salt of pickles and olives balances cheese's natural richness, and the acid in a pickled onion cleanses the palate for round two. A strong flavoured cheese like a mature cheddar has enough body and presence to match a spiced chutney, but cheese's natural umami qualities also shine when paired with a sweet contrast like a classic quince paste.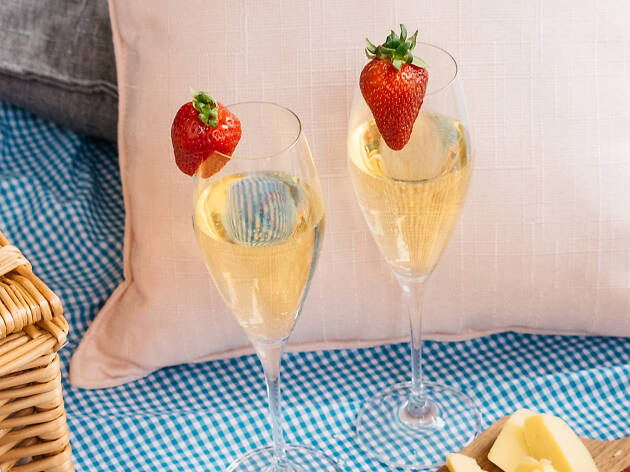 Photograph: Arianna Leggiero
Last but not least, a chilled bottle of bubbles is the easiest way to elevate your picnic from everyday to a special occasion. The soft, brioche notes and sweet effervescence of the wine complement the bite of the cheese, and the sweetness will find echoes in your fresh fruit and preserves. Once the cork is popped this is not just an ordinary picnic, but a celebration of simple pleasures and good company. And that's what the perfect picnic is all about at the end of the day.
Now put that knowledge to use...
We've got seven epic suggestions
You're spoiled for choice, really