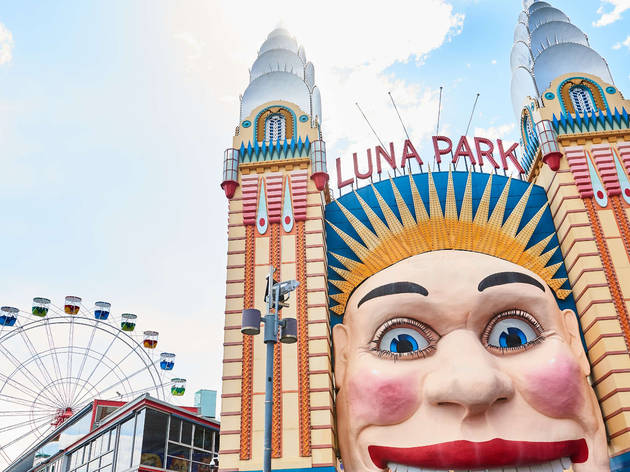 Time Out's ultimate guide to Luna Park
Everything you need to know before you hit Sydney's harbourfront fun park
Good news, thrill-seekers: the toothy gates of Sydney's oldest funfair are set to reopen from July 3, just in time for the school hols. However, the stroll beneath those iconic chompers is just the beginning of your Instagram-worthy day at this harbourside amusement park.
We've saved you heaps of time trawling for details online to give you the ultimate how-to guide for a trip to this land of fun. But first, a history lesson: Luna Park opened in 1935 and has been operating on and off ever since. Today, it's a beloved destination for locals and travellers alike, replete with classic rides, fairy floss and stellar views of Sydney's big blue heart.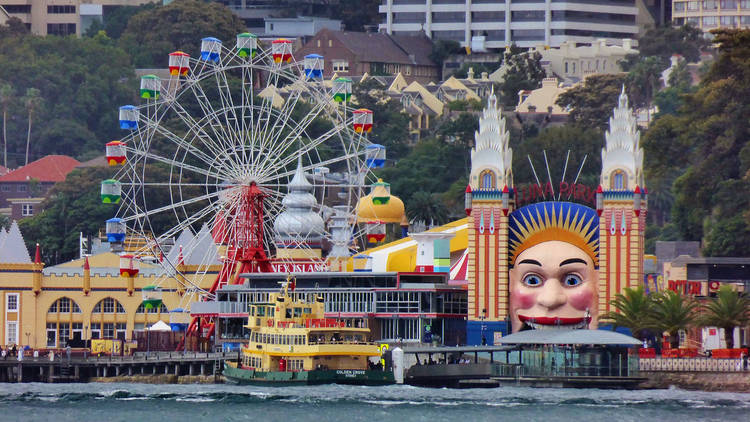 Getting There
If you're driving, there's on-site parking but, as with most of inner-Sydney, that can be quite expensive. Your best option is to get the train or bus to Circular Quay and scoot over the water on a ferry. It's undoubtedly cheaper, and you also get that excitement-building view of the famous Luna Park grin as your boat docks.
Tickets
In these times of physical distancing, Luna Park will be operating in special, limited capacity time slots, Monday to Sunday, in two four-hour sessions from 10am to 2pm and 3pm to 7pm respectively. Tickets must be purchased in advance online and will set you back $50 for four fun-filled hours of unlimited rides, plus one go on the park's sideshow games and $10 worth of eats. To protect the wellbeing of its patrons, Luna Park staff will be temperature checking all riders before the board each amusement, and cleaning protocols will be stepped up to make sure surfaces are regularly disinfected.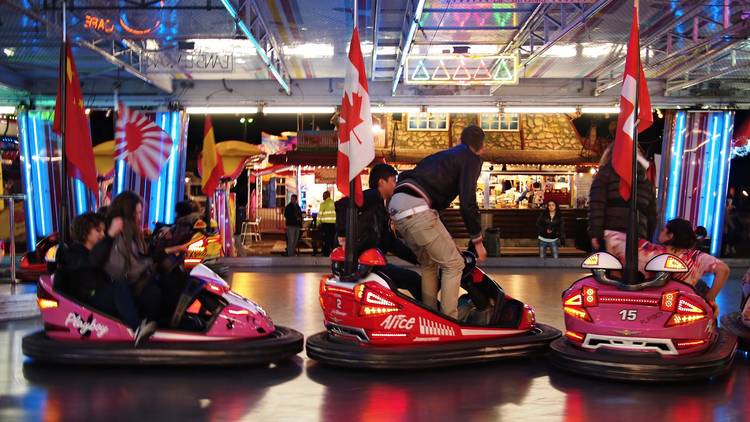 Rides
Luna Park is an old treasure, so it's small in terms of ride selections but big on vintage charm. Before you set-off, a hot tip is to check out the online park map for any maintenance, because of the limited options you'll want to make sure all the best thrills are in action. Each ride's height limitations can also be researched online, so you can gauge how many will be suitable for you and your big or little entourage. The rambunctiousness of the rides has been a point of contention for surrounding residents, and in most recent news approvals for new attractions have been blocked due to noise concerns. Luna Park ploughs on though with a variety of temporary and permanent rides. Here are a few of the classic highlights that don't seem to be going anywhere fast:
The Ferris Wheel is a huge drawcard, all heights and most ages can be spun (slowly) around at 40 metres above the harbour. Impressive day or night, the wheel has both classic charm and hi-tech light additions for the discerning aesthetes and Instagrammers out there.
Wild Mouse is the lil rollercoaster that could. You're rattled around the harbour front and beyond in a miniature buggy that only seats four on a wild and winding wooden track. Wild Mouse is actually designed to make you feel like the cart will fall off, so if you like your rollercoasters with a side of tangible doom this is the rickety choice for you.
Coney Island is a highlight for many visitors to Luna Park. It's a huge indoor wonderland of spinning and undulating weirdness and is presented in a beautifully preserved condition, retaining much of the same attractions as when the park first opened in the 1930s. You can also pay to enter Coney Island, which is seperate to the rest of the park, and spend as much time as you want on the wobbling Turkey Trot, steep slippery dips, or softly challenging Joy Wheel.
Hair Raiser offers a rare combo of breathtakingly beautiful views and terrifying free-fall drops. This 50-meter monster lofts passengers to the top of a tower, providing stunning panoramic views of Sydney Harbour. Be sure to drink in the scene before you plunge at terminal velocity towards the ground. Fortunately, well-timed breaks will slow you to a less death-inducing speed just before impact.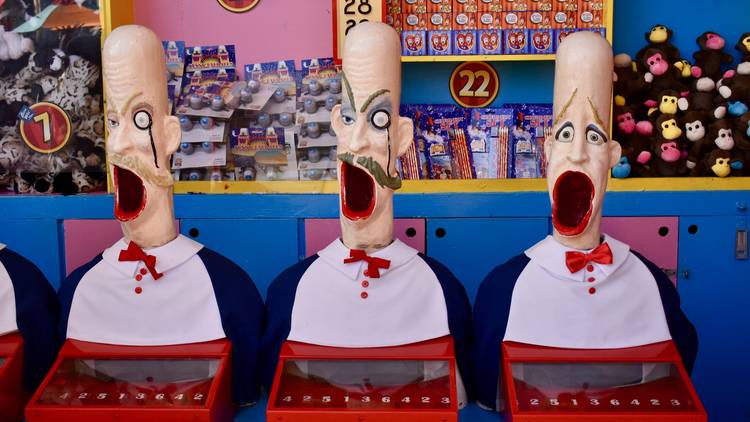 Games
Sideshow alley has all the knock 'em down, shoot 'em up action you could want from a truncated carnival games experience. The prizes are slicker than your average regional fair, with legit movie franchise plushies and covetable character toys. There are the classic open-mouthed clowns to force feed, as well as some grotesque 'Crazy Crooners' whose open gobs beckon you to try your luck. Smaller participants can have a go at the gentler fishing game or 'Freckle's Pull a String' for guaranteed reward or tinder dates can crystallise their chemistry with a robust throwing game or the omnipresent striking-weight game.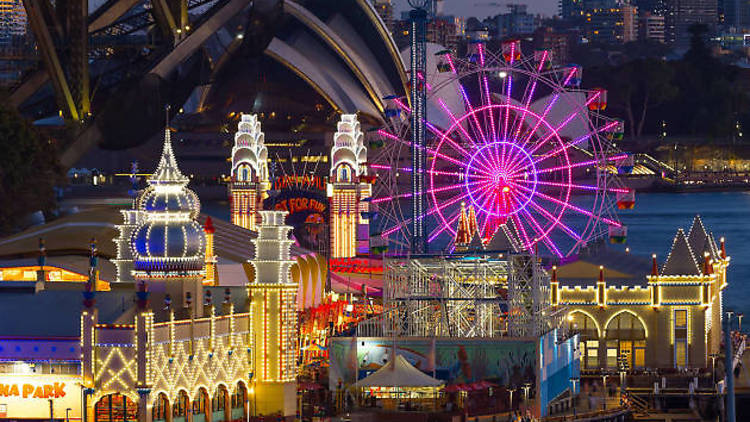 Food and drink
There are quite a few dining options at Luna Park and most of them are exactly as you'd expect – burgers, fairy floss, and other deep-fried delights. The park has the Hungry Horse, a carousel themed diner that serves up nachos, pulled beef po boy, tacos and more classic diner options. If you prefer your lunch on the go, hotdogs can be procured from Helter Skelter, the resident retro kiosk. Or, just skip "real" meals altogether and get a cone laden with a spectrum of colourful scoops or a towering cloud of fairy floss. Bring on that sugar high.
The best of the rest of Sydney's top attractions
Just because they're popular doesn't make them tacky... These tried-and-tested tourist attractions around Sydney range from thrill seeking adventures to scenic tours of our city's peaceful gardens and parks.