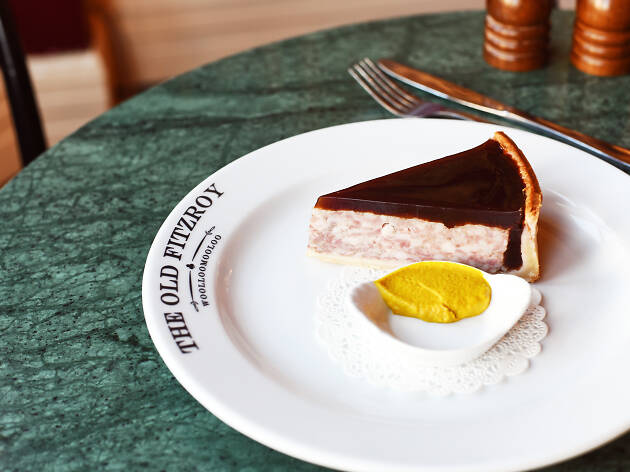 Best Bar Food: Time Out Bar Awards 2020
A chef with fine-dining chops riffs on Australian and British pub traditions in a 160-year-old watering hole
Winner: The Old Fitzroy Hotel
A gig in a run-down kitchen in a run-down pub in Woolloomooloo mightn't have been most chefs' idea of a solid career move, especially if they'd called the upper echelons of fine dining home for the better part of a decade. But where others saw holes in the ceiling and stains in the corners, Nicholas Hill saw opportunity. Where some might have tried to dazzle the locals with the kitchen wizardry of immersion circulators and espuma guns, he saw the merits in good old-fashioned cooking that kept flavour front of mind and wasn't too bad served with a schooner. You know, pub food.
'Schnitzel, steak, Sunday roast' reads the menu, but understatement is the MO. Hill's schnitty, a thin hubcap-like thing, is coated in a crumb seasoned with shio kombu-spiked chicken salt. His steak special might be dry-aged dairy cow served with a pot of dripping- and anchovy-infused butter. Oof. His Sunday roast? Rare beef served with horseradish cream in a ramekin fashioned from a marrow bone.
More impressive is Hill's ability, on the carte and on a changing chalkboard of specials, to weave British and Australian traditions together in a way that still feels completely at ease in a pub with a 160-year history. So there's the very St John prospect of toast fried in dripping being topped with raw beef tossed with horseradish and chives, or Branston-pickle jelly capping off a pork pie tart. Then on the flip side, there's the rissole sandwich.
The chip butty that sometimes graces the specials board is plenty English, but it equally conjures memories of the chips and sliced white that came with the five-dollar plate of sausages, peas and onion gravy at the old Oceanic Café in Surry Hills. The Chicken Kiev fritter, meanwhile, a boned-out leg filled with garlic butter, then crumbed and fried, recalls the frozen variety Grandma Norma might have warmed in the oven for Wednesday night family dinner, with a polite claw stuck out as a handle. Doilies mandatory, of course.
Hill's cooking is proper cooking, one based on flaky pastry, good terrines, sharp salads and mother sauces taken a step further. It's also drinking food. There's still Guinness on tap, but a pint of Grifter's oatmeal stout makes an equally hearty accompaniment to a steadying veal and trotter pie. New England Brewing's Citrus IPA, meanwhile, is a refreshing partner for a peel-it-yourself artichoke or a wedge of roasted cauliflower-and-cheese tart. A blackboard of fancier natural wines on top of a straight-up list that stays mostly under 50 bucks gives the interested drinker even wider scope.
And that's the key to the Fitz. For those who want to explore the outer reaches of pub cooking, there's opportunity aplenty. Those who just want to play darts, eat a schnitzel, shoot the breeze with locals out front and maybe catch a play at the downstairs theatre are covered, too. Hill's is a menu for all occasions and all comers, with a strong pub spirit at the core. Here's to the next 160 years.
Best selling Time Out Offers