Cabrones Taqueria Pop-up at the Marly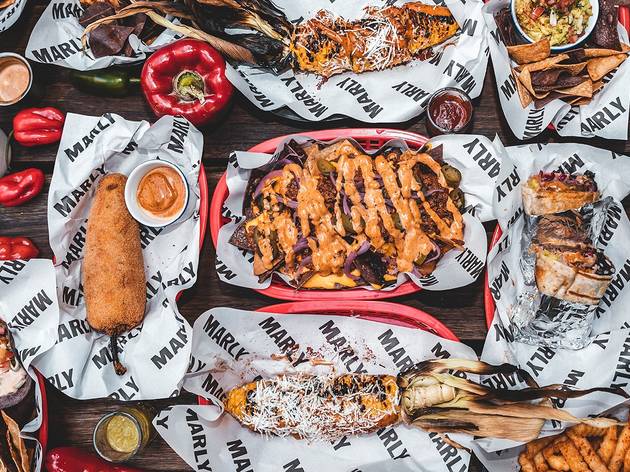 1/2
Photograph: Supplied/the Marly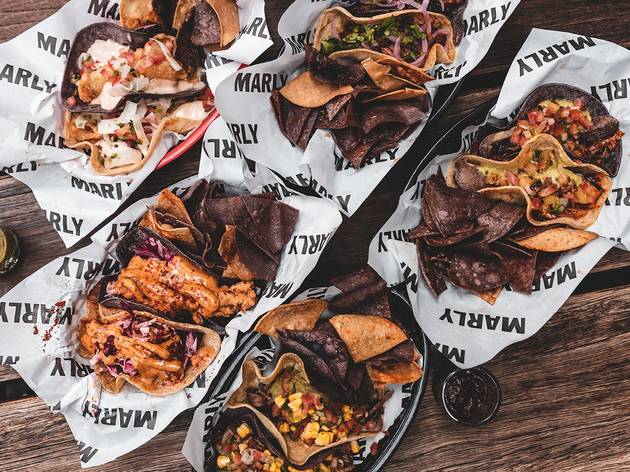 2/2
Photograph: Supplied/the Marly
Time Out says
This pop-up by Hashtag Burgers brings southern fried chicken tacos to the Marlborough Hotel
Everybody likes a taco, there's just something about them. Maybe it's the way you can hold it in one hand, or the way they can be stacked with the perfect balance of flavours. While not all tacos are created equal, we're willing to bet the new pop-up restaurant launching Thursday, October 1, at the Marly in Newtown is dishing out some of the best you'll find on this side of the globe.
Hashtag Burgers, the name behind the infamous Nameless Bar and Sydney's OTT burger festival Burgapalooza, has teamed up with Mexican-born chef Juan Carlos to create Cabrones Taqueria. Carlos knows his way around crafting a menu: he was the head chef behind the modern Mexican menu at Sonora in Potts Point, and has held the position of sous chef at the highly regarded Three Blue Ducks in Rosebery. The selections at Cabrones Taqueria will combine Carlos's authentic flair with western twists to create the ultimate pub grub.
There are five base tacos on the menu, featuring a mix of authentic flavours – like barbacoa lamb, slow cooked in five chilies – and less authentic flavours – like southern fried chicken served with sweet and spicy morita mayo, or beer battered fish served with cucumber, fennel and mint pico de gallo, and hot tamarind sauce. Hashtag Burgers will also be putting a distinctive twist on the weekly specials, with taco flavours coming up inspired by meat lover's pizza and the big mac. Pick and mix your favourite flavours, there two for $15 or three for $20.
While tacos are the star of the show, they're not the only things on the menu. There's also loaded nachos and fries with chilli con carne or chilli con 'veg' and housemade blue corn chips; huge, deep-fried bullhorn poppers stuffed with three cheeses; and whole cobs of chargrilled corn to sink your teeth into. There'll be new additions to the menu over the coming weeks too, so look out for spicy chicken wings and chimichangas. The Marly is celebrating the fiesta by adding frozen Margaritas to its already enormous drinks offering – bottoms up.
Cabrones Taqueria is popping up six days a week for six weeks, with room to hang around a little longer if the demand is there. You can get down for your taco fix on Tuesdays and Wednesdays from 5-10pm, and from Thursday to Sunday between the hours of noon-3pm and 5-10pm.
Details
Dates And Times