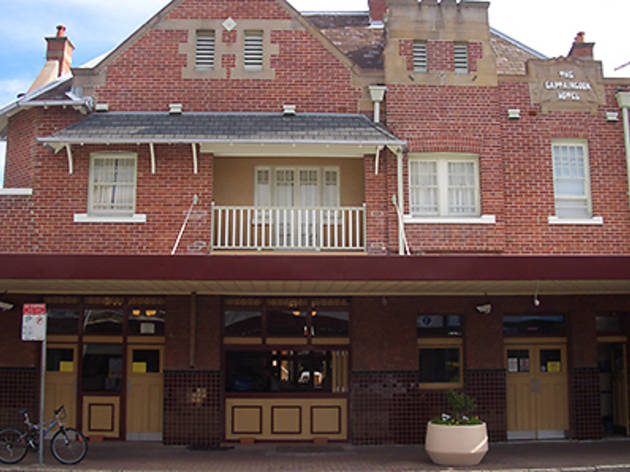 Fair warning before you hit up this pub just a schooey's throw from the ever-expanding Port Botany: this is Rabbitohs territory and this is wharfies territory. And if you can't tell both those things by the amount of high-vis and red-and-green jerseys in the room, you will know it on a game night by the number of expletives that erupt with every "no try" decision. Which is all to say that if you're a delicate, craft-beer-swilling, lover of the world game, you might want to come mid-week. Not that the Captain Cook Hotel doesn't offer some very good frothy craft thrills. At the large island bar that centres the pub, they're serving three beers from the Rocks Brewing Company (we go for a malty, deep crimson Boxer red ale) and they're serving them affordably: $6.30 a schooner. The Captain Cook is the kind of place where they fill your wine glass to the brim and the portions from the bistro – order at the window in the small courtyard – are mammoth. Why have one big puck of chicken schnitzel when you can have two? Our generous rump steak, by the by, is perfectly cooked and only $15. (Side note: we're always curious about a pub menu with a section called 'slow-cooked' that features beef cheeks, butter chicken and Chinese soy pork belly.) One of the few pubs in the area to have escaped a soulless '90s makeover, there's a charming fustiness about the place: the red brick walls, daggy flowery carpet, gorgeous old wooden bar… If you can take a bit of rowdiness, and the glare of a TAB room, it's one of your best bets in the southeast.
Venue name:
Captain Cook Hotel - Botany
Contact:
Address:
1114 Botany Rd
Botany
2019

Opening hours:
Mon-Sat 7am-midnight; Sun 10am-midnight
Do you own this business?
You may be interested in: