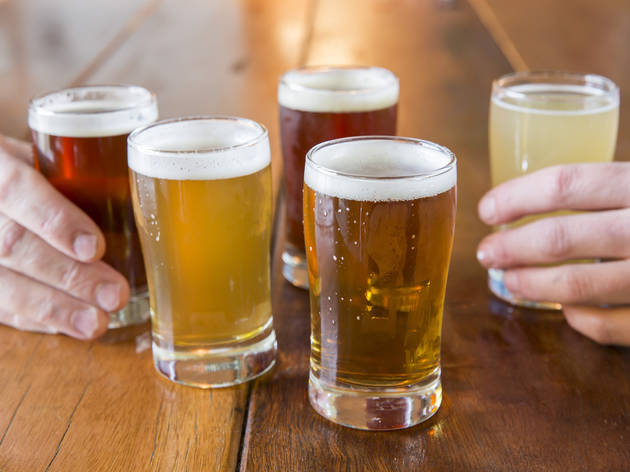 Fancy a flutter? Every sporting event you can think of is available on the big screens here and they have a bistro menu that stretches from breakfast through to late night snacks so you are all sorted for game day.
Venue name:
Churchills Sports Bar
Contact:
Address:
532 Anzac Pde
Kingsford
2032

Opening hours:
Sun - Thu 7am-4am; Fri & Sat 7am - 6am
You may be interested in:
Rating Breakdown
5 star:

1

4 star:

0

3 star:

0

2 star:

0

1 star:

1
Worst bar service in my life. To start with I am a bartender, so I know what to expect. This guy was a horrible person, has no business in hospitality. I asked about Keno and first he told me I could choose a 50/50 bet, (lie). he then continued asking me if I would place a bet and suggesting I should (illegal), he finally told me it was not 50/50 however this had been after he'd continuously asked me if I would place a bet and continued to make me feel pressured (I think he just wanted to see people lose money). I did not like him, he was rude and providing terrible customer service. I did not speak to him for a while, then after-woulds I was considering buying some instant noodles, I asked what flavors they had, his reply "lots, will you buy some?" I said "maybe" he asked me to leave the bar because I was "annoying" him. Worst bar service I ever had from a bartender. He was 6' something, had light brown hair, working in the gaming room at 3 am on the 4th of November, he had what appeared to be a round black earring, almost like a stretcher trainer (though not a stretcher *I THINK*, just a thick earring maybe 6mm thick) very bad attitude, wearing all black uniform, Caucasian with no accent. He encouraged me to gamble and purposefully made me feel valueless because I wasn't. Was very rude and treats like you are nothing. Worst service from a bartender EVER. I will never go back to the Churchill sports bar in Kingsford as long as I live. Cocky, rude and no future for this bum ever yet he still thinks he is the bees knees. Security at Churchill instantly back this loser up even though I don't think they wanted to so he can kick people from the bar for "annoying" him. Please everyone avoid Churchill Sports bar in Kingsford, NSW, 2032 if you want to have a good night!
been here couple of times its a good to place to relax, chill out with a good american style food and drinks, very reasonably priced. also have a great beer and meal combos, wednesdays newyork steak and prawns with beer for $15 was very good. plenty of sports as well. best sports bar around Sydney.