[Sponsored] Kick off Dry July with a free non-alcoholic drink at one of Sydney's best bars
There's no denying we love a warming evening drink or a Friday afternoon tipple, but at some point we've got to give our livers a break. July is the season to go cold turkey, with many Sydneysiders going without their dancing and giggling fuel for the month.
But this doesn't mean you have to be confined to your living quarters. Seedlip – a non-alcohol spirit defying the laws of distilling – is giving away 500 drinks across 23 of the best bars and restaurants in Sydney and Melbourne this Dry July. Simply redeem your voucher, find your favourite venue on our list, and be rewarded for your healthy efforts with a free non-alcoholic drink. You can enjoy the Seedlip garden and tonic or spice and tonic, or try the house Seedlip cocktail at any of these 16 hot spots around the city.
Photograph: Hollie Adams, Continental Deli Bar Bistro
Continental Deli Bar Bistro
This is more than just a restaurant. At Continental in Newtown, a downstairs deli opens at 11am and becomes a casual bar/restaurant as the later hours creep in, while upstairs there's a bistro for those fancier nights out. Grab your booze-free beverage on either level at any time.
PS40
There is no bar in Sydney embracing the mad craft of cocktail experimentation as whole heartedly as the team at PS40, nor any having as much fun doing it. So let them take on the challenge of making you a delicious non-alcoholic version this Dry July.
This Must Be the Place
Drop in before dinner reservations, after seeing a show, or just because you've got an hour or so to kill – you'll find an excuse. Service is warm, attentive but never overbearing, and they win all the points for the elegant simplicity of their bar snack options – tinned seafood and hot buttered toast. So ask the barkeep to pair a salty snack with your alcohol-free drink.
Jacoby's
This Inner West Tiki bar doesn't take itself too seriously, decked out in glowing fishing floats, dried puffer fish, and flocked banana palm wallpaper. But they make a seriously good drink, and will probably give your free non-alcoholic beverage a fancy name along with plenty of flavour.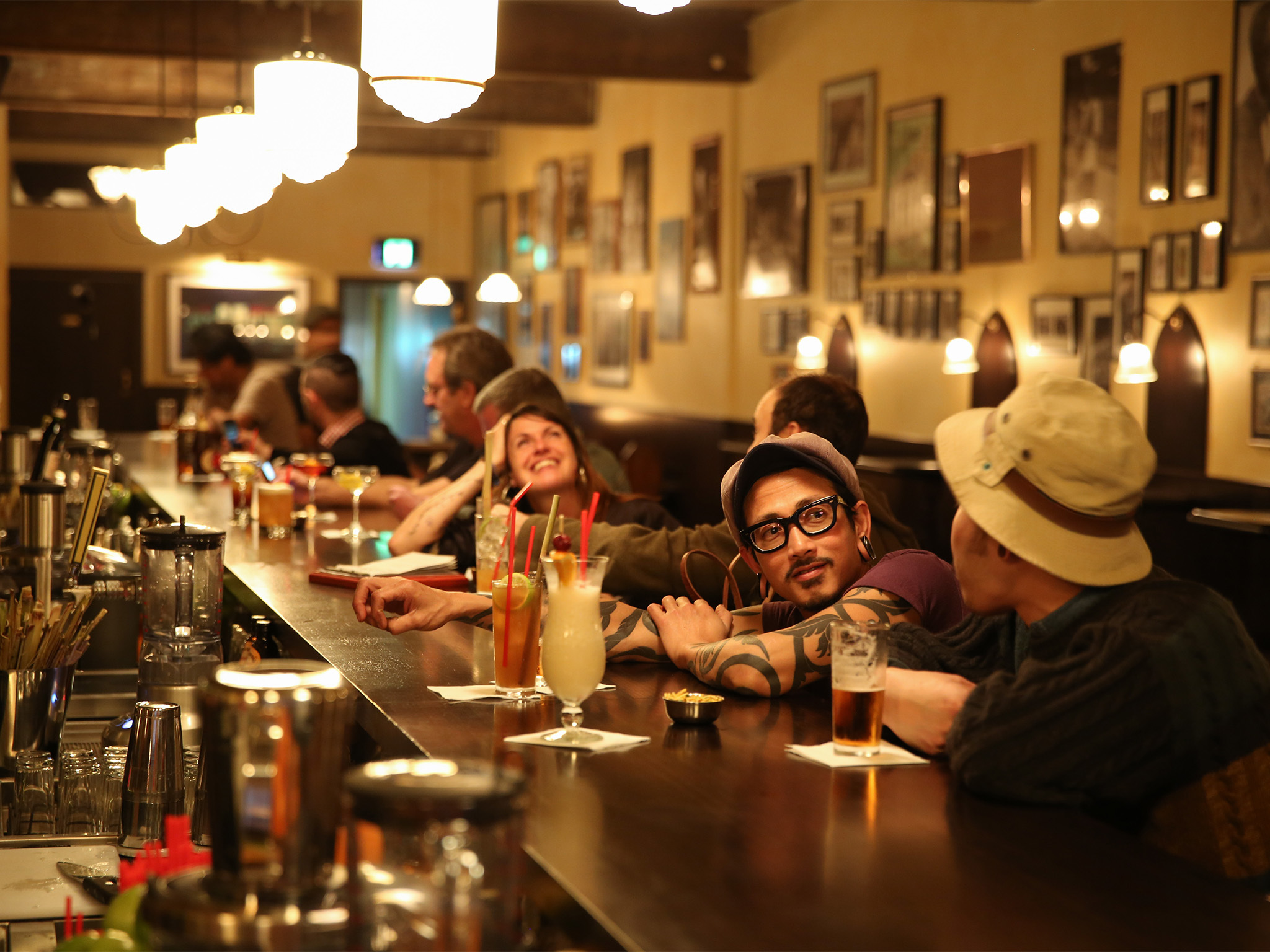 Photograph: Anna Kucera, Earl's Juke Joint
Earl's Juke Joint
Newtown's little slice of New Orleans has one of the best teams behind the bar, who shake and stir drinks to a specialty playlist of '90s hip hop, swampy rock and soulful blues. Dance along with a booze-free drink in hand this July.
Alibi Bar and Dining
Offering a complete vegan spread at the Ovolo Woolloomooloo bar and restaurant, Alibi loves to experiment. Let them loose on your free Dry July drink, and try some vegan cheese while you're at it.
Maybe Frank
This Surry Hills pizzeria pairs beautifully crafted cocktails with some top-notch cheesy crusts – the chefs rest the yeasted dough for up to three days for a pizza that has a smooth, lighter texture than most. Grab a slice and a non-alcoholic beverage this July.
Maybe Frank Randwick
If you couldn't get enough of their doughy creations in Surry Hills, head to the Randwick reincarnation of this popular pizzeria. Enjoy an alcohol-free aperitif with your favourite cheesy slice.
Photograph: Anna Kucera, The Barber Shop
The Barber Shop
Wander through the shopfront and find a cosy speakeasy bar to while away your evenings. Play by the prohibition rules at the Barber Shop with your free Dry July concoction.
Rockpool Bar & Grill
Come for the housemade syrups, sodas and astounding bar food, or head to the stylish dining room for Neil Perry's spectacular dinner. A free liver-friendly drink can be all yours either way.
Bennelong
There are four ways to visit this Opera House eatery: at the restaurant downstairs; the cured and cultured section up a floor; the bar at the top; and, if you're in for a clean $650 per head, the chef's table situated within the stunning, custom-designed kitchen. Each will set you up with a delightful non-alcoholic drink in July.
QT Sydney
For a taste of Inner-City luxury, you can't go past QT Sydney. There are two spots to grab your Dry July refreshment: at the sophisticated Gilt Lounge or with dinner at Gowings Bar and Grill.
Bentley Restaurant and Bar
This seriously schmick wine bar and restaurant is all about inclusivity, offering a full tasting menu for vegans. Approachable bar staff won't turn their noses up at your Dry July campaign, so grab your free drink here.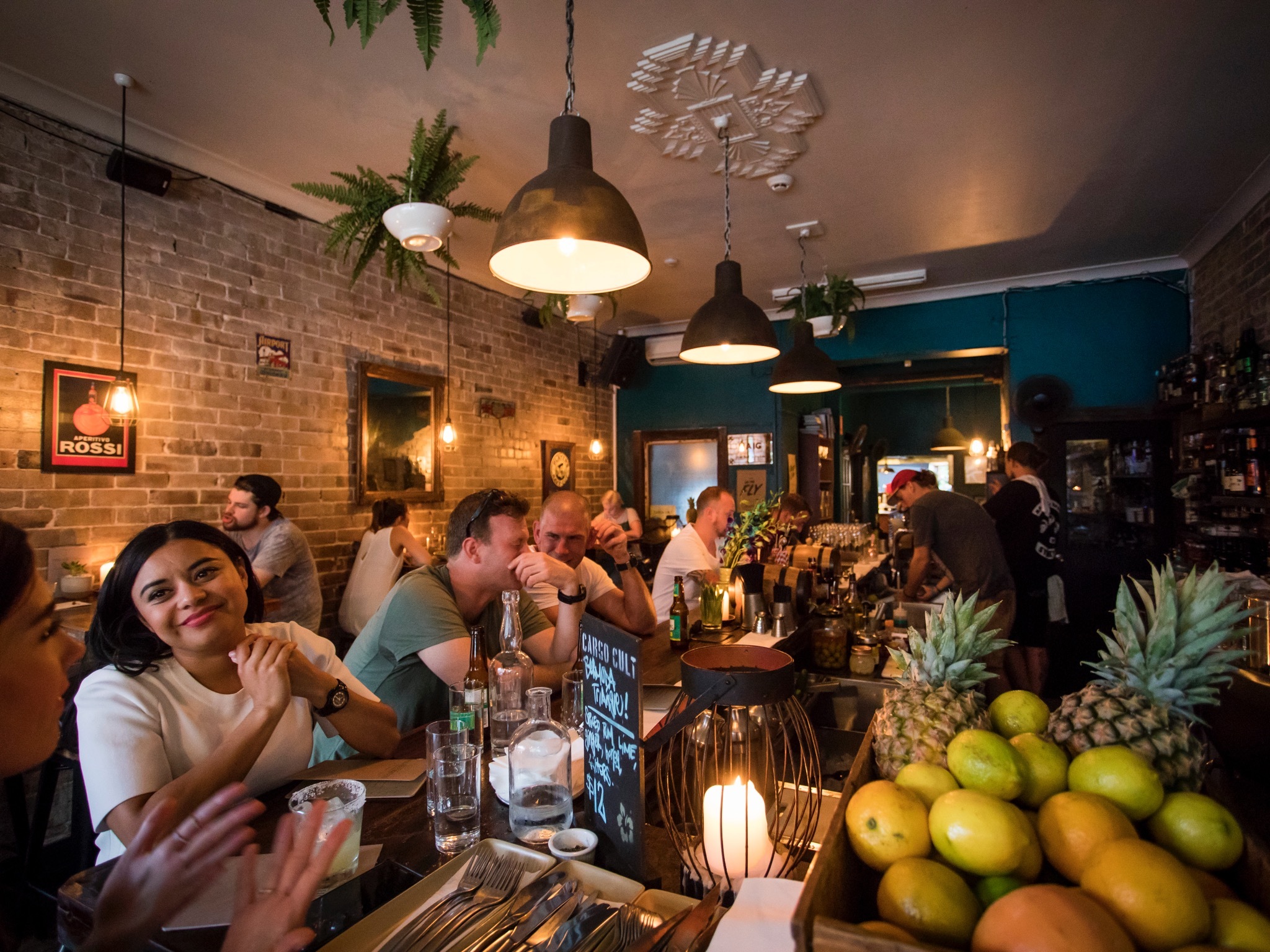 Photograph: Anna Kucera, Neighbourhood – Bondi
Neighbourhood – Bondi
This no-fuss Bondi bar is one of the best reasons to visit this eastern suburb (besides the beach, perhaps). Order a warming mac and cheese with your Dry July drink when you visit.
Annata
Originally intended to be a wine bar, Annata took a different path, opening as a restaurant with a cracking wine list on the Lower North Shore. But you can still find a fabulous booze-free drink here in July.
Door Knock
Wander down two flights of concrete stairs beside a coffee shop on Pitt Street near Hunter and discover a cellar cocktail bar that's equal parts timber ship's hold and fairy bower. Door Knock is another welcome addition to Sydney's hidden bars, and will whip you up a free boozeless drink for Dry July.
---