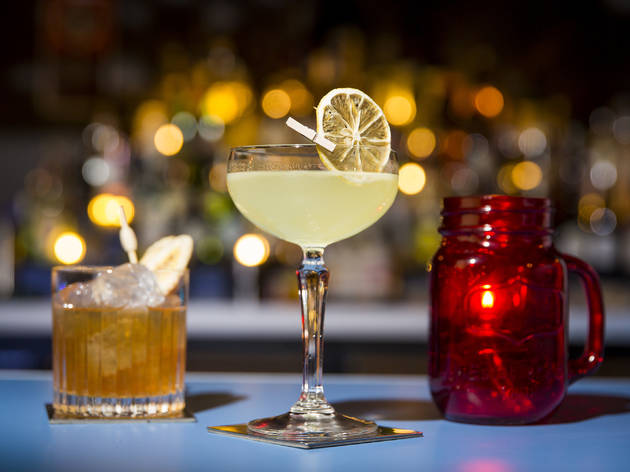 1/11
2/11
3/11
4/11
5/11
6/11
7/11
8/11
9/11
10/11
11/11
Time Out says
Good times come even easier now there's a small bar doing big eats on Clarence Street
There is a loading dock on Clarence Street that is blessed with the best bar karma in Sydney. You can lose whole nights down in the Baxter Inn's whisky cave or across the alley at the Barber Shop, a gin palace serving cocktails and cheeseboards. And now Easy Eight completes this triumvirate of attractive inner-city drinking, and they're bringing ace eats to Sydney's most compact bar crawl.
It's kitted out like an old soul diner, and food is a big part of their appeal. Chef Harry Stockdale-Powell (ex-Marque and Rockpool) has aimed high with a menu that includes a 12-hour smoked brisket, roast chicken, grilled king prawns and a whole smoked pumpkin with goat's cheese – there's a whole lot more than a sandwich press in this bar kitchen.
We're not prone to raving about potatoes, but at Easy Eight you get a bowl of golden crunchy chunks that have been roasted in Wagyu fat and dressed in shards of red chilli and fried sage leaves, and a whole lot of salt. Never have root vegetables shone so brightly.
Going gung-ho at a plate of split, grilled Yamba king prawns is certainly not pretty, but who cares about decorum when you've got tender shellfish marinated in a mix of jalapenos, olive oil and barbecue sauce? If you like your crustaceans a little less hands-on, order a petite Le Creuset pot of hot, bubbling macaroni cheese punctuated with a half dozen sweet, tender pieces of lobster meat.
High scores in the kitchen means nothing if a bar doesn't have its drink game sorted, but Adam Hadad (ex-Wild Rover and Keystone) is the bar manager here, and he's all over it. The 100s and 1000s-encrusted Fairy Bread Fizz will be the darling of Instagram, but the Ultima is the cocktail that is guaranteeing our return visit. Tequila, yellow chartreuse, lemon juice and maraschino liqueur strike a perfect four-part harmony with a gentle, herbal, agave lift in the finish. Want something bittersweet? They've got Fernet and Coke on tap for a tenner. Or maybe your after-work special is only complete with a bottle of a dry Victorian rosé from Handpicked Wines.
We are all for a drive-by venue but Easy Eight feels like somewhere you want to linger. Once you've scored a big comfy booth, the drinks and east come to you via the sweet '50s-styled floor staff and the playlist of classic soul, rock'n'roll and blues never misses a beat.
You can always count on good times in this over-proof enclave in the CBD, but the good eats were in shorter supply until Easy Eight lobbed in and brought a fully stocked kitchen with them. Now there's no reason to head anywhere else at quitting time.
Details
Best selling Time Out Offers