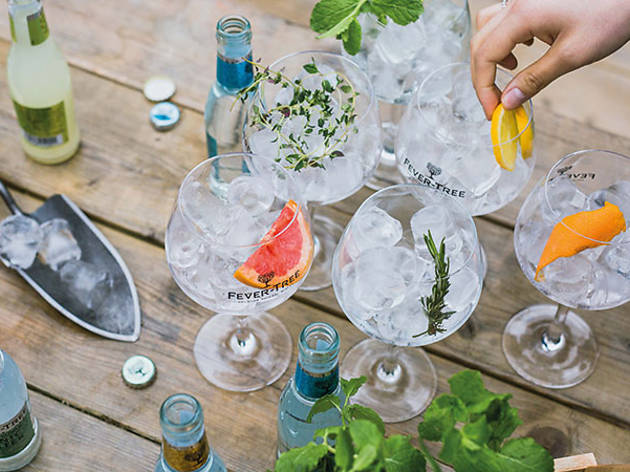 Five great G&Ts to try for International Gin & Tonic Day
Try five great G&Ts from around the world with this online event that includes a gin pack delivered to your door
International Gin & Tonic Day is coming around again – a chance for global gin lovers to come together, united in the love of gin. And we don't just mean that in the figurative sense. Oh no.
Fever-Tree are presenting the ultimate online gin and tonic experience on Saturday October 17, hosted by Fever-Tree brand ambassador Trish Brew. Brew, who won Time Out Melbourne's award for Bartender of the Year in 2018 (among other accolades), will be your guide on a journey through the wonderful world of gin: from Melbourne to Tokyo, Sweden to Scotland, and finishing off in Spain, with each gin paired expertly with Fever-Tree's signature range of tonics. At a time when international travel is off the cards, it'll be like a business class flight around the world – with a gin and tonic for each leg of the trip.
So how does it work if we're all watching at home via Zoom? Easy. When you book your $65 ticket, a sample pack of fine gins and Fever-Tree tonics will be sent to your home so that you can taste-a-long with Trish. But be quick! Book now before they run out of sample packs.
Missed out on tickets? Never mind, here are the five pairings for you to try at home in your own time:

Australia: Say gidday to Four Pillars Bloody Shiraz Gin with Fever-Tree Lemon tonic, garnished with a slice of ruby grapefruit.
Japan: Match the six botanicals of Tokyo's Roku Gin with Fever-Tree Refreshingly Light tonic, garnished with a slice of lemon or grapefruit.
Sweden: Enhance the bold flavour of Hernö Navy Strength Gin with Fever-Tree Premium Indian tonic, garnished with a slice of lemon.
Scotland: It's like a céilí in your mouth when the Botanist Islay Dry Gin pairs with Fever-Tree Elderflower tonic, garnished with a slice of lime and strawberries.
Spain: Try the pride of Barcelona, Gin Mare Mediterranean Gin, with Fever-Tree Mediterranean tonic, garnished with a slice of lemon, a sprig of rosemary and served with green olives.
Each time you mix your spirits with Fever-Tree, you can be confident you're drinking the best ingredients, from Jamaican pimento berries to lemon thyme from Provence to Madagascan vanilla.
Be sure to pre-purchase your ticket by Friday, September 25, which includes delivery of an ultimate G&T tasting pack to your door.