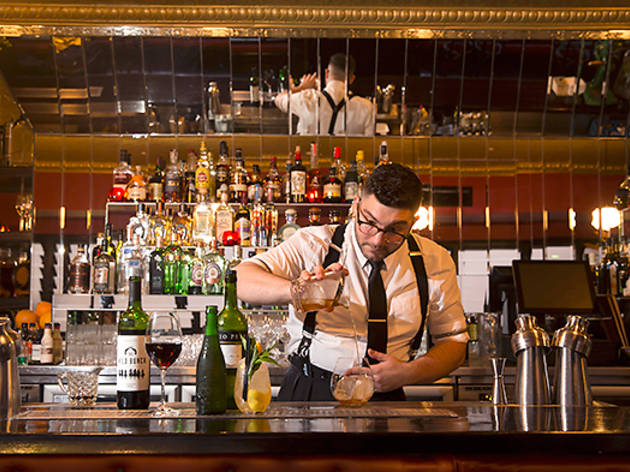 1/7
2/7
3/7
4/7
5/7
6/7
7/7
Surry Hills' cocktail credentials are all in order now that Gardel's is back
Absence makes the heart grow fonder, and in the three months that Gardel's spent closed following a fire at the Porteño premises, we missed the hell out of this excellent cocktail bar. But Cleveland Street shines a little brighter now that the doors are again open, the meats are roasting, the rockabilly's cranking and we once again have a Banana Old Fashioned in our hand.
The same recipe that has graced the menu here since day dot still sees them soaking sliced, fresh banana in a jar of Jack Daniel's for a full week before straining it out (apparently someone's mum uses it for banana bread). The fruity bourbon is then mixed with bitters and a smoked maple syrup. It tastes like caramelised bananas cooked over a campfire, but with a boozy hit that suggests you shouldn't leave it near an open flame. For something light and bright to lift your spirits, without drowning in them, head bartender Mikey Nicolian offers up a Sherry Cobbler. The bouquet of fresh orange and mint smells as sweet as fruit punch, but what you're drinking is all smoky, dry refreshment thanks to Tío Pepe fino sherry.
It would be too easy to spend all our cash on cocktails here (we've done it before) but it you want to slow things down, a crisp Alhambra 1925 is the Spanish answer to a Peroni, or you could smash an Argentinean Salta lager. Wines by the glass are flying the flag for the Americas and you could do worse things with your evening than spend it with Wild Bunch's Zinfandel, a Californian red with a muted fruitiness balanced by a gentle, mineral finish.
Everything may be shiny and new in Gardel's 2.0, but it's also still the same; the mirrors above the bar, pressed silver ceiling and red leather padding underneath the counter have all been put right back where they belong. And the tiny glass deli counter is back in pride of place at the top of the stairs and filled with house-cured meats, cheese and pickles. They can all be yours for $28 with the Chef's Selection. Slices of Barossa wanera washed rind, a gentle cheddar and Gippsland's impossibly creamy Shadows of Blue are joined on a metal tray by tender, fatty cured pork belly, pepper-spiced coppa and a bresaola that's setting a new bar for intensely flavoursome beef. Cutting through the cheese and meat party is a pickle selection that includes whole okra, the earthy funk of radish, and some sweet spooning crescents of celery. And we're not done yet, folks. There's quince; bread; short, buttery crackers and all the green olives anyone could require in a single sitting.
They've done such an excellent job at rebuilding that it's almost impossible to tell that 2015 has been anything other than smooth sailing for the beloved Sydney restaurant and bar. And by picking up exactly where they left off, we get to rediscover why we love it here all over again.
Venue name:
Gardel's Bar
Contact:
Address:
358 Cleveland St
Surry Hills
2010

Opening hours:
Tue-Sat 6pm-late
Price:
$10-$50