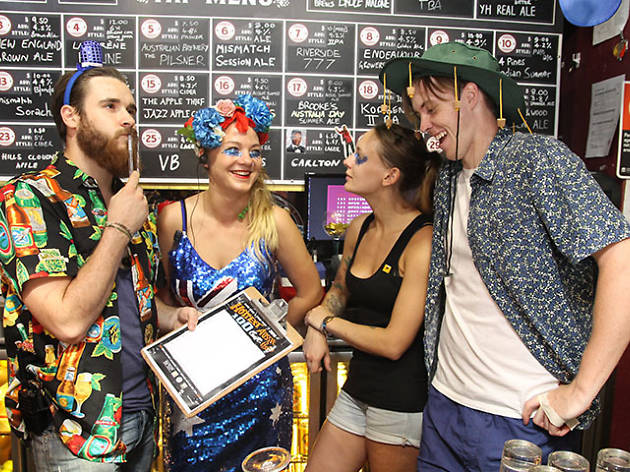 Hottest 100, coldest beers
The Dove and Olive, Keg and Brew and Dog Hotel host January 26 shenanigans
Fancy spending the last holiday of January down at the pub? Ripper, mate. If you head to the Dove and Olive, Keg and Brew or the DOG Hotel this January 26, you'll find all three pubs are hosting Australia Day parties with Triple J's Hottest 100 broadcasts all day long. They'll also be doing Mismatch Session Ale and Hills Apple Cider schooners for just $6.50 and $5 Carlton Draught, Good Ciders, Good Beers or Mad Dog Lagers. Why? Because they're not just celebrating the Hottest 100, they're celebrating the Hottest 100 Australian craft beers, with a social hashtag, sweeps and more.
All three venues will be offering bargain food specials all day long as well as some fun Aussie Day themed chef's specials. At the Dove and the DOG, you can grab yourself a steak and chips for only $12.50; while the KB is offering a jalapeno beef burger for the same price. If you want to be a bit more adventurous, all three venues will be dishing up homemade Aussie beef and vegemite pies. If that still isn't enough; the KB and the Dove will also be offering lamb and tzatziki burgers and if you really want to be jumping for joy, then grab yourself some Kangaroo skewers from the DOG.
There are chances to win prizes with any Carlton & United Breweries purchase. At the DOG you can win an Odysea surfboard; there is a men's vintage bike from Reid Cycles up for grabs at the KB; and a summer backyard fun pack of an esky and banana chairs going at the Dove & Olive.
So head for your closest local, fill up on good value food and ring in a winning song.
Best selling Time Out Offers