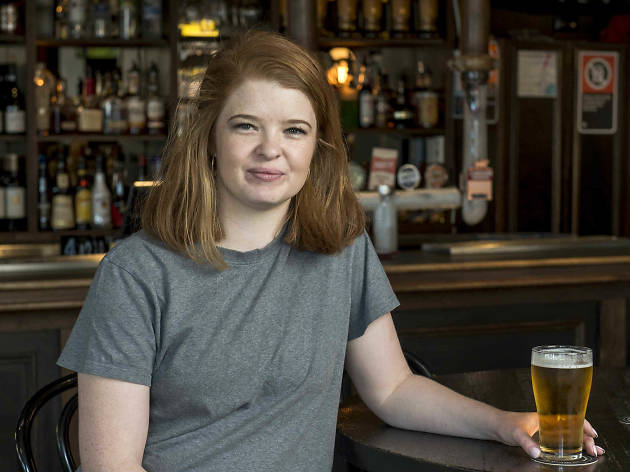 Local guide to Rozelle with Emily Gray, the Sackville
The Inner West is best, says an assistant manager of this longtime pub favourite
In a region of Sydney famous for its historic pubs, the Sackville on Darling Street is simply doing everything a neighbourhood haunt ought to do. Take the family to cheer on the Wests Tigers in the front bar; kick back with friends in the pleasant Garden Bar; or make it date night in the Bistro. Gather the work pals for trivia on Wednesdays, or win one of the formidable meat trays they're raffling off every Monday and Friday. On Saturdays, make the most of the beer tasting paddles for $20, and the Sunday roast is only $25 including a glass of pinot noir. Prefer to catch live music? There are bands on Fridays and acoustic sets on a soothing Sunday arvo. Assistant manager Emily Gray gave us the lowdown on the pub and its neighbourhood.
Emily, how long have you worked at the Sackville?
For three months now. I was working with the Solotel company at another venue out
west, but when the position at the Sackville was offered to me I was excited at the prospect of returning to work in the community that I have always felt most at home in.
Are you from the area?
I first moved to Sydney when I was 18 years old to attend university. Having grown up in a small country town, the Inner West was the place that I found people who were like-minded and where I forged the relationships that I will carry with me throughout my life. Even after I moved away, I still considered myself a local of the Inner West, and probably always will.
What do you love most about your job?
Every day I get the opportunity to meet a new local: a small business owner along Darling Street, merchants from the markets, local sports teams or just someone who has grown up in the area. This is why I love what I do. I have always considered myself a social person, and hospitality is unlike any other profession, in that what makes you good at your job is the ability to create enjoyable and memorable experiences for every person who steps foot through your door.
Who is the most memorable customer you have ever encountered?
I was serving a guy and had been chatting to him for probably a good five minutes before I realised that he had a snake hanging around his neck. You can imagine my surprise.
What does the Sackville bring to the local community?
The locals at the Sackville all know each other and have been frequenting and supporting it for years. In fact, just the other day we had a group in to celebrate 40 years of drinking together at the Sackville, which I thought was amazing.
Emily Gray's Rozelle favourites
Best selling Time Out Offers