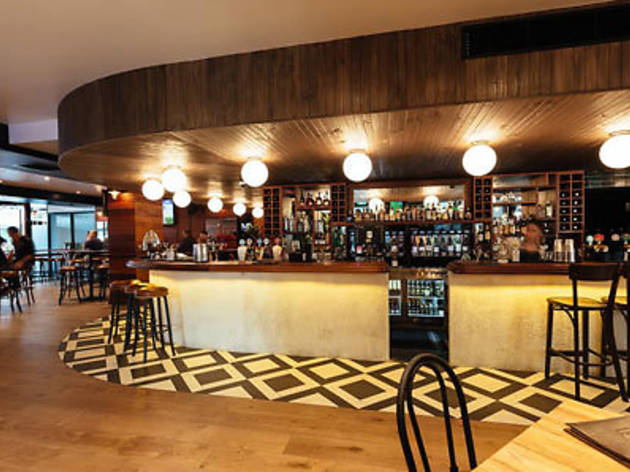 A decade ago, had you suggested a drink at the Megahole (as the Cremorne Hotel used to be called in certain circles) people might have worried that you'd taken leave of your senses. It may have been open late and serving booze, but it was a last resort. It's incredible what a renovation and cultural shakeup can do to a place. Minskys Hotel (as it is now known) is as far from that woozy dive as it's possible to get while still operating within the same four walls. What stands there now is a welcoming, stylish pub that you wouldn't be ashamed to take you parents to. The floors are polished timber, the stools are topped with comfy leather cushions and there's still a gleaming black grand piano in the corner. They've taken time and care with the small details so there are candles on the tables and the water urns have fresh pineapple slices and rose petals added to one, and apple slices and mint to the other. It's still a pub, so there are three big screens showing Friday night footy, but they don't dominate the room and the staff are polite, chatty and have mastered the key elements of hospitable service. Need to discuss the arthouse film you just saw at the Orpheum? Do it over a glass of the Endeavour Harvest Growers bright ale, a Peroni or one of the Matilda Bay suite – they've got the amber ale, the pilsner and the sparkling on tap. The blue-tiled kitchen does typical European tavern fare, and they keep doing it until 1am. There are schnitzels, steaks and pale ale-battered fish for sizeable appetites, or crisp fried school prawns and pâté for a lighter repast. They'll even sort you out with an Eton mess for dessert. If it's been a while between drinks you should give the new Minskys a look in. It's not at all how you remember it.
---
Venue name:
Minskys Hotel
Contact:
Address:
287 Military Rd
Cremorne
2090

Opening hours:
Mon-Thu 10am-4am; Fri, Sat 10am-5am; Sun 10am-midnight
Do you own this business?
You may be interested in: