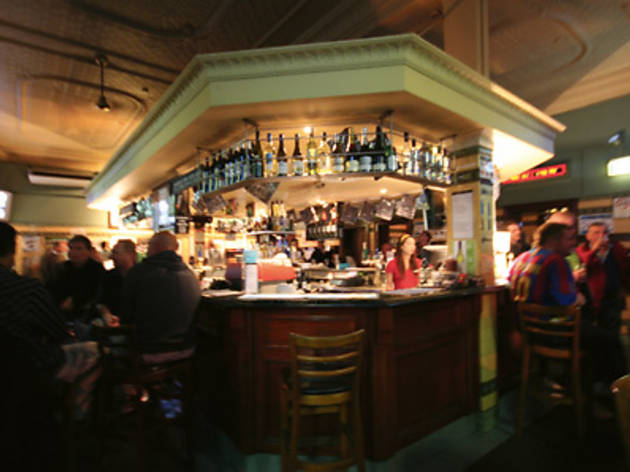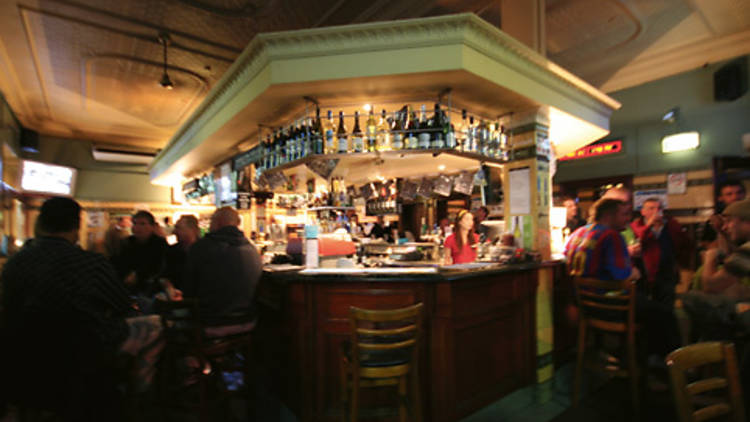 Time Out says
Many a sunrise has been viewed from the balcony of this 24-hour watering hole located just outside Sydney's CBD in the Darling Harbour precinct. Spread out over three levels, the Pyrmont Bridge Hotel has done wonders to keep more than just your average punter happy. Gaming facilities? Check. Pool tables? Check. Live music? Check. Top-shelf tequila? Check. The ground-floor island bar and outside smoking area are where the locals hang out, while the tourists and backpackers head upstairs to one of the many hidey-holes, perfect for when you want to ditch your friends after meeting that special someone. If you're hungry for something else, however, their bistro is a well known highlight, featuring daily $7 steak and carb deals, as well as rotating $10 specials. Try the lamb shanks with a shiraz jus, or just good ol' fashioned fish 'n' chips. They even have a range of substantial bar snacks available 24 hours to help you soak up any excessive booze. The staff are patient and friendly (no doubt due to experience with the tourist crowd), and are happy to let you take your time with the surprisingly decent wine list. They even have a top-of-the-range Enomatic Wine System, a nifty device which keeps wine fresh once opened. It almost seems out of place, when few high end bars have one, but you won't hear any complaints from us, as what's better than a glass of decent red to go with your $7 steak?
---
Details
Average User Rating
1.5 / 5
Rating Breakdown
5 star:

0

4 star:

0

3 star:

0

2 star:

1

1 star:

1
Terrible experience last night at the pub downstairs. I was with a group of 8 people. One of my friends was drunk, but wasn't doing much - just standing there talking with all of us. The bouncer came over to us, said he was too drunk and threw him out. Then another friend, that wasn't drunk, opened the window and passed that friend his jacket since he didn't get a chance to grab it before being kicked out. Then the same bouncer grabbed my friend's arm, opened that window/door again and shoved him out very forcibly. I asked the bouncer why he did that, and he said, "He opened the window." I responded, "My friend was just trying to give the guy you through out his jacket." He said to me, "Now I'm getting ready to throw you out." Me? An almost sober 5'6" female? Because I asked you why you just threw my friend out for no reason? (I walked out at that point. I'd had enough of him) Unprofessional. Unfriendly. Unnecessary. Clearly that bouncer was on a power trip. Look, being on the staff at a pub means that you are client-facing, and THAT means that you should maintain a standard of customer service skills. Get some, or go find a new job that lets you get out your pent-up aggression.
Please do take videos of the PBH door staff behaving appalling.
Quite disgraceful in fact.
If you complain they will fabricate a negative story to management containing false facts. In my case they even said the police were called to forcibly removed me. No that didn't happen and noone was removed.
Management then do not care, they will not help you. They are then too proud to back track when evidence is provided when an obvious mistake had been made.
Please do not waste your time with the Pyrmont Bridge Hotel after 8pm there are plenty of other places nearby that do not promote such ugly natured and unfriendly front of house.
Simply not worth the hassle for an otherwise truly excellent institutional pub.
Too sad to see this happen. :-(