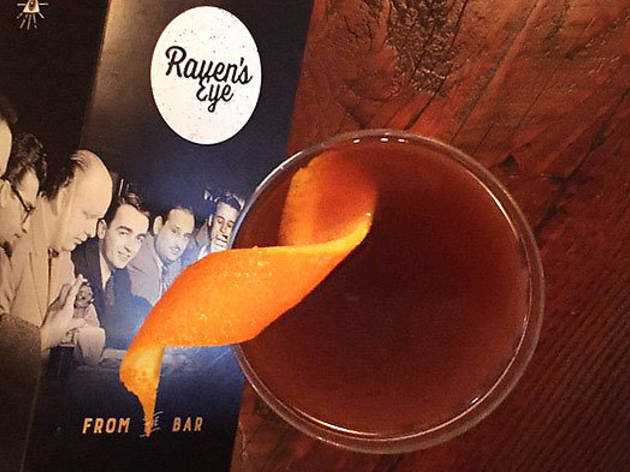 Time Out says
The burgers and beers are bang on at this Italian bar with a slight identity crisis
Chilled beats don't really gel with the vibe of Newtown's latest small bar/restaurant. Fortunately someone behind the scenes agrees with us on our visit – a quick change to Lionel Richie's 'All Night Long' kicks off a string of ace tunes that includes Starship's 'Nothing's Gonna Stop Us Now' and a Beatles/Stones/Dylan trifecta. It's the perfect playlist for a burger and a beer on a blustery evening.
Now that the fro-yo tide is finally receding from King Street, a lot of empty storefronts are primed for nightime colonisation. First cab off the rank is Raven's Eye, a little Italian bar and eatery from the team behind Bondi's
Neighbourhood
and
Henrietta Supper Club
.
The space appears tiny from the front, with only a handful of tables and stools to be claimed in sight of the bar. But hook back around the kitchen and you'll find more space – and a whole lot of candlelight. A roped-off staircase also offers the promise of an attic space in the future. Stay tuned.
Back at the bar they've plugged in a heater and are prepping a $19 hot buttered rum that lengthens blackstrap and Pamepero rums, smoked maple syrup, and liquorice bitters with enough hot water to fill a tiki mug. A little knob of spiced butter melts over the top of this long, soothing cocktail that feels more like a recovery remedy than a party starter.
They also give Pimm's a wintry makeover with rum, bitter amaro, and mulling spices before adding lime juice and ginger ale. But when we drink in little neighbourhood bars like this, we're more likely to make firm friends with a Tailgate Session IPA from Tennessee or a Louisiana pale ale. And there's never a day when a Mountain Goat steam ale or a Coopers Stout won't hit the spot, especially if you're ordering the house burger.
The Royale with Cheese' is a rock-solid effort. Ten bucks gets you a fat, medium-rare patty capped with American cheese and brightened by a generous spread of house-made mustard pickle and a restrained application of tomato sauce on a sweet, sesame seed-free bun. Given a sizeable basket of fries is eight dollars, we'd go round two on the burgers instead.
Raven's Eye takes its name from the 1997 period Mob drama Donnie Brasco – it's the local mafia bar in the film - and fittingly the vast majority of the menu is resolutely Italian. It's disappointing, then, that our orechiette arrives heavy on ricotta and low on seasoning. And a serve of macaroni and cheese arancini goes too far with extra fatty pig's head pieces added to the mix. The burger may veer off theme, but it's our pick of the menu's eats.
More neighbourhood bars are a good thing. There's a lot of talk about the lockout laws ruining Newtown's famously inclusive atmosphere late at night, but with every small bar that opens we get another friendly port to spread the love for an early-doors catch-up over a bevvy and a burger, and that's nothing but good news to us.
Details
Address:
127 King St
Newtown
Sydney
2042

Contact:
Opening hours:
Mon-Thu 5pm-midnight; Fri, Sat 11.30am-midnight; Sun 11.30am-10pm
Best selling Time Out Offers