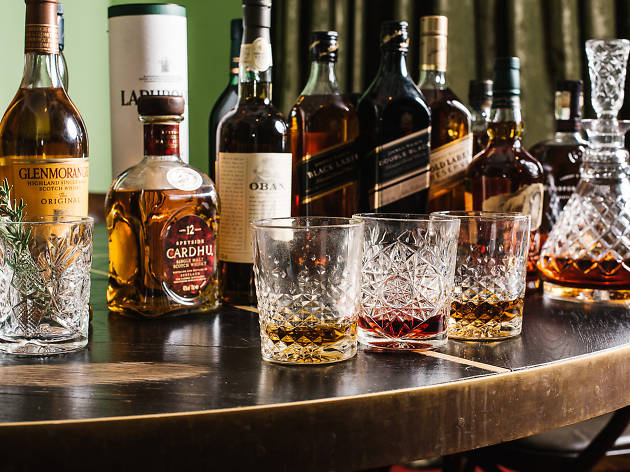 The popular Rocks pub celebrates all things whisky for the entire month
While some people are doing Dry July, the Glenmore is offering a month of whisky appreciation designed to take the edge off the cold weather and help educate punters in the fine art of the distilled grain.
A special whisky menu will be available throughout Rye July, culminating in a ticketed Night of Whiskies on Thursday July 14, where the Glenmore's cosy middle level becomes whisky central with tastings, meet the makers, cocktail master classes and canapés matched with whiskies.
(But before we go any further – yes, we're aware that there's two spellings for whisk(e)y – whisky if you're talking Scotland and Canada, whiskey if it's Ireland or the USA. For simplicity's sake we'll go with whisky here! Inconsistent spelling is just one of the interesting whisky facts you might pick up during July at the Glenmore.)
Night of Whiskies will see the Club Room transformed into a Johnnie Walker haven. National Johnnie Walker and Classic Malt ambassador, Sean Baxter (a MasterChef alumnus, BTW), will take guests through premium tastings and share his whisky tips.
If you've ever wanted to know how to make a whisky cocktail at home then Diageo's Tim Oughton will host cocktail master classes in the Drawing Room. Each room will have an old fashioned rye pre-batch in barrels available throughout the month also.
Tickets to the Night of Whiskies are $55 including a tasting glass, five tokens, cocktail master class and canapes on arrival.