Sparkle this season with these refreshing, must-try summer cocktails
Upgrade your next summer session with made-for-the-season cocktail from one of Sydney's top bartenders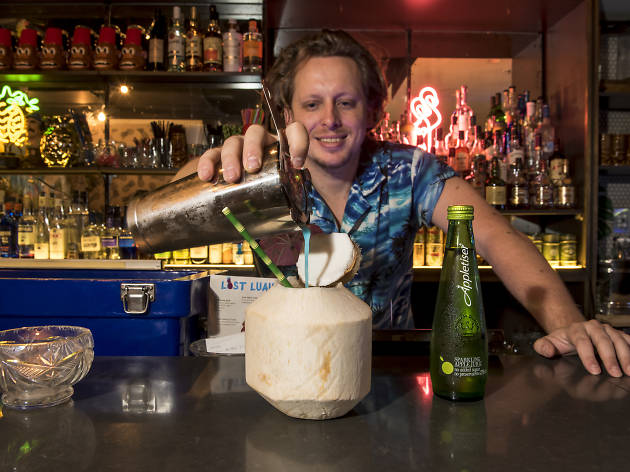 There's no better way to embrace the heat of the season than with a cocktail that matches the city's fizzy energy. The perfect way to inject a bit of sparkle into your summer drinking schedule is with Appletiser.
This season, Appletiser has collaborated with two leading Sydney bartenders to produce fresh new flavours for summer. Get down to these bars pronto and feel instantly refreshed.
Please drink responsibly.
Located behind a doorway hidden behind a fake 1950s Coke machine, the Soda Factory is Surry Hills' palace for retro tunes and affordable frolics. Over summer, they're doing a cocktail and snack pairing that you're going to love.
The Forbidden Apple uses fresh peach and pear puree, a dash of lemon cinnamon spirit, Jim Beam Rye and Applejack to create a fruity-but-not-too sweet cocktail with a kick in its tail. It's topped with Appletiser for a refreshing, sparkling finish and garnished with a cherry and a cinnamon quill. Think deep south, Sydney style.
Feeling peckish? Pork is the perfect match to apple, and Soda Factory chefs are cooking up pulled pork sliders with homemade barbecue sauce, shredded granny apple and classic American 'slaw.
Say aloha to Sydney's newest tiki bar. A crumbling beach shack in the middle of the city, Lost Luau in York Street is celebrating its opening by putting together a special rum concoction, the Blue Code, created by bartender and Sydney Rum Club founder Tom Bulmer.
This cocktail is a hula dance of white rum, blue curacao, tiki bitters, fresh lime and coconut water – you'll love its intoxicating rhythms.