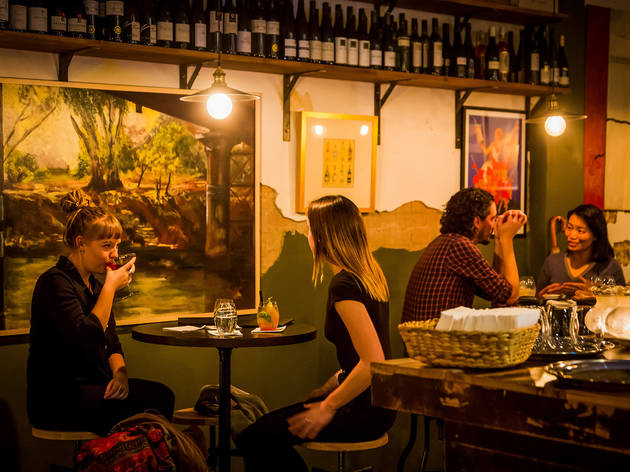 Sunday Night Negronis and Jazz at Moya's Juniper Lounge
End the week with smooth tunes and punchy drinks at Redfern's gin joint
Moya's Juniper Lounge has a fine recipe for warding off the Sunday scaries, and it won't cost you a pretty penny. Every Sunday they're mixing up $10 Negronis all night long while treating patrons to a free gig by the Squares, a bebop jazz quartet playing the repertoire of Miles Davis, Charlie Parker, Thelonious Monk and more.
They'll be slinging drinks from 4pm with music starting at 6pm, so roll up early to get a good spot in the cosy small bar. For those who don't know Moya's, she's a Redfern stalwart. A neighbourhood bar celebrating all things gin, the Regent Street local can pour a mighty good drink while imparting oodles of old-school warmth.
If you feel like straying from the cheap Negronis, it's worth taking a look through the venue's gin-fluenced cocktail list. They take their cocktail history seriously here, and there's a whole dossier for each drink explaining its backstory in illuminating detail. For a gentle buzz try the Florodora, which stretches out a generous 50ml pour of gin with ginger beer, a splash of raspberry liqueur and a lime wedge. Gin aside, they also stock a fine international wine list and craft beers to keep your palate guessing.
Sporting chipped brick walls with green and white paint, framed paintings, antique furniture and knick knacks all round, Moya's is the perfect place to lean back and pretend you're in another era. With jazz in your ears and ice clinking in your drink, Monday will feel a million miles away.