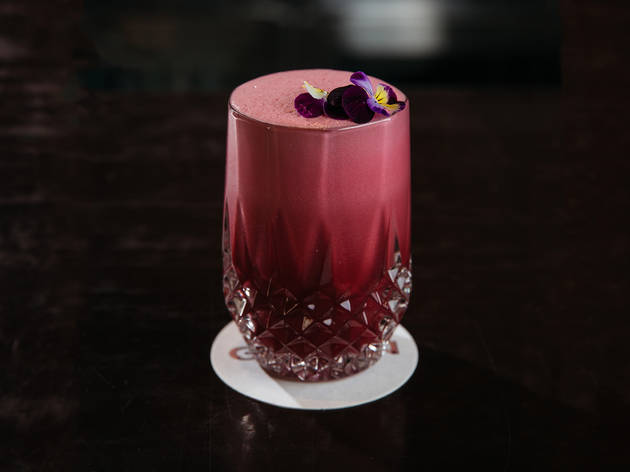 The Grain Geisha
By Andrew MacLeod, Grain Bar
Ingredients
•60ml Suntory Hakushu 12yo whisky
•60ml beetroot juice
•45ml lemon juice
•30ml egg white
•15ml sugar syrup
•15ml chocolate chilli reduction (Pedro Ximenez sherry, 70% dark chocolate
and red chilli)
•Edible flowers to garnish
Method
Add all ingredients to a shaker and perform a shake with ice (wet shake). Strain into a new shaker tin and shake the drink a second time without ice (dry shake). Double strain into an Old Fashioned (rocks) glass and garnish with edible flowers.
Meet the bartender
Andrew MacLeod well remembers the moment when he fell in love with the bartending game. "I worked in a cocktail bar in Nottingham in the UK. A guest said he was on his honeymoon and wanted to give his wife a really pretty drink. So off I went and managed to draw a rose on the top of a Martini. She really liked it and was showing the drink off to other guests. Her smile was from ear to ear." At Grain, where there are more than 200 whiskies on the shelves, Whisky Sours are very popular, but MacLeod's twist on the recipe took inspiration from a masterclass with Suntory master distiller, Mike Miyamoto. "I decided to make beetroot and Japanese whisky the focus. Beetroot has this earthy, complex flavour to it, but it doesn't interrupt the floral notes or the lightness of the Hakushu 12yo."
More Hotel Bars
There are some amazing bars and ace hospitality talents tucked away in our city's finest hotels, so Time Out set out to discover the best hotel bars in Sydney.
Best selling Time Out Offers