Hotel Bar Guide
Outstanding Australian bars, their bartenders and their twists on classic cocktails.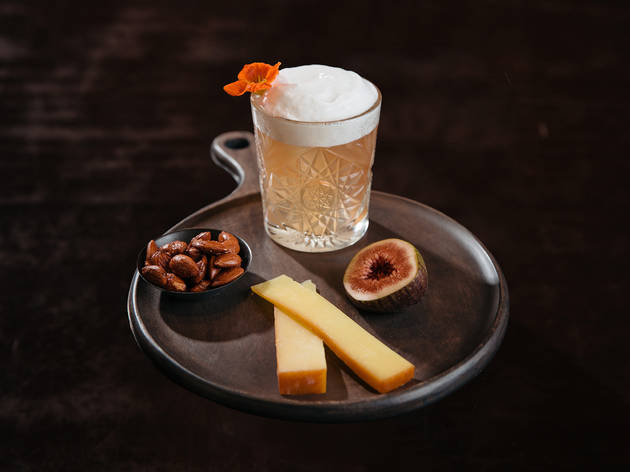 There are some amazing bars and ace hospitality talents tucked away in our city's finest hotels, so Time Out set out to discover the best hotel bars in Sydney.
Drink here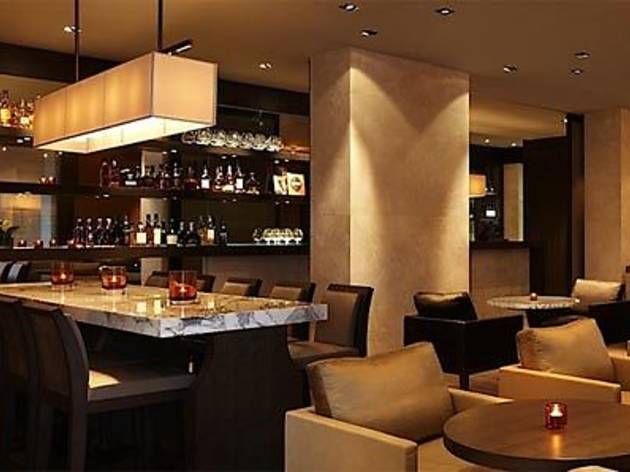 The Bar
There is an art to the perfect bar snack, and when it comes to suppertime nothing beats a real club sandwich. We're talking a double-decker sarnie with chicken, bacon, egg, lettuce, tomato and mayonnaise cut into four triangles, each pinned together with a pearl-top hors d'oeuvres stick. It's substantial enough to fuel your evening, but still a light meal, and it goes an absolute treat with a cocktail. The club sandwich has fallen out of fashion in recent years, but we know where they're dishing up an ace version and shaking up drinks to match – the Bar at the Park Hyatt Sydney. This elegant bolthole is down along Campbell Cove, right by the base of the Harbour Bridge, and it's providing the hushed glamour missing from the city's roll call of underground haunts and DIY bars. The fitout is plush and muted. We're talking low light, expensive fixtures and soft cushions plumped up before you take a seat. Everything about this bar is designed to promote ease and comfort – staff are helpful and attentive and service moves quickly. There's no denying a Bijou – a potent, herbal take on a Martini that mixes gin, vermouth, chartreuse and orange bitters – looks the part, but they do equally good work with fruit-forward drinks like the Sail and Roll. Bitter and sweet are perfectly matched in this refreshing elixir that pairs gin and Aperol with watermelon and grapefruit juice. In fact, we double down and seriously consider round three. The Bar is well suited to an intimate drink, but the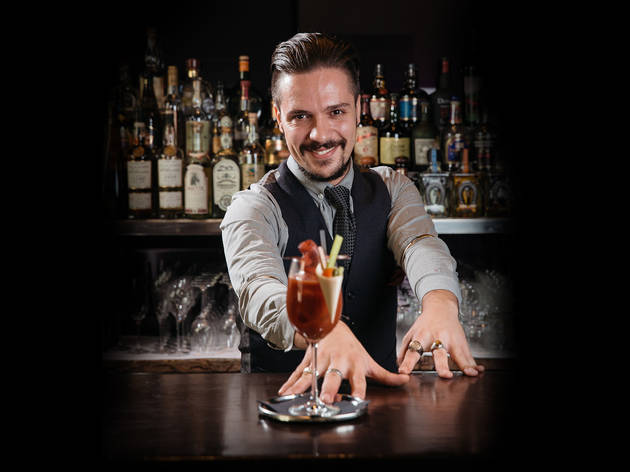 Zeta Bar
Zeta Bar is all clean lines, high ceilings and expanses of glass, which, in a city chock full of cupboard-sized bars and basement drinking dens is a breath of fresh air – and we're not just talking about the cool breeze from the open-air terrace that looks across the green copper domes of the Queen Victoria Building directly opposite. Of course, the terrace is now the domain of smokers and the iron-willed, over whom a cheese board with an aged goat's cheese, a ripe camembert and a creamy blue hold no sway. For everyone keen on a little salty something with their drinks, stake your claim on a soft leather lounge by the huge two-sided gas fireplace and order up olives, truffle cheese fries or mini burgers. The international pedigree of the Hilton's cocktail bar is celebrated in a cocktail list divided by destination – Singapore, Puerto Rico, London, New York, Milan and Sydney – and the fresh and lively Bloody Mary with a savoury celery salt rim does Mother England proud. The great thing about a cocktail bar in a famously upmarket hotel is that drinks come with a hint of holiday. Get acquainted with the Lady of Guadalupe, a reworked Margarita that tames a lug of Ilegal mezcal with a sweet and nutty macadamia liqueur, before ramping things back up with lime juice and a gentle jalapeño agave. It's a less punchy and more intriguing take on the spring break special. This is the kind of luxe bar you visit when you want to decompress in style. Riding low on a black leather lounge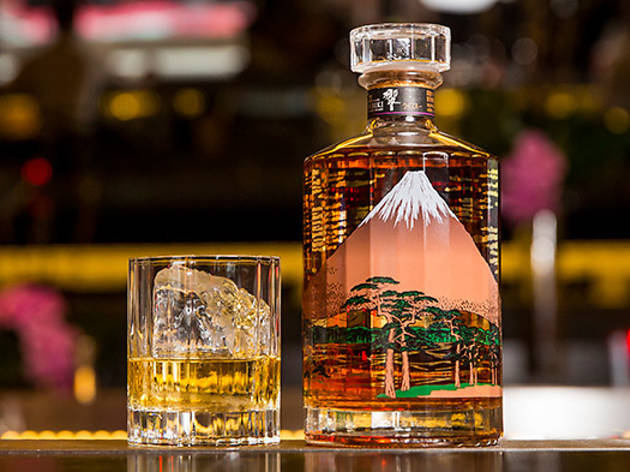 Sokyo Lounge
It may be a bar and restaurant in the foyer of a hotel, beneath a casino, but you can feel miles away from anywhere drinking at Sokyo Lounge. Kicking back in a silver and gold velvet armchair with a little bowl of spiced nuts and a cocktail on the way is a sure-fire cure to the workday blues, and the promise of bar snacks from a crazy good Japanese kitchen only sweetens the deal. This is a bar you can trust with the good stuff. They are back to their fighting weight and if you like your Martini a certain way, what arrives at the table will be to your exact specifications. Know what you don't like in a drink? Floor staff here know the cocktail list back to front and it's knowledge you can use to ensure that a Sneaky Meek is the drink for you. It is. Bitter Amaro Nonino gets sweet-talked by a lick of Cubaney aged rum and a little muscat before Peychaud's bitters brings you full circle. This is a good bar to impress a date with. Service is elegant and unobtrusive, tables are spaced well apart so you won't have to overhear anyone else's conversation and the music is kept at a chat-friendly volume. You sure can get a Coopers here, but it's a wasted opportunity not to explore the Japanese beer menu that goes well beyond Kirin and Asahi. Keep the theme running with a Japanese single malt, of which they have many. Chase Kojima, might have started out as a kid in his father's Japanese restaurant in California, but in Sydney he is the mack daddy of modern Japanese fare and responsi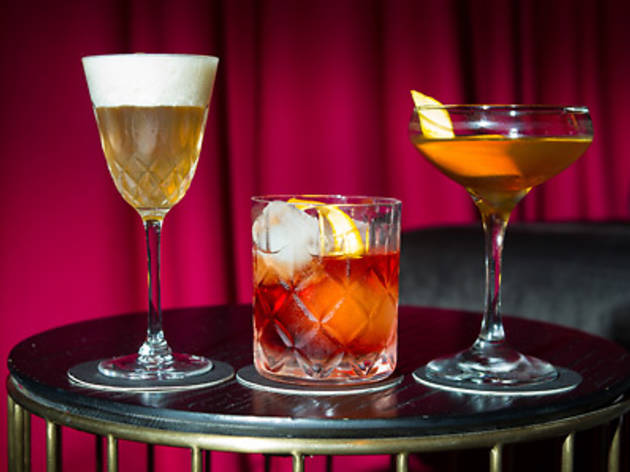 Gilt Lounge
For centuries, the hotel bar has been the place to go when you want to drink the classics, and it's as true today as it was when the Savoy in London was literally writing the book on mixology. Take Gilt Lounge at the QT Sydney, for example. This low-lit cocktail bar situated up above the Gowings Bar and Grill keeps its menu short, sharp and classy. We're talking barrel-aged bourbon Old Fashioneds and Negronis, a Tommy's Margarita and a gentle twist on a Tom Collins using yuzu. Maybe we've got the upper classes all wrong and millionaires prefer to drink a refreshing ale or a peppery pinot from Tassie. Or perhaps the rich, velvety texture of the Millionaire cocktail made with apricot juice, grenadine, sloe gin, lime juice and generous lug of Appleton rum is a pretty accurate summary of what wealth tastes like, and it tastes good. Of course if you want something light and bright there's never a bad time to order a Hemingway. This long-established riff on a Daiquiri is sweetened with maraschino liqueur and packs a citrus smack thanks to the fresh grapefruit and lime juice, but it stops well short of acidic. Do you love canapés? Well you can actually order them here. You know those broth spoons that scallops and dumplings are served in at art gallery openings? Here they ferry individual serves of snapper ceviche and ocean trout tartare. You get four spoons for $16, but it's only a light snack so if you're looking to fill in the edges perhaps a high-end burger or a hot dog made wit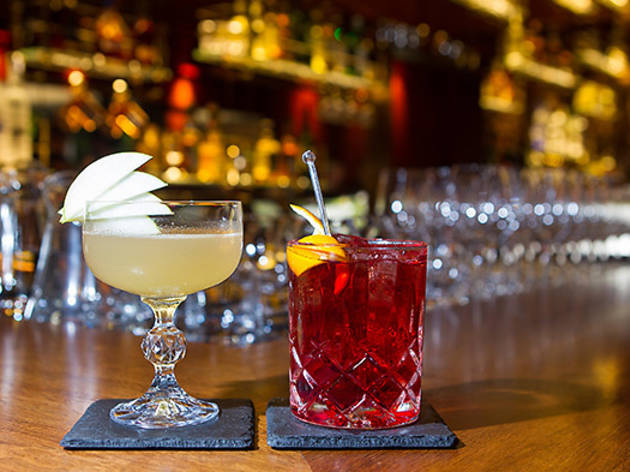 Grain Bar
Having a taste for fine Scotch, elegant Japanese whiskies and American drams doesn't come cheap, unless you're spending your Monday nights at Grain Bar below the Four Seasons Hotel down at Circular Quay. This elegant cocktail bar certainly knows their audience. Mondays are a historically tricky night to fill a bar, but here the room is pumping with businesspeople finishing out their day with the whisky specials of the night – $30 whisky flights and 20 per cent off the whisky list. You can choose four 15ml pours (they only restrict a tiny portion of the list), or the barkeeps here will guide you through a flavour tour of Speyside, Campbelltown or Islay. Complete this picture of high-finance living by ordering up the minute steak. It's not a hefty meal, but it is an incredibly juicy, tender fillet topped with bourbon and herb butter with a sticky, sweet gravy and crisp onion rings on the side. Don't want to spoil your appetite? Graze on the generous bowl of complimentary spiced snack mix while you contemplate the cocktail menu. Perhaps you fancy a Walnut Derby, which sees bourbon stirred down with salted caramel and balanced out by walnut and chocolate bitters? Or do you want to fly the flag for the Country Women's Association by ordering the CWA cocktail that mixes a peaty whisky with Aperol, pink grapefruit juice, lemon juice and sugar syrup? It's a beautiful room to spend an evening in. The warm timber finishes help counter the coolness of the huge glass windows looking out
Book online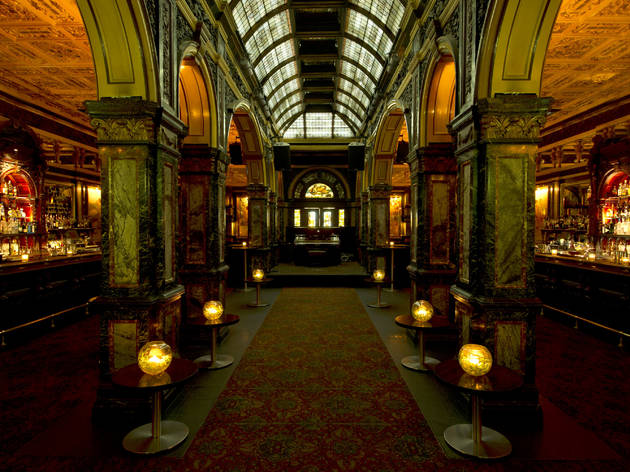 Marble Bar
Did you know that Marble Bar is 123 years old? It was originally located at Tattersall's, and in 1973 they moved it to its underground spot on George Street. And it must have been a monumental task to move what is essentially a marble bunker a few blocks across the Sydney CBD. As far as impressive venues for a cocktail in this town go, Marble Bar is the one to beat. Pillars made of multi-coloured marble hold up the arches that make this feel more like a gallery than a bar – an impression reinforced by the collection of 14 French realist-style paintings by Julian Ashton. But few galleries also feature two fully stocked cocktail bars prepped and ready to shake up tequila, elderflower liqueur, cloudy apple juice, mint and agave syrup into a long, tall, refreshing beverage that has all the holiday vibes of a Margarita, but without the salty smack. Do you like your drink to teach you something about the wide world of booze? Flick through the menu until you come to the page of whiskey flights for $34 a pop (or $65 for the premium version). You can explore Scottish single malts with three tasting pours that take in the Lowlands, Speyside and Islay distilleries, or keep things local with Australian whiskies from Starward, Limeburners and Bakery Hill. Like what they're doing over the Atlantic? The American flight includes a rye and a small-batch bourbon from Kentucky, and a bourbon/Scotch/rye blend from Utah. They've added a lot more snack action to the menu of late, which means you c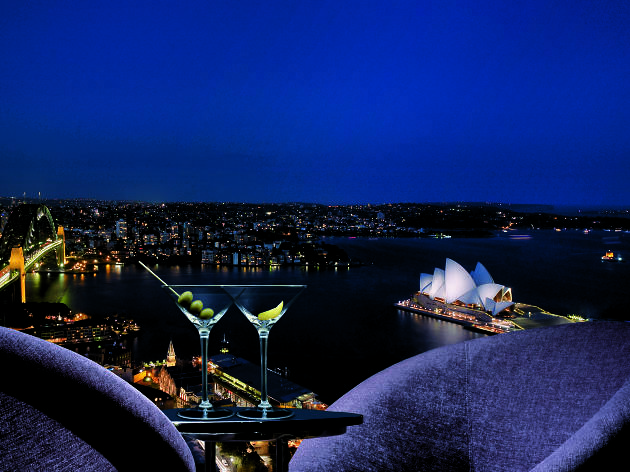 Blu Bar on 36
We all know we live in one of the most beautiful harbourfront cities in the world, but sometimes it takes riding up to the 36th floor of a famous hotel for cocktails to remind you just how incredible Sydney looks, especially from higher ground. The narrow galley bar that runs along the western side of Blu Bar on 36 at the Shangri-La Hotel, Sydney may not be the cheapest place to get a drink, but it is one of the most spectacular. Nothing makes your problems feel miles away like downing an extremely boozy Rosemary Old Fashioned at a great height. The $28 price tag might give you pause, but it's a big drink – think of it like two cocktails. First they add Cherry Heering and an Italian hazelnut and walnut liqueur to a mixing glass. Then comes a very generous pour of Michter's rye. A little bitters and some charred rosemary stems are added for balance and the result is a nutty, almost sweet Old Fashioned that has a deep, resinous, earthy flavour and a nutty finish. Want something at the total other end of the spectrum? The Rising Sun is a prosecco sunrise, mixing Aperol and lemon juice to create an effect that calls to mind Venice's famous Bellini, but with bitter citrus to balance the Italian sparkling. If you fancy one of the primo seats in the lounge with northern views out over the harbour you should aim to get in early, and remember there's a smart casual dress code. But even if you don't get the window seats, you'd be just as happy marvelling at Barangaroo point lit up by l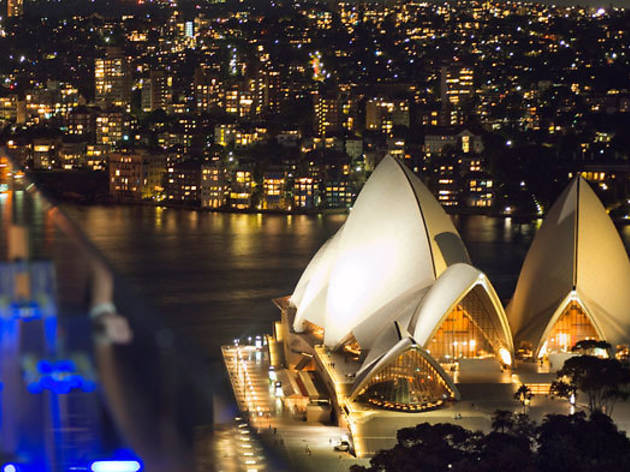 Supper Club
If you ever want to feel like a celebrity for an evening, the rooftop bar at the InterContinental Hotel is the place to do it. What was originally reserved as a club bar for guests has been opened up to the public after 9pm, Wednesdays through Saturdays, but you will need to book. After your silent ride up to the 31st floor head to the glass sliding door and use the phone to announce yourself. Head upstairs and you will emerge in a glass-bound room with views that start over Darlinghurst and Kings Cross before sweeping out over Woolloomooloo, Garden Island, across the Harbour and around to the Bridge. You can almost see the diners inside the sails of the Opera House from up here. The vibe is very much hushed glamour, so expect to be doing a lot of reclining in a charcoal grey armchair while sipping a cocktail made from Bulleit bourbon, spice syrup, pineapple juice, vermouth, Campari and bitters. This lush concoction with a bitter backbone doesn't have a name, nor do any of the other cocktails on the list – it's all about the ingredients. Even if there's a cool wind blowing around the skyscrapers of the CBD a tropical mix of white rum, blueberries, vanilla, mint and lime will have your palate convinced you're in Cancun at the kind of fancy establishment that boasts an infinity pool. The InterContinental is where very famous people stay. They often host film junkets and we're given to understand that One Direction crashed here before shutting down the city with their fans. Supp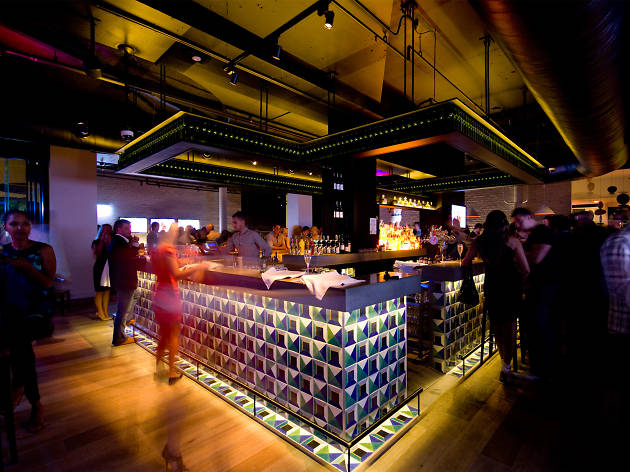 Stingray Bar & Lounge
Slotted neatly into the ground floor of the QT Hotel Gold Coast, Stingray was one of the early success stories in a fragile renaissance that's happening along the interminable strip of high-rises and coastal suburbs bookended by Southport in the north and the NSW border in the south. QT hotels are known for embracing the quirks of their location and the giddy Gold Coast instalment is no different, tapping into a knowingly kitsch post-war beach vibe, from the crisp, brightly coloured rooms to the jumpsuit uniforms sported by the reception staff. Stingray takes all this and twists it for a nighttime crowd: think white-painted brickwork, floating wooden floorboards and sequences of crisp, patterned tiling. The outskirts of the venue are lined by long leather banquettes: during the day they play host to Man Tea, a package deal of drinks and Mexican-skewed bar eats; at night they're taken over by young, beautiful but friendly Gold Coast types, with just the right smattering of all-sorts furnished by the hotel above. Stingray has a seasonal cocktail list of exotic drinks flavoured with greenery from a second level herb garden. You might try a Tom Collins built on dill-infused Bombay Sapphire, or a Tiki Punch that peddles lemon myrtle-infused Bacardi. Stingray's calling card, though, is a ginormous range of tequila. It's a specialty that suits the beach-bum location, but this isn't about juicing you up for a midnight run into the surf. Instead, venue manager Jeff Clifford can sit do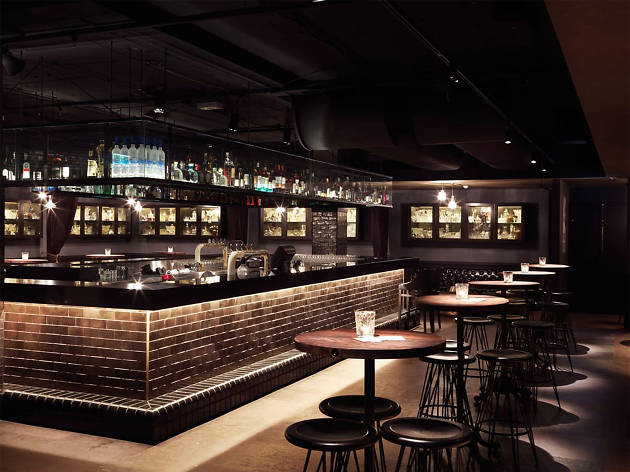 Lucky's Speakeasy
If you're looking for a place to soothe wounds won in a day-long battle with bureaucracy, it's hard to go past Lucky's Speakeasy. Or rather, it is easy to go past unless you know where to look: its entry is cunningly concealed in a barber's shop at the far corner of the lobby of the QT Hotel. Inside, you'll find all the quiet corners and dark leather booths you crave, perfect for losing a briefcase or two, if you're so inclined. Ease yourself into the evening with a Ghost of Mary, a clarified take on the Bloody Mary that uses tomato consommé instead of juice. It's wonderfully savoury with just enough spice, and the perfect gateway into a snack menu loaded with rich, American-style comfort food. Get stuck into the hot chips – they're a best-of-both-worlds combo of skinny shoestring fries and big, satisfying British chippies, slathered in cheese and addictively crunchy – then continue your carb adventure with a truffled mac'n'cheese that's as soft as a mother's hug, or go for protein and bite with a spicy housemade jerky. Knock back a barrel-aged Old Fashioned to cleanse your palate: the citrusy kick of Regan's Orange Bitters makes this boozy classic surprisingly refreshing. As the aches of a working day wear off, you'll find your surroundings shifting from cocktail hour murmurs to something a little more wild and free. If you're not interested in outsiders, second yourself to the privacy of a booth (complete with curtains to draw) and order up some bottle service. (Lucky's is
Meet the bartenders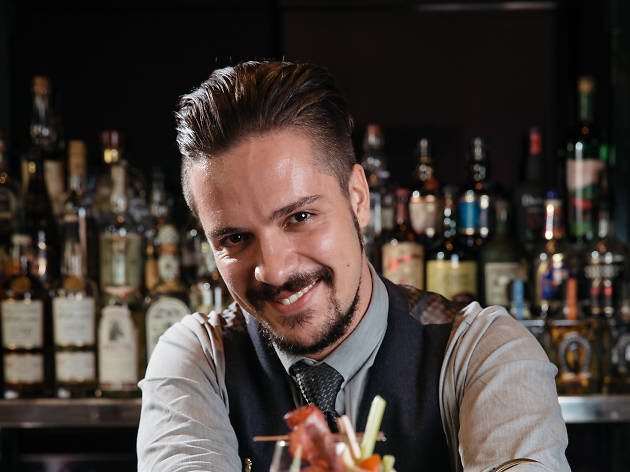 Flavio Tripepi, Zeta Bar - Hilton Sydney
"The moment we open the doors is my favourite," says Flavio Tripepi. "That moment when you are expecting a busy night and you want to be ready for it. I find it very thrilling." Tripepi has worked as a bartender at Zeta Bar just on a year and enjoys the variety of guests a hotel bar gets throughout the week. "On Saturday night we operate as a nightclub, so our crowd changes into a younger one. It's nice to find a hotel bar that has a buzzy vibe and DJ sets." For this project, he chose to cross a Bloody Mary with a New York-style Reuben sandwich. "I find a Reuben is amazing to accompany a Bloody Mary. Except for the tomato juice, I changed the classic ingredients."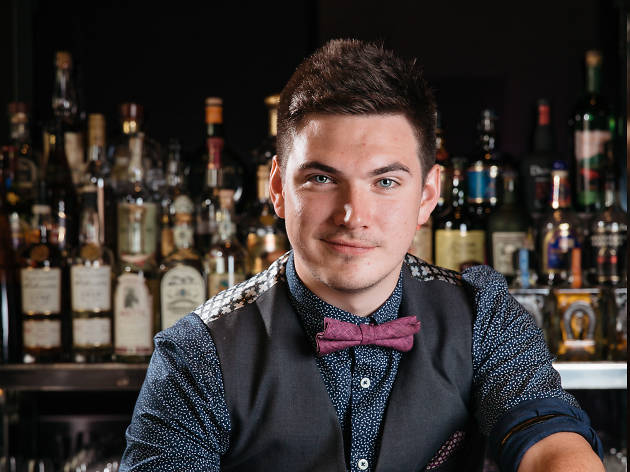 Andrew MacLeod, Grain Bar
Andrew MacLeod well remembers the moment when he fell in love with the bartending game. "I worked in a cocktail bar in Nottingham in the UK. A guest said he was on his honeymoon and wanted to give his wife a really pretty drink. So off I went and managed to draw a rose on the top of a Martini. She really liked it and was showing the drink off to other guests. Her smile was from ear to ear." At Grain, where there are more than 200 whiskies on the shelves, Whisky Sours are very popular, but MacLeod's twist on the recipe took inspiration from a masterclass with Suntory master distiller, Mike Miyamoto. "I decided to make beetroot and Japanese whisky the focus. Beetroot has this earthy, complex flavour to it, but it doesn't interrupt the floral notes or the lightness of the Hakushu 12yo."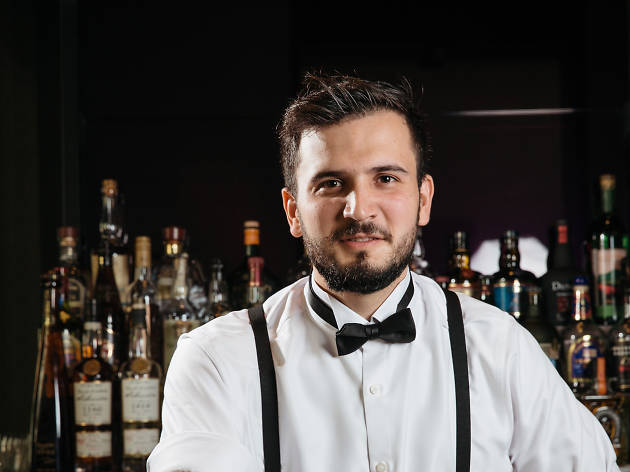 Jay Tuncer Tokmak, Marble Bar
Wine and cheese are a classic combo, but cocktails and cheese? Marble Bar's Jay Tuncer Tokmak is putting a twist on the Bloody Mary that's more logical than it might seem. "As a Bloody Mary is considered a hangover cure, I thought it would be a good idea to have hangover cure and breakfast in one," he says. "After all, tomato and cheese are common to breakfast culture." A relative newcomer to the Hilton's historic underground bar, Jay knew he'd fit in on his first day when a customer came up to thank him personally for making a perfect classic cocktail. "My favourite kind of customer is the one who knows what they want to drink rather than 'make me something good!'"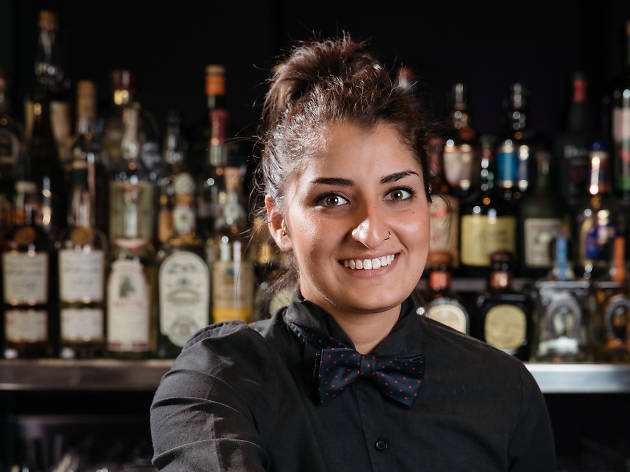 Zikra Armeda, Sokyo Lounge
The best bartenders are much more than impatient pourers of drinks who give you your change on a saucer. Zikra Armeda, for one, works on building a rapport with her customers. "I was interacting with a customer once and they gave me their baby and asked me if I would leave my current position to take up babysitting!" she recalls. "It was a proud moment, and a great laugh among the bar staff." Sokyo is highly regarded both as a bar and a Japanese restaurant, and Zikra was determined to showcase Japanese whisky in her east-meets-west variation on the classic Whisky Sour. "When the Japanese took whisky-making from Scotland in the early 1900s, they ended up creating something special. We are also taking the western condiment marmalade and reinventing it with Japanese ingredients."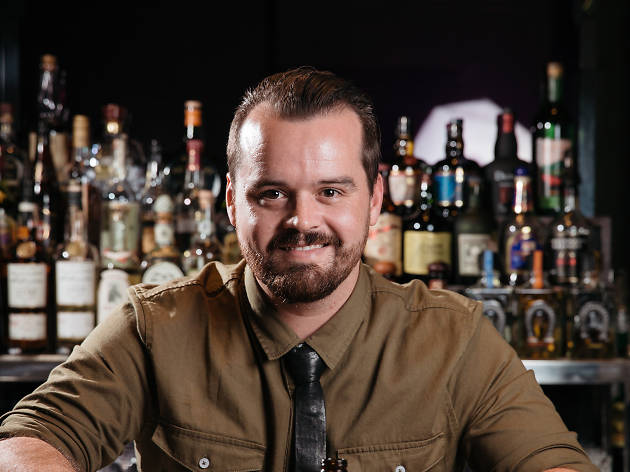 Alex Clark, Gilt Lounge
Drinks, chat, being social and hospitable: "It's in my blood," says Alex Clark, who is eight months into his job behind the bar at Gilt Lounge. "My folks always had people round when I was growing up and I learnt from an early age what it means to look after people and make them feel welcome." Alex has created a meaty twist on the Bloody Mary, using a chorizo fat-washed mezcal, which has been in his recipe book since he was living in London. "Meat washes were the craze there, almost every venue sporting a bacon bourbon," he recalls. "I had experimented with jerky vodka and duck Cognac but nothing comes close to the marriage of chorizo and mezcal: sweet, smoky and rich. This spirit had to be put into a Bloody Mary."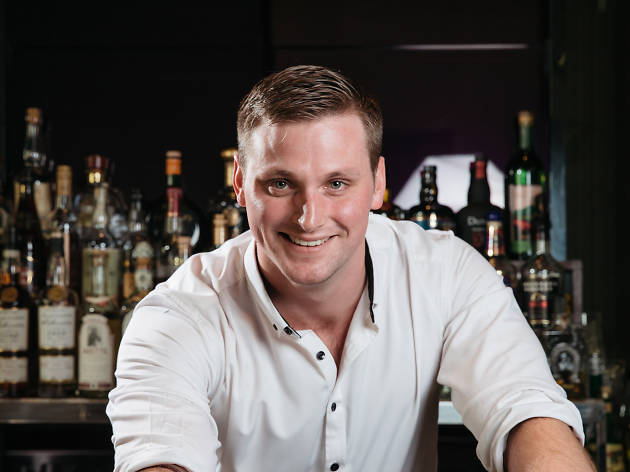 Andrew Mae, The Bar
Andrew Mae sees his bartending job as the latest in a line of creative pursuits, including his studies in architecture. "Mixing cocktails is a great form of expression. Like architecture, it's a balance of science and beauty." For the Hotel Bars Cocktail Competition, Mae built a Bloody Mary variant called the Truffle with Vlad. "Adding truffle-infused vodka and the smoky characteristic of Laphroaig 10yo Scotch Whisky helps to mellow the spice and enrich the flavour. Bloody Marys are best served ice cold; however they are often ruined by dilution from the ice. I solved this by freezing miniature truss tomatoes and using them as ice cubes. By the time you've finished the drink the tomato is defrosted and has soaked up the flavours, making it delicious to eat." Our judges heartily agreed.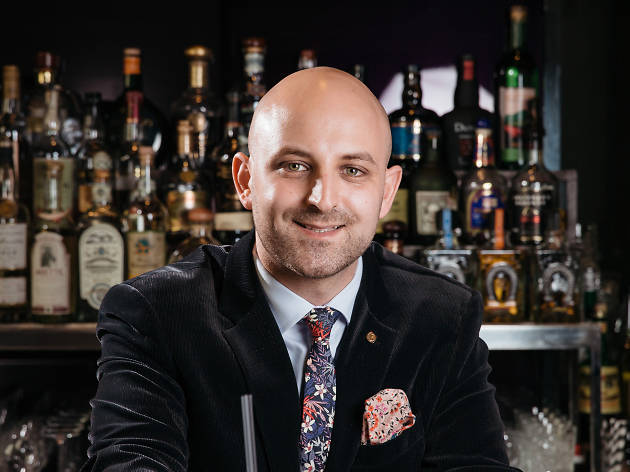 John Toubia, Supper Club
Up on level 31 of the InterContinental, the lights are dim, the views are stunning and the tunes are great. For six months, this impressive place has been John Toubia's office. "I love being a bartender," he says. "The speed of it, the customers, and the art." His golden hour starts at 11pm ("a little crazy tends to come to life at this time") and he finds himself pouring a lot of Taittinger Champagne and classic cocktails. For our competition, John came up with "a fresh version of the classic Cuban Mojito, designed to cure the blues. It's a drink that showcases gin as an uplifting spirit, which is not how it's always perceived. I kept in mind that the drink needs to be replicated in a busy cocktail bar. For this reason, the drink respects simplicity but is still complex on the palate."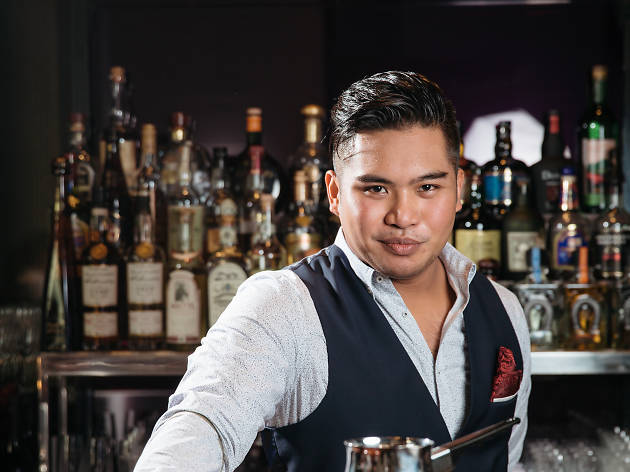 Art Palomata, Blu Bar on 36
"There are so many things to love about being a bartender," says Art Palomata, who has been mixing and pouring up on the 36th floor of the Shangri-La Sydney since the end of 2014. "There are times when guests are at the bar to celebrate and as a bartender, you are invited to be part of the fun. There are times where guests are so amazed at your work they share photos through social media. I guess the best moments are when you can provide a memorable experience for a guest and later say, 'yeah, I was part of that night.'" The concept behind Art's twist on a Bloody Mary is a tribute to the hotel experience: "different elements from around the world, harmonious under one roof." The theatre of the cocktail's creation is essential to the experience, he says. "The mysterious cloud carrying beautiful aromas of rosemary and cinnamon invites you to try this intriguing concoction."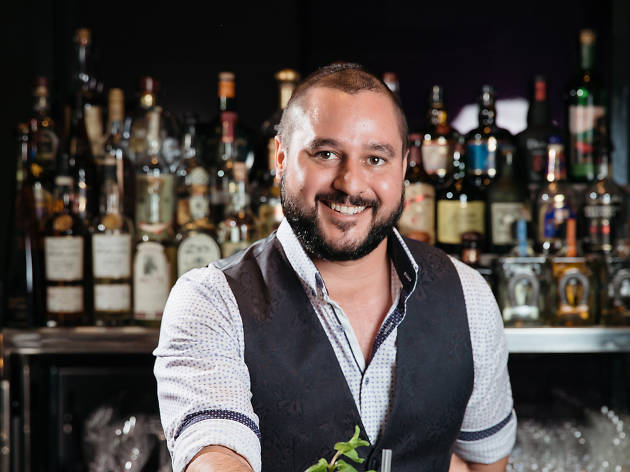 Jeff Clifford, Stingray Gold Coast
Venue manager Jeff Clifford has worked at Stingray Bar & Lounge in Surfers Paradise for nearly three years. A Gold Coast hotspot where patrons hit the dance floor every weekend, the bar nevertheless takes cocktail appreciation seriously. "In July last year I won a trip to Tequila, Mexico, to visit tequila and mezcal producers and learn about the production of my favourite spirits," says Clifford. "I've since been able to host tequila appreciation classes at Stingray Lounge." Clifford's cocktail, the Weekend Away, is a spin on the Cuban classic the Mojito. "This beverage plays on the age-old relationship between Caribbean rum and fresh mint, while lightening the palate with sweet pineapple notes and a clean finish thanks the NZ Sav Blanc."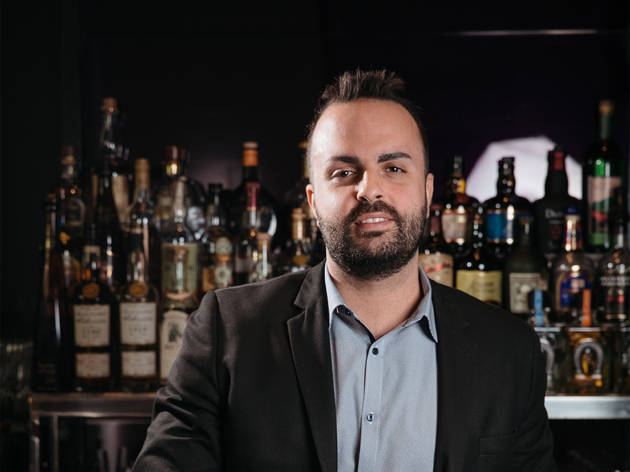 Jared Thibault, Lucky's Speakeasy Canberra
"The thing about hotel bars is this: famous people often frequent them. "Once I served the rapper Lil Jon Don Julio 1942 shots all night – then went out with him afterwards," admits Jared Thibault, who manages Lucky's at the QT Canberra. "What happened next is a secret!" Thibault ran cocktail bars in the US for 11 years, where he acquired his fondness for tequila and mezcal. "My favourite modern classics are the Oaxaca Old Fashioned from Death & Company in New York, and the Rosita made popular by Dead Rabbit [NY] legend Gary Regan. The QTique Old Fashioned is inspired by those cocktails. We have added our own QT flair to it with our house-grown edible nasturtium and Montenegro smoked almonds."
How to make the drinks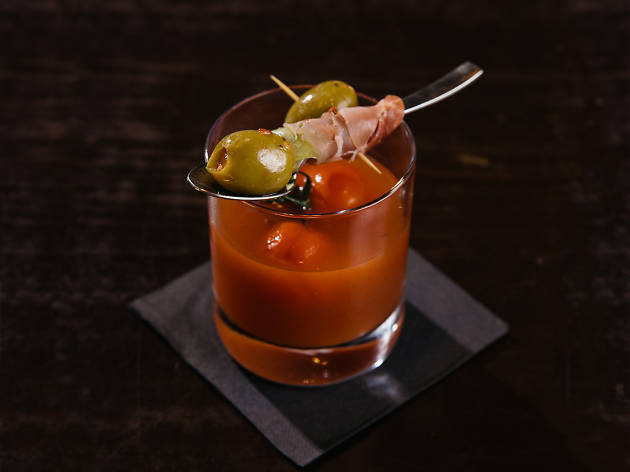 The Truffle with Vlad
Ingredients •15ml white truffle fat-washed Belvedere vodka •40ml Belvedere Vodka  •5ml Laphroaig 10yo  •Miniature truss tomatoes, frozen •Thin sliced cucumber  •A slice of jamón serrano  •Cracked pepper •Chilli-stuffed olives •180ml house Bloody Mary mix: Berri tomato juice, dried rosemary, dried basil, jalapeños, Worcestershire sauce, Tabasco sauce, cayenne pepper, horseradish sauce, salt, cracked pepper, lemon juice   Method Combine Laphroaig 10yo, white truffle Belvedere and Belvedere vodka in a shaker with Bloody Mary Mix and perform a dry shake (no ice). Place frozen miniature truss tomatoes into the base of a rocks glass and pour contents of shaker over them without straining. Crisp the jamón serrano on a hot plate using a blowtorch and place on a skewer with cucumber and chilli-stuffed olive. Balance skewer on the rim of the glass and crack pepper over the top to complete the garnish.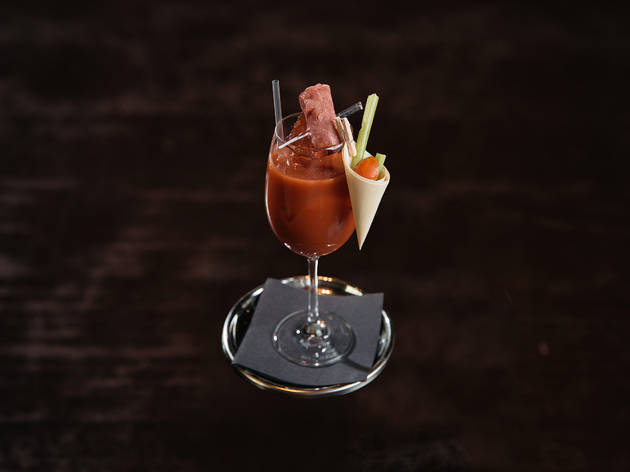 The Reuben Mary
Ingredients •45ml pastrami fat-washed Bulleit Bourbon  •10ml pickle brine  •15ml Russian dressing mix  •130ml tomato juice •Strip of pastrami, a celery leaf and pickled vegetables to garnish   Method Place all ingredients (except the garnish) in a mixing glass. Add ice and stir until mixed and chilled. Pour the cocktail into a wine glass filled with ice. Garnish with pastrami, celery leaf and pickled vegetables.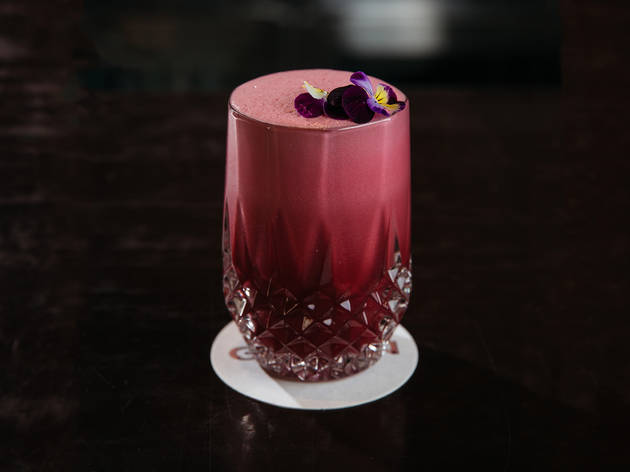 The Grain Geisha
Ingredients •60ml Suntory Hakushu 12yo whisky •60ml beetroot juice •45ml lemon juice •30ml egg white •15ml sugar syrup •15ml chocolate chilli reduction (Pedro Ximenez sherry, 70% dark chocolate and red chilli) •Edible flowers to garnish   Method Add all ingredients to a shaker and perform a shake with ice (wet shake). Strain into a new shaker tin and shake the drink a second time without ice (dry shake). Double strain into an Old Fashioned (rocks) glass and garnish with edible flowers.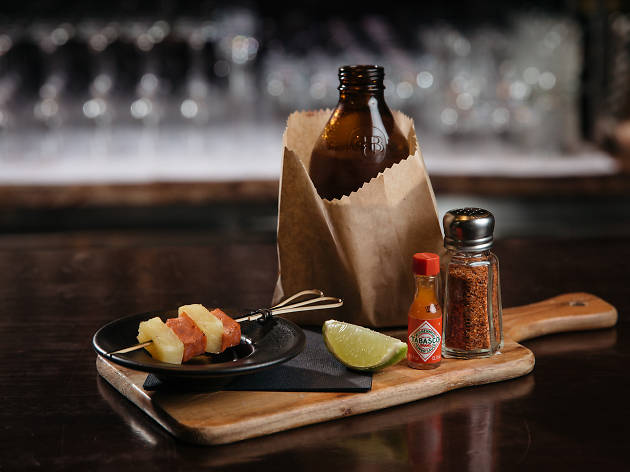 The Squealing Throw Down
Ingredients •50ml chorizo fat-washed Mezcal Amores  •30ml Heinz Big Red tomato soup  •30ml pineapple juice  •15ml lemon juice  •15ml Worcestershire sauce  •½ bar spoon (or tspn) garlic powder  •100ml Mexican beer •Lime and chilli salt •Mini Tabasco bottle   Method Add all ingredients (except the beer) to a shaker with large cubed ice. Using a second shaker throw the cocktail until mixed and chilled. Pour the liquid into a chilled throw down bottle and top with Mexican beer. Wrap the bottle in a brown paper bag and serve on a wooden board with a mini salt shaker of lime and chilli salt and a mini Tabasco bottle.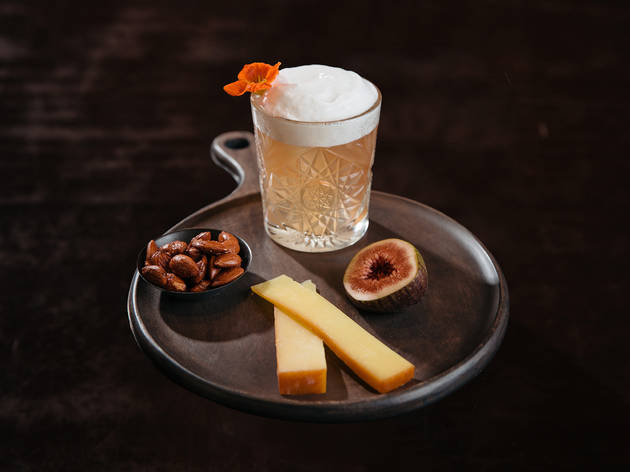 QTique Old Fashioned
Ingredients •45ml Herradura Reposado tequila, smoked with palo santo wood chips •15ml Amaro Montenegro  •2 dashes Bittermens Burlesque bitters  •10ml housemade grenadine  •Distilled ice blocks  •Orange blossom foam  •Housegrown nasturtium  •Amaro Montenegro-dusted smoked almonds  •Half a fig •Smoked cheddar Method Add tequila, Montenegro, bitters, and grenadine to a mixing glass. Stir with ice. Put a small amount of foam in an Old Fashioned glass. Strain the cocktail into the glass with distilled ice blocks. Top with foam and a nasturtium flower. Place on a presentation plate with fig, cheddar and smoked almonds.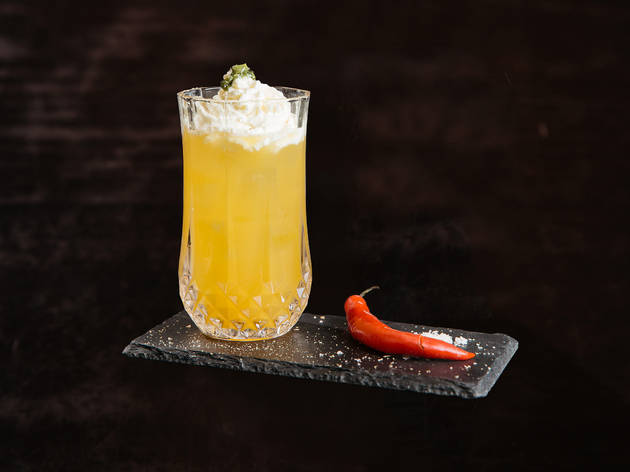 The Salcha
Ingredients •50ml Gin Mare gin  •40ml gazpacho (see below) •10ml lemon juice  •2 bar spoons mango chilli chutney  •Goat's cheese foam (see below) •Basil oil (garnish) •Dried celery powder (garnish)   Gazpacho:  •Tomato juice •Red capsicum •Celery  •Garlic •Basil oil and fresh basil  •Canola oil  Method: Sautée capsicum, celery and garlic in canola oil. Add tomato juice and bring to the boil. Season, cool and chill.   Goat's cheese foam:  •250g soft goat's cheese •125g sour cream  •125g heavy cream  •1.5 tbsp olive oil •Salt and pepper  Method: Blend goat's cheese, olive oil, sour cream and seasoning in a blender. Pass mixture through a fine sieve, add heavy cream and mix. Pour the mixture into an ISI Whip, screw in one ISI cream charger and shake vigorously. Refrigerate for at least one hour.   Method Add all ingredients in a shaker (apart from the goat's cheese foam and basil oil). Add ice and shake until combined. Strain the liquid into a highball glass filled with ice and garnish with goat's cheese foam and basil oil.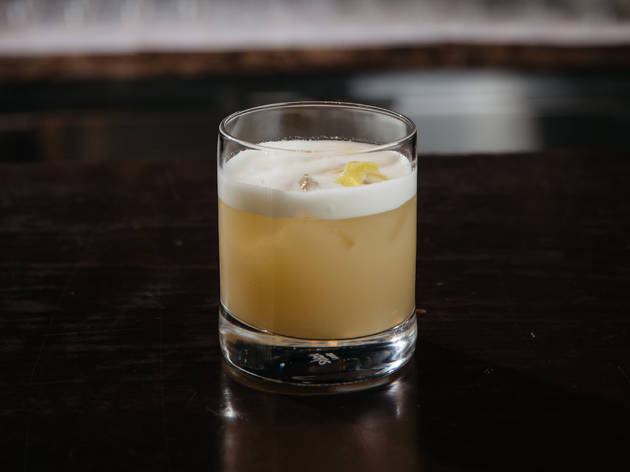 The Suppai Saiyan
Ingredients •40ml Hakushu 12yo Single Malt Whisky •20ml Miyagikyo Single Malt Whisky •1 tbspn Japanese marmalade •15ml simple syrup •30ml blend of Japanese citrus juice •Dash of egg white •Citrus peel (garnish)   Method Add all ingredients to a shaker and perform a dry shake (without ice) before shaking the drink a second time with ice. Strain liquid into a rocks glass filled with ice and garnish with citrus peel.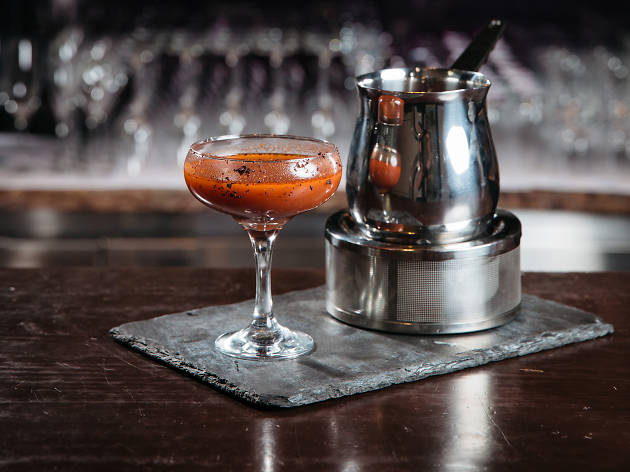 The Scarlet Affair
Ingredients •90ml tomato mix (see below)  •30ml sake  •15ml Yellow Chartreuse  •15ml plum pisco  •15ml house syrup: honey, cinnamon, cloves, nutmeg  •15ml vinegar mix: Worcestershire sauce, yuzu, chilli-infused vinegar  •Cayenne pepper •Celery salt •Cinnamon •Smoked paprika •Black pepper •Rosemary •Olive oil •Dry ice to garnish Tomato mix: •Combine V8 tomato juice, sun-dried tomato and roasted garlic sauce, strain and keep at room temperature   Method Heat the tomato mix in a pot. Assemble needed materials (dry ice for visual presentation, cinnamon and rosemary for the aroma). Garnish complete glass with olive oil. Once tomato mix is simmering, add all ingredients to the pot and give a gentle stir. Add additional spices to taste. Before serving, add water to the dry ice.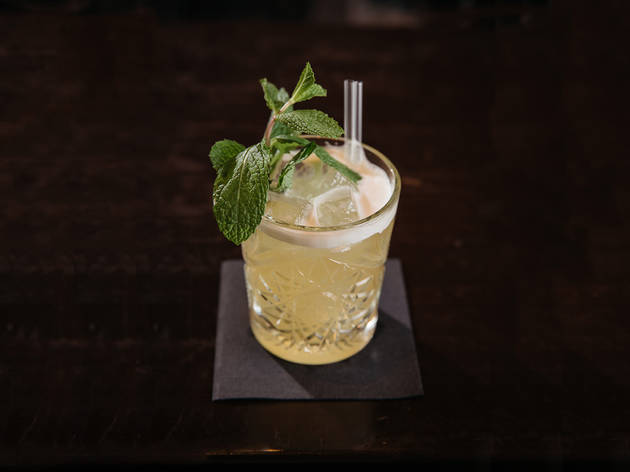 The Weekend Away
Ingredients •45ml Ron de Jeremy spiced rum  •45ml Wairau River Sauvignon Blanc  •45ml fresh pressed pineapple juice  •15ml housemade lemongrass syrup  •Fresh-picked mint to garnish   Method Add all ingredients except the mint to a cocktail shaker. Shake vigorously and strain over cubed ice into a highball glass. Garnish with a large, long sprig of agitated mint.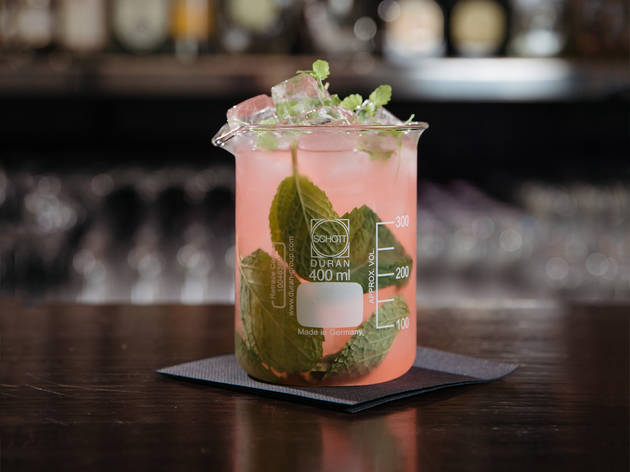 The Beat Down Tonic
Ingredients •10 leaves of mint  •1 tspn Pernod Ricard  •50ml Tanqueray 10 Gin  •20ml Campari  •Raspberry syrup  •40ml white grapefruit juice  •Dash of tonic   Method Add all ingredients apart from the tonic to a beaker glass filled with ice. Stir ingredients with a bar spoon until mixed. Finish with a dash of tonic water and garnish with mint leaves.