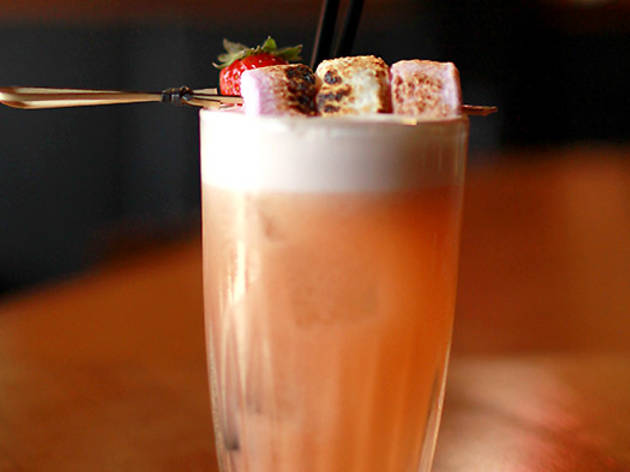 1/9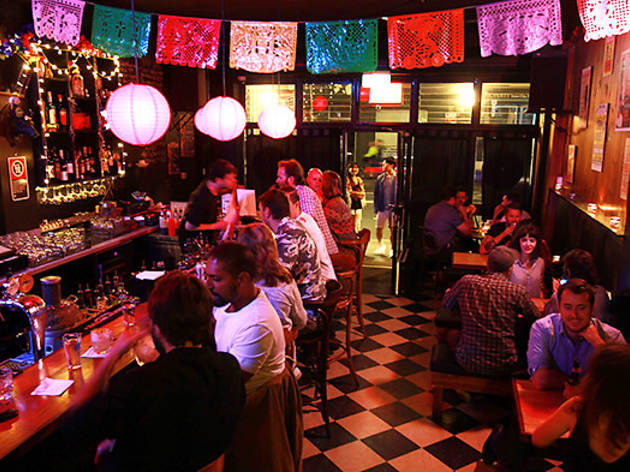 2/9
3/9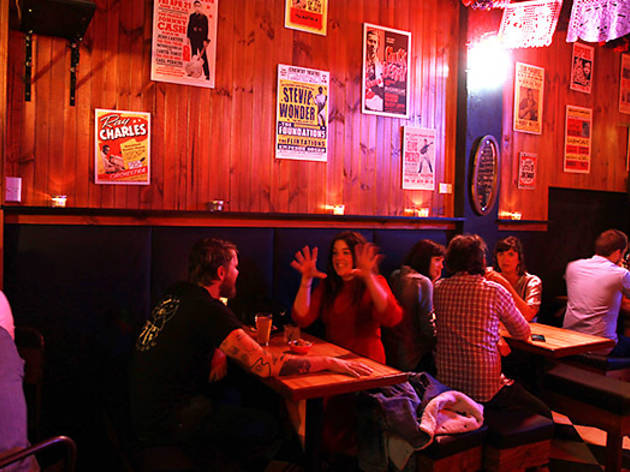 4/9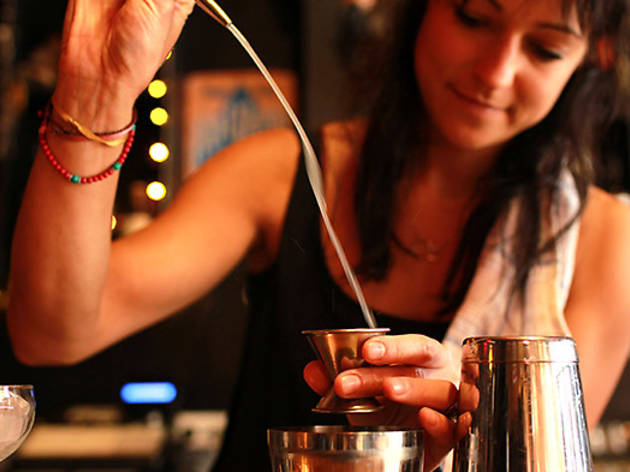 5/9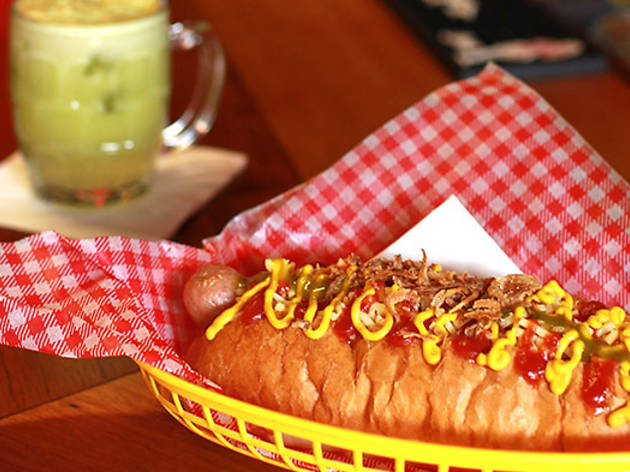 6/9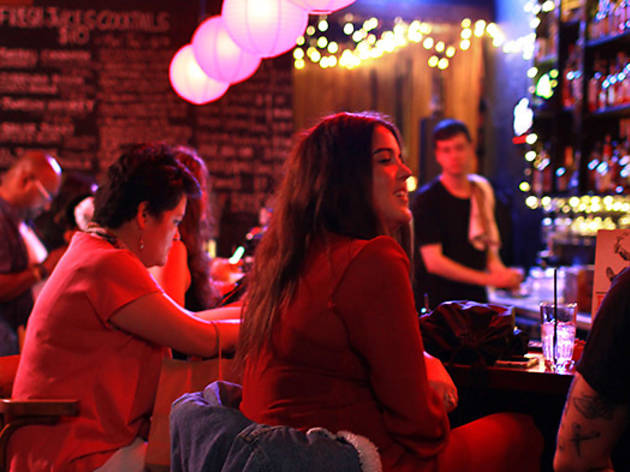 7/9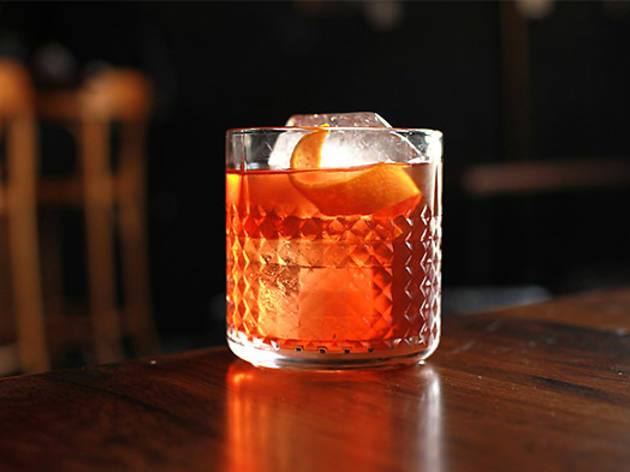 8/9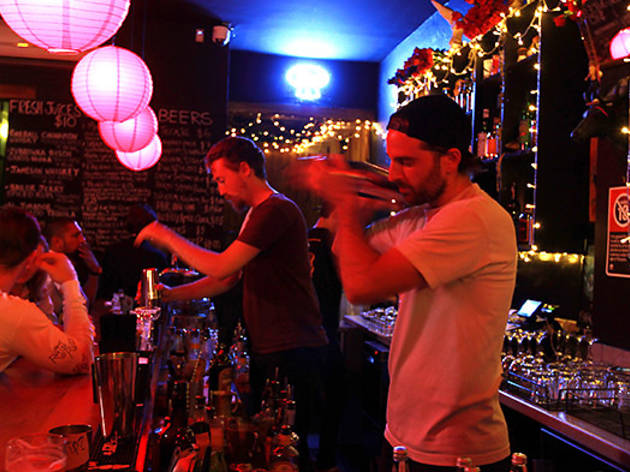 9/9
Shine a little (low) light on your night at Enmore's favourite dive bar
The Midnight Special's D.I.Y, rock-basement dive bar look has been properly worn in by now. With any neighbourhood boozer it takes a while to really get that authentic, hard-loved finish. The black paint needs to lose its fresh sheen; the old playbills lining the wall need to peel a little and it takes time to build up a collection of creepy dolls, hula girl ornaments and old soda syphons to tuck in amongst the liquor bottles.
Yep, Enmore's blues and booze den is sitting pretty and she doesn't lack for devoted company most nights of the week. We're not saying you need a band shirt and a flanno to drink here, we're just saying you'd fit right in if you did. This is a bar for sinking piss, talking shit and giving regular approving nods towards the speakers delivering a blues and alternative rock-heavy playlist. Sometimes they host live gigs too.
They've turfed the crappy pizzas and replaced them with a kickass hot dog. It's like early Christmas for everyone – they even have a veg dawg. Nothing fits as snugly in your non-drinking hand as a soft, white torpedo roll hugging a frankfurter dressed in a mild sauerkraut, with mustard and crisp onions pieces. With a Fireball cinnamon whisky and fresh apple juice in the other hand you are truly living the dream. In fact the booze and juice menu is still just ten bucks so choose your poison – spiced rum, Irish whiskey, bison grass vodka, tequila, or gin – and then let Granny Smith add some essential vitamins to your liquor.
Beers are also a good idea, in general and also at this bar. They've got the Grifter pale ale and a floral and sweet hay-scented kolsch from the Shark Island Brewing Co (sadly there isn't a brewery on the harbour island – they brew on the mainland). There's more brews in the fridge if you're aching for a Sierra Nevada pale or an Anchor steam ale, but they also do good work with short, boozy, stirred down cocktails. An oaky, vanilla Smokestack Lightning tastes like a Dixie cup in a summer thunderstorm thanks to a combo of rum, lillet rouge, maple syrup and Ardbeg. Bit skint? A $7 house wine is becoming a rare beast, but you can still get one here.
It's not a big space, and it's a popular spot with good reason. All the key ingredients for a good night out are locked down – ace drinks, great tunes, a cracking hot dog and no bullshit – and that's as close to a good times guarantee as it gets.
Venue name:
The Midnight Special
Contact:
Address:
44 Enmore Rd
Newtown
2042

Opening hours:
Tue-Sat 5pm-midnight; Sun 5-10pm
Price:
$10-$50