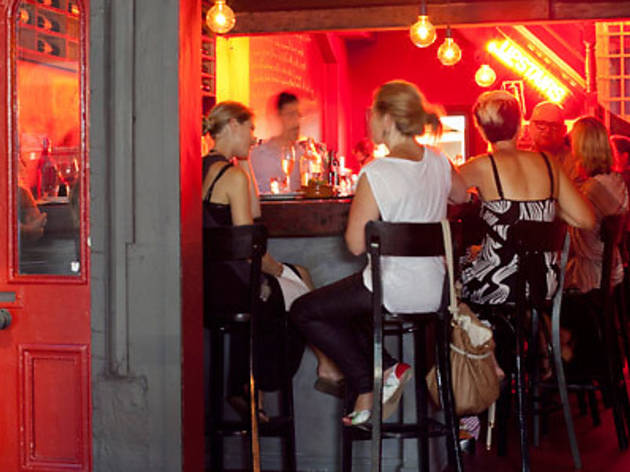 Should you give a hoot about East Sydney's newest small bar?
Since prohibition in Sydney came to an end, all booze is good news. New bars are popping up all over, whether they be high-concept lounges, top-shelf cocktail spots, wine bars with vast, thoughtful, singular lists, or (as in this case) innocuous neighbourhood joints.

Owl House isn't going to ruffle any feathers, but why should it? The affable people behind the bar and the chatty locals sitting along it suggest keeping the locals happy is the motivator here. The 'House is a two-floor terrace wedged between a gym and a brothel down the wrong end of Crown Street. Downstairs, a handful of stools hugs a pleasant bar while a neon sign points upstairs to a classic Darlo terrace: a candlelit room, mismatched furniture, and a small balcony covered in tree-shade.

To drink there's classic cocktails (Negronis and Sidecars), bottles of Alhambra Negra beer, and a lone, quality Spanish cidre (Lagar de Camin). Wine runs the gamut from plump, acidic Albariño to the slurpable 'Juveniles' GSM blend from Torbreck. It's purposeful and to the point, exactly what we were after, but when we stopped by, this thoughtful selection of drinks was let down by poor execution. An otherwise well put together Negroni has what could be a half-time orange bobbing in it, in place of the requisite rind. Similarly, decade-old Vouvray, one of the list's real curios, arrives fridge-cold. Frustrating when you're paying $17 for a glass of wine.

There are affordable bar snacks to be had, but on more than one occasion there is either too little or too much on the plate. A stuffed portobello mushroom isn't really helped by a fairly severe balsamic glaze, nor a blob of 'yoghurt foam'. While a pretty dish of ricotta and mint-stuffed zucchini flowers resting on crushed peas has a nice sweetness to it, curiously the blossoms are steamed, meaning there is little excitement by way of texture. The house salad sees cos leaves tossed with plump capers, sundried tomatoes and a parmesan dressing. It's high on umami, but so salty it's a little difficult to eat.

Sydney needs the norm just as much as the niche, and with just a little more attention to detail Owl House could be a fine addition to the neighbourhood. But for the people of this city, and especially this 'hood, the norm is great things to drink and eat. Right now, Owl House isn't quite in the middle of the street.
Venue name:
The Owl House
Contact:
Address:
97 Crown St
Darlinghurst
2010

Opening hours:
Tue-Thu 5pm-midnight; Fri 4pm-midnight; Sat 6pm-midnight; Sun 6-10pm