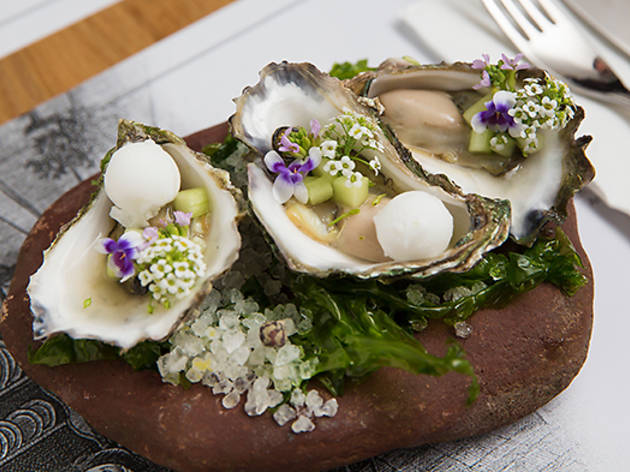 1/16
2/16
3/16
4/16
5/16
6/16
7/16
8/16
9/16
10/16
11/16
12/16
13/16
14/16
15/16
16/16
Time Out says
A restaurant with the spirit of a bar and a love of gin joins the new guard in Potts Point
We're not quite sure if the Powder Keg is a restaurant first, or a bar foremost. Either way, it's a whole lot of fun to spend an evening here. There's plenty of seating and not much in the way of standing space – score one for team restaurant – but drinks are a big part of what this place is about.
You can find this gin joint in one of those beautiful, super-slim terraces on Kellett Street in Kings Cross. There's a cosy, low-lit bar up the back, but up the front the room opens right up, leading out to a courtyard where the prime seats are the ones on the raised timber deck, right beneath the fairy-lit boughs of an old fig tree.
Take a seat and let the godfather of soul set the tone for the evening. The table might be set for dinner (the menu is on the underside of the paper placemat) but the soundtrack is set to party. They take the simple gin-and-tonic to extreme lengths here, with eight tonic water options, 110 gins and a series of tonic bitters to be added to soda as an alternative mixer. You can spend a lot of money on an international small-batch gin, or as little as eight bucks on a nip of Beefeater. Either way, expect to pay just south of a twenty to try something interesting.
A G&T made with Germany's Monkey 47 will set you back $18. Those 47 botanicals combined with tonic, saffron threads, grapefruit bitters, grapefruit zest and fresh strawberries and blueberries have the spirit of a Pimms cup and the kick of something much stronger. For a more herbal, refreshing mix go for Spain's Gin Mare in a stemmed fishbowl glass with tonic, lemon and a fragrant bouquet of thyme and rosemary.
For some bar theatrics order the Gunpowder Plot off the cocktail menu. Named after Guy Fawkes' attempt to blow up the House of Lords, the cocktail is a mix of gunpowder tea-spiked gin, Fernet-Branca, Dandelion & Burdock bitters and fresh citrus, and it arrives in a smoke-filled bell jar.
The food comes care of chef Elijah Holland, who has stints at Aria and Jonah's on his CV and is deeply interested in foraging. You'll find lemon verbena, clover leaves and flowers, wood sorrel, sea lettuce, purslane, pine mushrooms and even baby sunrose – which we recognise as a common house plant – popping up on the menu, much of it sourced from his mum's garden.
The oysters are so beautifully presented it's almost a shame to demolish the still life of animal, vegetable and mineral that arrives at the table. The creamy Sydney rocks come balanced on a board packed with rock salt and garnished with tiny edible, foraged violets and anise flowers, diced cucumber and a little Mentos-sized ball of gin-and-tonic sorbet to achieve a four-way balance between sweet, salty, crunchy and cold. They come in serves of three, but canny staff offer to make up even numbers to avoid bivalve bickering.
Stay on the raw route and order the steak tartare dressed in sesame seeds and shot through with diced capers and a mustard cream. The smoked egg yolk on top is a hard, sticky jube – brilliant in colour but not able to be mixed through the tender diced beef. It gets left to the side while we use the wafer-thin potato crisps as crunchy cutlery.
Those who like bar snacks that have seen some heat should order a plate of three duck schnitzel lollipops – skewers threaded with rich, crumbed duck morsels and blush pink pickled kohlrabi blocks dressed in a dill-heavy tartare sauce. Or if you just want something simple to chew on while the world goes by, order a serve of the malty, dense soda bread and spread it generously with house-cultured butter with sea salt sprinkled over the top. They also trade in larger plates like a rich, tender beef short rib with smoked bone marrow, turnips and potatoes, and a sirloin on the bone.
The up-all-night Potts Point we once knew is changing pace as more restaurant/bar hybrids bring snacks and booze to the party in equal measure. The service is attentive and genial at the Powder Keg and they take bookings, so we lean toward calling it a restaurant. But they are still totally fine if you want to pop in for a cocktail and a snack, and the tunes are just a few volume hikes from becoming full-blown dancefloor fillers.

You might be sitting, but you'll also probably be drinking. And as long as you're having a good time, who cares what the OLGR calls the place?
---
Details
Address:
7 Kellett St
Potts Point
Sydney
2011

Contact:
Opening hours:
Wed, Thu 5pm-Late; Fri, Sat 4pm-2.30am; Sun 2pm-11.30pm
Best selling Time Out Offers