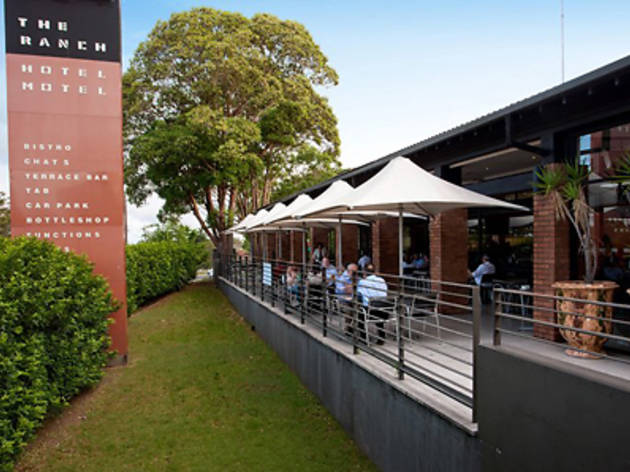 Time Out says
Lasso a table at the Ranch for you and your herd – it's one of the most family friendly pubs around
Back in the 1980s, it was known as El Rancho, and was a bloodhouse of some renown: locals referred to it (not without affection) as 'El Puncho'. That was to be expected when you were the only pub for kilometres in any direction and existed primarily so that working people in the northwest could gather to blow off steam.
That was then; this is now. Today, the main kind of argy-bargy is parents trying to prise their offspring off the jumping castle or away from the machines in the arcade room, because it's time to go home now, Lachie! The Ranch Hotel is the region's prime corrall for kids, and it does things on a scale that is truly Texan.
The entry way off the remodelled car park (the drive-through bottle-o has been removed, because there's a brand new Dan Murphy's next door) splits things firmly down the middle, between grown-up vice and child-focused fun. Take the left hand door, and discover a big pokies room open to the fresh air, so you can smoke while you gamble; an epic sports bar for the dedicated punter; and the party room where Wednesday 'Hump Nights' are given over to uni students (Macquarie Uni is just one good life choice away, across Epping Road).
Take the right-hand door into the bistro, on the other hand, and it's a magic window into the future for those self-same scholars: wall-to-wall family lunches, kids' parties, face painting and superhero special guests. On a Sunday, a cheery maitre d' will greet you to take you to a table inside an aircraft-hangar sized space with a sprawling bar and three queues just for ordering from the bistro.
The menus feature what amounts to an apology, explaining that the food has been designed with speed and turnover in mind primarily. No complaints from us on the punctuality of the Caesars and pulled pork burgers, and the young waitstaff are a keen, helpful bunch, but gestures towards finesse in the presentation are largely betrayed by the actual fare (there's little consolation for overcooked chips, for instance, in the fact they are served in a cute miniature deep-frying sieve, and that steak sandwich is a must-avoid).
But, if we'd come for our own pleasure, we'd have taken the left-hand fork. The point here is that it's all about the kids. On a Sunday there's a staffed Arts and Crafts corner, a jumping castle in the courtyard, a colouring-in competition that can win the lucky parents a $50 hotel voucher (get scribbling, or no chicken nuggets for you, Jemima), and a whole separate wing that can be booked out for big, big parties.
Interestingly, senior citizens, too, get some love: if you're over 65 you get access to a menu that includes a $9.90 roast. Hats off the Ranch for keeping that ol' circle of life turning.
Details
Best selling Time Out Offers