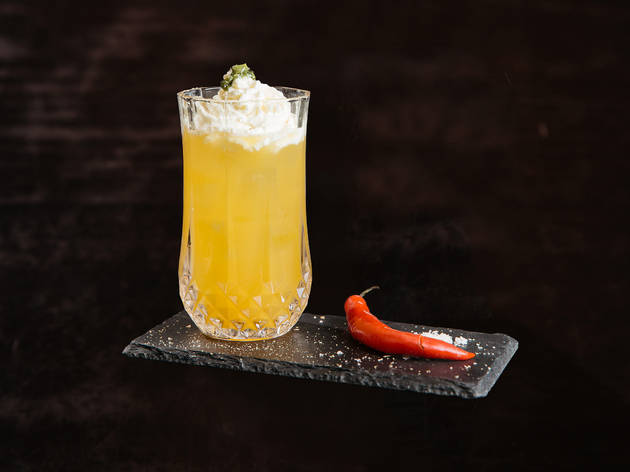 The Salcha
By Jay Tuncer Tokmak, Marble Bar
Ingredients
•50ml Gin Mare gin
•40ml gazpacho (see below)
•10ml lemon juice
•2 bar spoons mango chilli chutney
•Goat's cheese foam (see below)
•Basil oil (garnish)
•Dried celery powder (garnish)
Gazpacho:
•Tomato juice
•Red capsicum
•Celery
•Garlic
•Basil oil and fresh basil
•Canola oil
Method: Sautée capsicum, celery and garlic in canola oil. Add tomato juice and bring to the boil. Season, cool and chill.
Goat's cheese foam:
•250g soft goat's cheese
•125g sour cream
•125g heavy cream
•1.5 tbsp olive oil
•Salt and pepper
Method: Blend goat's cheese, olive oil, sour cream and seasoning in a blender. Pass mixture through a fine sieve, add heavy cream and mix. Pour the mixture into an ISI Whip, screw in one ISI cream charger and shake vigorously. Refrigerate for at least one hour.
Method
Add all ingredients in a shaker (apart from the goat's cheese foam and basil oil). Add ice and shake until combined. Strain the liquid into a highball glass filled with ice and garnish with goat's cheese foam and basil oil.
Meet the bartender
Wine and cheese are a classic combo, but cocktails and cheese? Marble Bar's Jay Tuncer Tokmak is putting a twist on the Bloody Mary that's more logical than it might seem. "As a Bloody Mary is considered a hangover cure, I thought it would be a good idea to have hangover cure and breakfast in one," he says. "After all, tomato and cheese are common to breakfast culture." A relative newcomer to the Hilton's historic underground bar, Jay knew he'd fit in on his first day when a customer came up to thank him personally for making a perfect classic cocktail. "My favourite kind of customer is the one who knows what they want to drink rather than 'make me something good!'"
More Hotel Bars
There are some amazing bars and ace hospitality talents tucked away in our city's finest hotels, so Time Out set out to discover the best hotel bars in Sydney.
Best selling Time Out Offers