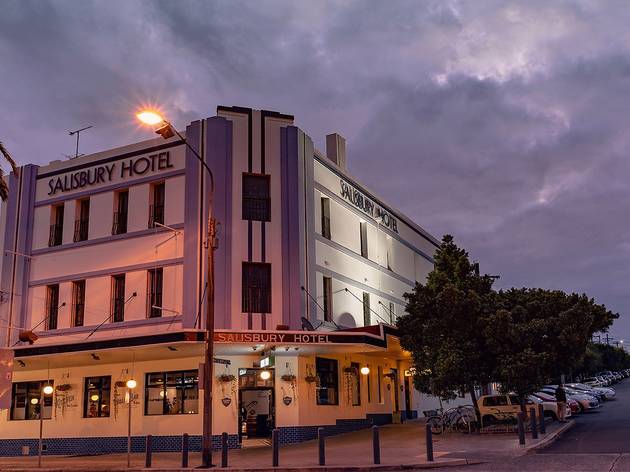 1/4
Photograph: Chantel St Quintin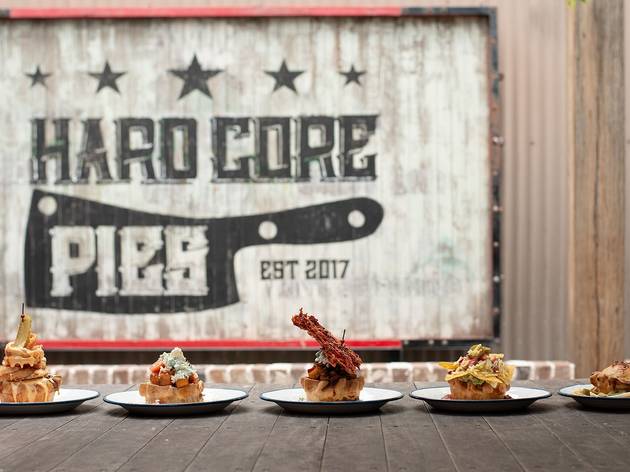 2/4
Photograph: Chantel St Quintin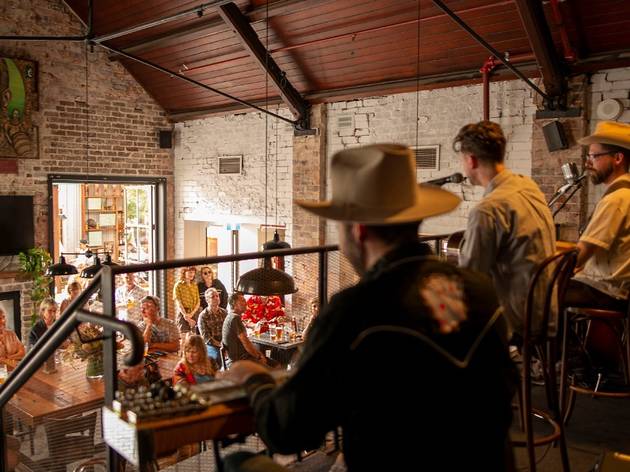 3/4
Photograph: Chantel St Quintin
4/4
Photograph: Chantel St Quintin
Time Out says
Stanmore's historic village pub is now an all-day dining option with free live music, spaces for hire and a pie worth crossing town for
It's a bright new era for this Inter-war Art Deco corner pub, thanks to an extensive renovation, but that doesn't mean the classic features of a quality village local are overlooked. There's still a weekly pool comp; Mondays has a two-for-one meal special; and on Thursdays there's a live pianist to accompany your evening meal with a little night music.
But Sundays is where the Salisbury Hotel really shines. The kitchen is slinging a seafood feast (or a Sunday roast in the cooler months), and you can ride out the end of the weekend to the warm, inviting twang of some live country tunes. Between 3pm and 6pm a rotating roster of local country musos – such as the Sydney-based sibling duo the Banks Brothers, who specialise in bluegrass, Delta blues, honky-tonk and rockabilly on the last Sunday of every month. You might catch Pete Campbell bringing his brand of acoustic folky blues rock to the stage, or on the first Sunday of the month, Mark Lucas and the Dead Setters fill the venue with classic guitar-led blues tunes (other acts appear on the intervening Sundays).
The quality pub pie is something of a lost art, but not at this Inner West hotel. They've installed Stuart Clark, the man behind Hardcore Pies, into the pub kitchen where he is producing a golden pastry case generously filled with all the good bits: tender pieces of fall-apart beef seasoned with summer ale, a Greek-inflected lamb, tomato and oregano number, or perhaps the gentle spice of a free-range coconut chicken curry. There is even a pie special that comes with trimmings piled on top of the pastry (imagine loaded fries, but pie). To make your pie a square meal you can add your choice of side, be it chips and gravy, smoky beans, apple kraut slaw, or a mix of colourful roasted beetroot with fetta and spiced chickpeas.
Not feeling like a pastry dinner? Sometimes the old ways are still the right ways, so there's a burger, steak and nachos on the mains menu, pasta dishes and nourish bowls, plus a six-item kids' menu that lets you feed smaller appetites with beef ragù on penne, or fish and chips. The pub's vegetarian and vegan options have come to rival the old pub staples in popularity too.
As more Sydneysiders embrace apartment living it means big gatherings need to happen in public spaces. Luckily, at the Salisbury you can gather the extended crew and book a 12-person table on the bed of a vintage brewery truck in the courtyard. Got a few more friends on the guestlist? Book the hall, a breezy indoor atrium that caters to 30, or add the loft mezzanine above it to make it comfy for 50 or more people. You can also book out those booths in the dining room – all of them for a sit-down affair, or just a table for ten if you want to make sure your pals can all enjoy their pub pie together. Everyone coming to town for a large event? Cry happy tears at a wedding in a private space catering for up to 100 people. You can also reserve a space for any amount of people in the main bar for the outrageous fun of weekly Drag Bingo Wednesdays hosted by Felicity Frockaccino.
But it doesn't need to be a special event for some liquid refreshment. Carlton and Guinness on tap sit alongside the fresh flavours of locally brewed ales, like the strong tropical IPA from Philter, Grifter Brewing Co's fruity Serpent's Kiss, and beers from Young Henrys, Beerfarm, Great Hops Brewing Co and Stone and Wood. The wine list even features tasting notes for the 20 options by the glass, so you've got more to guide you than just 'red, white or pink'.
Surely the biggest clue of all that this is a truly modern pub is the sign saying "Coffee from 6am". They've embraced the idea of being all things to all people by grinding up Little Marionette beans and offering all the fixings for a fry-up, but here they let you build your own perfect big breakfast. All-day dining has a new benchmark, and they're nailing it at the Salisbury Hotel.
Details
Best selling Time Out Offers