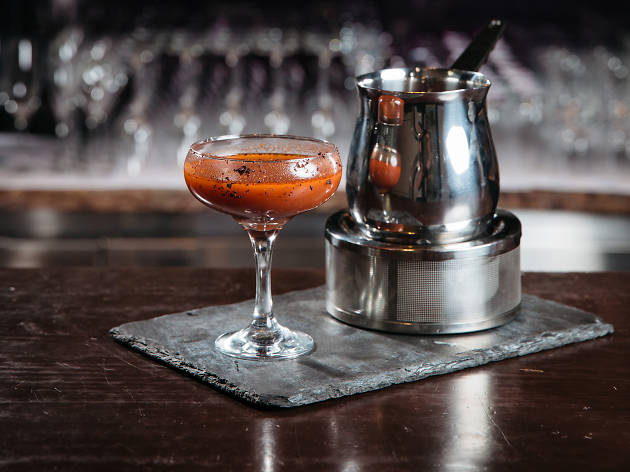 The Scarlet Affair
Art Palomata, Blu Bar on 36
Ingredients
•90ml tomato mix (see below)
•30ml sake
•15ml Yellow Chartreuse
•15ml plum pisco
•15ml house syrup: honey, cinnamon, cloves, nutmeg
•15ml vinegar mix: Worcestershire sauce, yuzu, chilli-infused vinegar
•Cayenne pepper
•Celery salt
•Cinnamon
•Smoked paprika
•Black pepper
•Rosemary
•Olive oil
•Dry ice to garnish
Tomato mix:
•Combine V8 tomato juice, sun-dried tomato and roasted garlic sauce, strain and keep at room temperature
Method
Heat the tomato mix in a pot. Assemble needed materials (dry ice for visual presentation, cinnamon and rosemary for the aroma). Garnish complete glass with olive oil. Once tomato mix is simmering, add all ingredients to the pot and give a gentle stir. Add additional spices to taste. Before serving, add water to the dry ice.
Meet the bartender
"There are so many things to love about being a bartender," says Art Palomata, who has been mixing and pouring up on the 36th floor of the Shangri-La Sydney since the end of 2014. "There are times when guests are at the bar to celebrate and as a bartender, you are invited to be part of the fun. There are times where guests are so amazed at your work they share photos through social media. I guess the best moments are when you can provide a memorable experience for a guest and later say, 'yeah, I was part of that night.'" The concept behind Art's twist on a Bloody Mary is a tribute to the hotel experience: "different elements from around the world, harmonious under one roof." The theatre of the cocktail's creation is essential to the experience, he says. "The mysterious cloud carrying beautiful aromas of rosemary and cinnamon invites you to try this intriguing concoction."
More Hotel Bars
There are some amazing bars and ace hospitality talents tucked away in our city's finest hotels, so Time Out set out to discover the best hotel bars in Sydney.
Best selling Time Out Offers