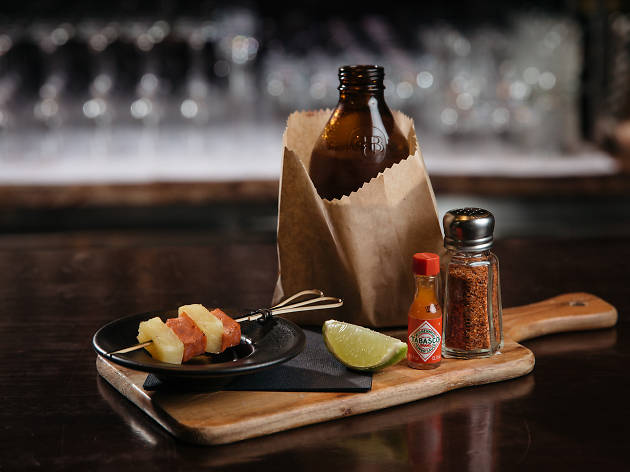 The Squealing Throw Down
By Alex Clark, Gilt Lounge
Ingredients
•50ml chorizo fat-washed Mezcal Amores
•30ml Heinz Big Red tomato soup
•30ml pineapple juice
•15ml lemon juice
•15ml Worcestershire sauce
•½ bar spoon (or tspn) garlic powder
•100ml Mexican beer
•Lime and chilli salt
•Mini Tabasco bottle
Method
Add all ingredients (except the beer) to a shaker with large cubed ice. Using a second shaker throw the cocktail until mixed and chilled. Pour the liquid into a chilled throw down bottle and top with Mexican beer. Wrap the bottle in a brown paper bag and serve on a wooden board with a mini salt shaker of lime and chilli salt and a mini Tabasco bottle.
Meet the Bartender
Drinks, chat, being social and hospitable: "It's in my blood," says Alex Clark, who is eight months into his job behind the bar at Gilt Lounge. "My folks always had people round when I was growing up and I learnt from an early age what it means to look after people and make them feel welcome." Alex has created a meaty twist on the Bloody Mary, using a chorizo fat-washed mezcal, which has been in his recipe book since he was living in London. "Meat washes were the craze there, almost every venue sporting a bacon bourbon," he recalls. "I had experimented with jerky vodka and duck Cognac but nothing comes close to the marriage of chorizo and mezcal: sweet, smoky and rich. This spirit had to be put into a Bloody Mary."
More Hotel Bars
There are some amazing bars and ace hospitality talents tucked away in our city's finest hotels, so Time Out set out to discover the best hotel bars in Sydney.
Best selling Time Out Offers