Tiger Beer Woks of Art
Five Sydney bars are hosting bespoke art painted on woks from Singapore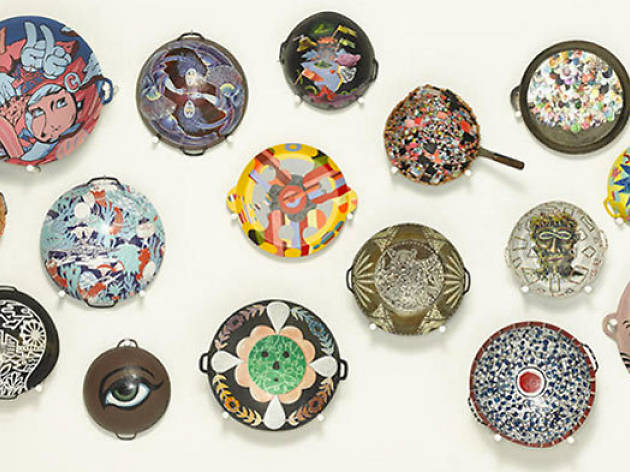 Tiger Beer's Woks of Art is a series of art installations held in five Sydney bars, curated by the Glue Society's James Dive. Dive scoured Singapore's streets and alleys for woks used by food hawkers. From these woks, 20 artists from Sydney and Auckland have created artworks inspired by the the heat, spice and energy of Singapore. The woks aren't all Dive brought back. He's also reclaimed authentic antique shutters, room dividers, crates and tiles to recreate the streets of Singapore in Sydney.
The results of these installations are on show at
Earl's Juke Joint
, the
Royal Albert
, the
Soda Factory
,
Surly's
and the
Village Inn
. A number of special events are taking place at these venues that showcase the flavours of Singapore. With the Woks of Art project, Tiger Beer is hoping to challenge the perception that Singapore is a clinical and strict place.
The artists on show from January 29 to April 3 are Ron Adams, Nicholas J Boyd, Leo Coyte, Thomas C Chung, Luke Day, James Dive, Nik Dolman, Erin Forsythe, Flox, Mark Hetherington, Jumaadi, Jumboist, Josh Lancaster, Louise McRae, Mylyn Nguyen, Silly Pear, Captain Pipe, Pied de Pyper, Kate Rohde, and Trent Whitehead.
These five bar stars are kings of the urban jungle – here are their tips for what's hot on the streets of Sydney.
More to explore