Try the new Absolut Elyx cocktail menu at Henry Deane
Sunset drinks at this luxe rooftop bar have never looked better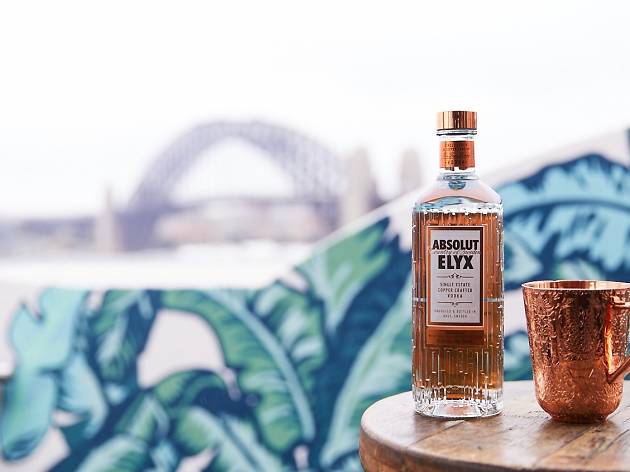 The days are getting longer and warmer, and it's certainly time to take your cocktail adventures to another level. Absolut Elyx is encouraging you do exactly this with some help from the team at Henry Deane, the split-level cocktail lounge at the summit of the Hotel Palisade in Millers Point. The specially curated list is all about delighting your senses, from each drink's striking looks (hello, giant copper flamingo) to its enticing breadth of ingredients and flavours. Like Absolut Elyx – which is made using winter wheat sourced from a single farm in southern Sweden, that is then copper distilled – these drinks are all about discernable tastes and exciting flavours.
The swish cocktails become even more appealing to those on a budget Monday through Friday from 4-6pm for Absolut Elyx Sunsets. Elyx single cocktails are just $15; a sharing cocktail for two is $30, or you can get the gang together and get a shared cocktail for six for $70. Add in delectable snacks, a gorgeous hand-painted banana leaf mural and wonderful views of Sydney Harbour, and you've got a drinks date worth planning ahead for.
Check out the exclusive cocktails below and plan your sunset drinks stat.
Four Absolut Elyx cocktails to try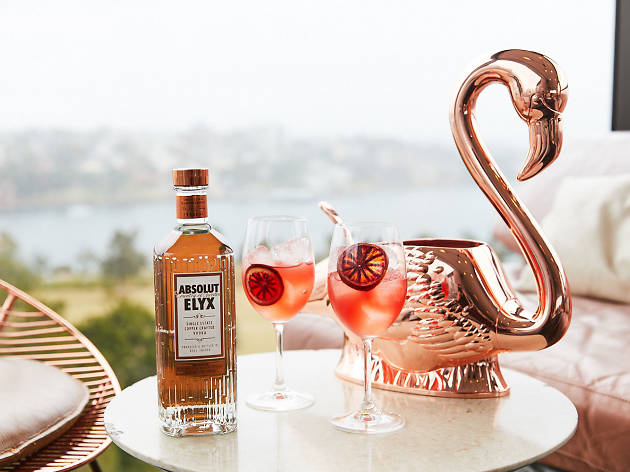 Photograph: Supplied
Round your pals up to go in for this lush shared cocktail. Served in an extravagant copper flamingo, the Sucker Punch comes packed with Absolut Elyx, zesty blood orange, tea, citrus and a hint of cinnamon. It's designed for four to six people, so go all in and order up this luxe, shared tropical treat.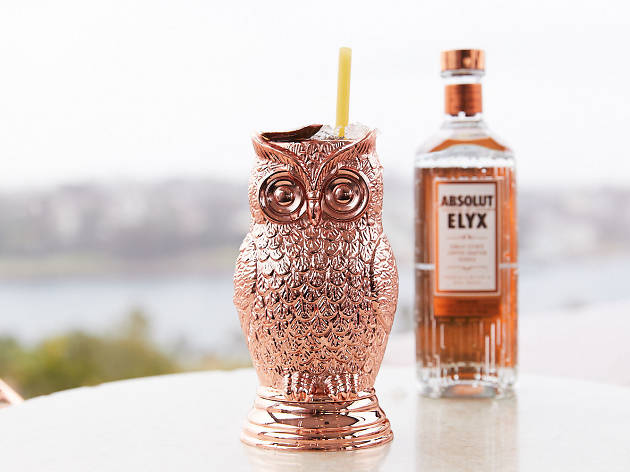 Photograph: Supplied
This hooting good time of a cocktail takes Absolut Elyx plus rum and stirs it down with a secretly formulated tiki juice. Drawing on the flavours of the tropics, this drink may be dubbed the Absolut Nightmare, but is a dream to sip on. Served in a copper owl, this cocktail is a winner for both night owls and party starters.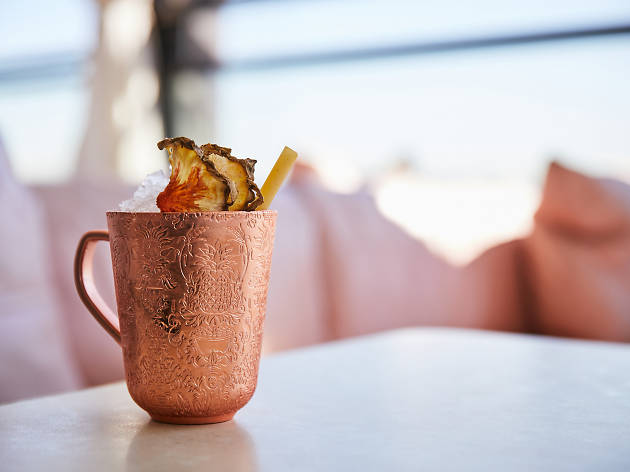 Photograph: Supplied
This chilled red wine mixer packs a punch with Absolut Elyx, red vino, sweet spices and citrus. It comes served in a classic copper mule mug that's perfect for charging a toast.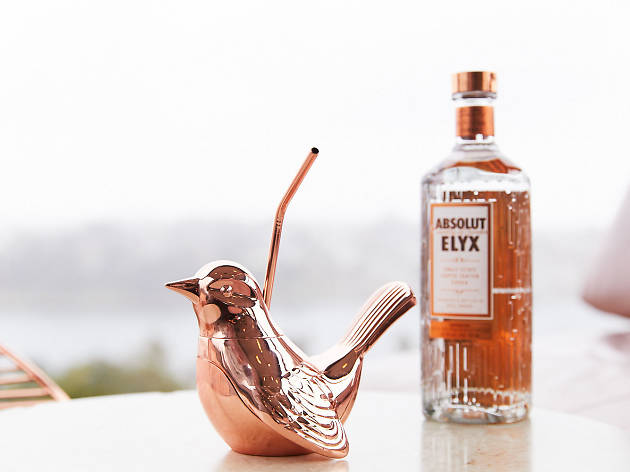 Photograph: Supplied
This sweet yet refined cocktail takes Absolut Elyx and shakes it up with crème anglaise (a vanilla bean-spiked custard), banana and chocolate bitters. The decadent drink comes served in a sweet little copper bluebird, replete with a copper straw.