Try the new Culinary Cocktail Experience at Zeta Bar
Zeta Bar's new cocktail menu has something for every hour of the day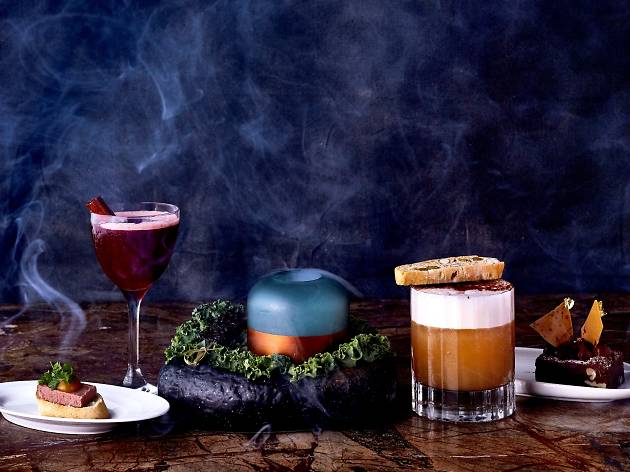 We love cocktails. Heck, we'd have them for breakfast, lunch and dinner if we could. And thanks to the team at Zeta Bar it turns out that we can – sort of.
On level four at Hilton Sydney, Zeta Bar has unveiled a new cocktail menu that has something on it for every meal of the day. Zeta's Bar Manager, Christian Comparone has created a
series of new beverages as part of a Culinary Cocktail Experience. Based on a 'farm-to-glass' philosophy, the new artisanal drinks showcase fresh produce and sophisticated cooking techniques – and taste pretty damn good too.
The Culinary Cocktail menu is divided in much the same way as a regular menu might be: that is brunch, entrée, main and dessert. Zeta lets you order the cocktails individually, or for
a true culinary cocktail experience order from one of the two or three-course set menus.
The movie night two-course cocktail experience teams a Pisco Pop (pisco, popcorn syrup, cola foam and vanilla salt) with a Coconut Grenade (Havana banana rum, orange, coconut cream, orgeat and chocolate bitters), paired with a chilli chocolate pop ice-cream for a night that tastes just like the cinema. Care about the planet? The Plantation two-course experience is a vegan cocktail menu featuring the curry inspired Rama Caliente (jalapeño-infused Tequila sake, Thai basil syrup and coconut curry) and the sweet Pearfection cocktail (cognac, spiced rum and chocolate liqueur served in a fresh pear), paired with puffed rice, nashi pear and toasted hazelnuts.
Ready to take your cocktail game to the next level? Zeta bar's Culinary Cocktail Experience is available now.