First Nations culture is front-and-centre stage at Sydney Opera House over two days in October, as Homeground Festival takes over the area with a program of free music, dance and culture. "Having it outdoors builds our audience," says the festival's curator and head of Indigenous programming, Rhoda Roberts AO. "It also captures that market who have assumptions about what our culture is."
The festival creates a cultural hub outside the iconic building, with a program of performances from New Zealand band Trinity Roots (whose lead singer was a member of Fat Freddy's Drop); North East Arnhem Land band East Journey, who've just released a new version of Yothu Yindi's 'Treaty'; and a national dance competition called Dance Rites, in which performers sing the songlines in the language of their communities.
We sat down with Rhoda Roberts to hear her perspective on five key celebrations of culture at this year's festival.
1. Traditional Maori healers
"This is literally yoga for the mind," says Roberts, who has programmed traditional Maori healers at other festivals in Australia. "It's traditional healing about centring yourself and it's quite confronting. For white people, it's very confronting." The Te Kopere healing group focuses on an oral transmission of knowledge in an intimate experience. "It breaks down that barrier immediately because you're pressing onto someone's spirit and face and that changes your whole perception. Inside the space you don't hear anything else going on outside – it's bizarre." Sat, Sun 2pm, 4pm & 6pm.
2. Amrita Hepi
"She's an incredible choreographer, but she's also very inclusive," says Roberts. "She created the Hollaback program for people who want to get fit and dance, but she's made it from a First Nations perspective." Hepi not only runs dance classes to tracks by Rihanna and Beyoncé but she also performs as a professional dancer. "Often people think that when they attend something that's 'First Nations' it's got to be serious, worthy or in need of respect, but we're having fun with it as well. It's an opportunity for audiences to get involved and we all love to muck around and dance – take your shoes off and get in the sand." Sun 2-2.30pm.
3. Dubmarine
"Even the privileged white male can get a rhythm in this," says Roberts, with a cheeky smile. The Brisbane-based band smashes genres together, from dub to dancehall, drum 'n' bass to pop. "It's an explosive music experience. People don't think of Australia as having world music, but this band is just that, with a mix of men and women, white and black." Dubmarine's music engages audiences from all cultures. "You're dancing beside a young Australian whose parents came on a Vietnamese boat, another whose parents came from the Stan, generations of Australians whose ancestors came on the first boat – and I love that. If you were to capture their audience and take a photo, I'd say that's the face of Australia." Sat 9.15-10.30pm.
4. Clayton Donovan
Australia's only hatted Indigenous chef and presenter of ABC's Wild Kitchen will deliver a food demonstration during Homeground. "Clayton's done wonderful things, he makes great crocodile sashimi," says Roberts. "As a Gumbaynggirr and Bundjalung man, he's taken product like kangaroo – which most Australians still remember used to be given as dog food – and created kangaroo prosciutto. Taking food like that and making into what we regard as excellence, that takes cleverness. He's bringing those Indigenous ingredients and using local produce in surprising ways." Sat 2.30-3pm.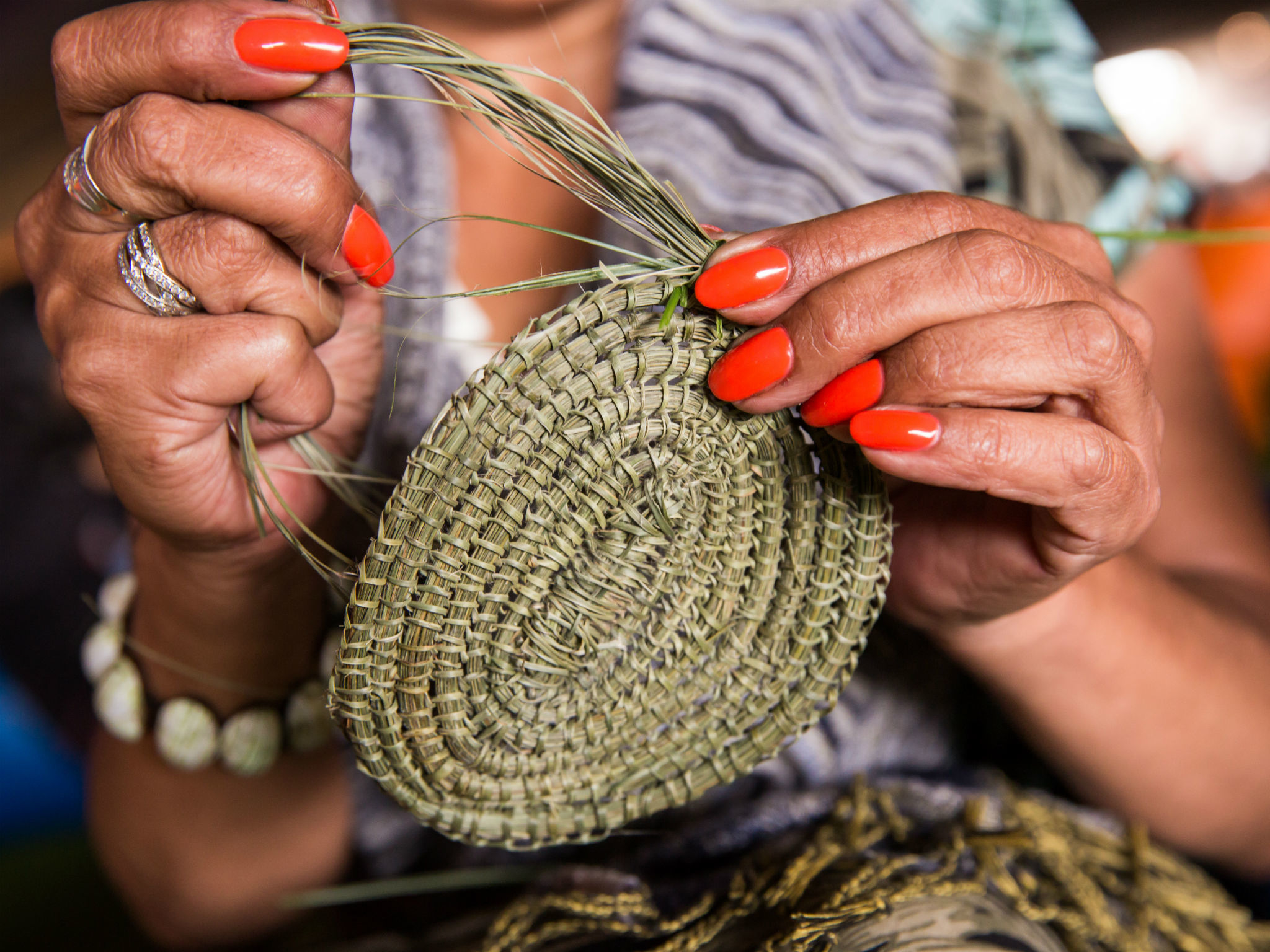 5. Homeground Arts Market
"It's work produced by Aboriginal artists, but there's a standard and an excellence to the art," says Roberts. Stallholders include Kamilaroi woman Kay Lee Williams, who creates wearable art scarves and handcrafted baskets, and Terrence Wright who crafts traditional shields in glass. "We have artists who incorporate old craft in a contemporary sense – not like the shit you'd see in the tourist shops. Each store is selling something different, and everything is authentic." This year, Homeground is working closely with a campaign called 'Fake Arts Harms Culture', which is tackling the problem of fake 'Indigenous' arts and craft being sold in Australia, ultimately harming Aboriginal and Torres Strait Islander cultures and incomes. "It's very controversial, very brave and it's great for audiences to understand where they're getting ripped off, so I'm very excited to have them in our arts market." Sat & Sun 2-7pm.