A wedding bouquet soaring through a blue Australian sky. Toni Collette in a huge, white frock, grinning ear-to-ear. Rachel Griffiths in a curly wig, lip-syncing to ABBA's Waterloo.
Most of us remember Muriel's Wedding in flashes of colour and snatches of song. So it seems fitting that the story is coming to the stage as an all-singing, all-dancing extravaganza. More than 20 years after the film's release in 1994, Muriel's Wedding the Musical is being brought to the stage by Sydney Theatre Company. The girl from Porpoise Spit still loves ABBA, tells porkies and dreams of getting hitched. But some things have changed, so we're asking the team behind the show what it took to create a thoroughly modern Muriel.
Out of the '90s and into the now
The puffed sleeves, side pony-tails and scrunchies of the film might seem a little dated, but there are elements of Muriel's Wedding that feel so relevant today it's tempting to call them prescient. Take Muriel's flexible approach to the truth. She thinks nothing of tweaking the facts of her life into something more glamorous. Facebook was made for people like her (OK, people like pretty much all of us).
PJ Hogan, who wrote and directed the film, has created the book for the stage show, bringing the story into the present time. Where the Muriel of the movie found fame on telly and in the gossip mags (thanks to her marriage of convenience to a swimming star) the musical's Muriel livestreams her honeymoon.
"That was a no-brainer for me," Hogan says. "I felt that Muriel would really love social media. She would love to present a life to the world that wasn't really her life. She'd love that kind of attention. She's always wanted to be famous. These days, not having any talent – which Muriel doesn't – does not get in the way of fame … Muriel, for me, was the first Kim Kardashian."
From the screen to the stage
To the stage show's director, Simon Phillips, Muriel's Wedding felt like a musical even before it was one. "There was something bright and brash about the style," he says.
In bringing the story to the stage, Phillips has tried to balance nostalgia with fresh elements. The iconic moments are there: Muriel's heartbreak when she is rejected by her friends in Porpoise Spit, the excesses of her father and his mistress, and, of course, that line – "You're terrible, Muriel."
But stage and screen make different demands of the storyteller. "There are no close-ups on stage," says Phillips. "In a film, you can show a single shot of someone and let the audience fill in the gaps. In a musical, if you really want an empathetic moment, they're going to have to sing about how they're feeling."
Over the years, Hogan has been approached several times to turn his film into a musical. He resisted because he felt the form was unsuitable for a story with a seam of darkness beneath its shiny surface. He couldn't imagine anyone singing about Muriel's mother's suicide or her best friend's crippling cancer. Seeing dark, funny shows, such as The Book of Mormon, changed his mind. "Musicals have changed somewhat over the years," he says. "Audiences now expect a musical to acknowledge that life outside the theatre can get pretty dark."
Can you hear the drums, Fernando? Actually, no...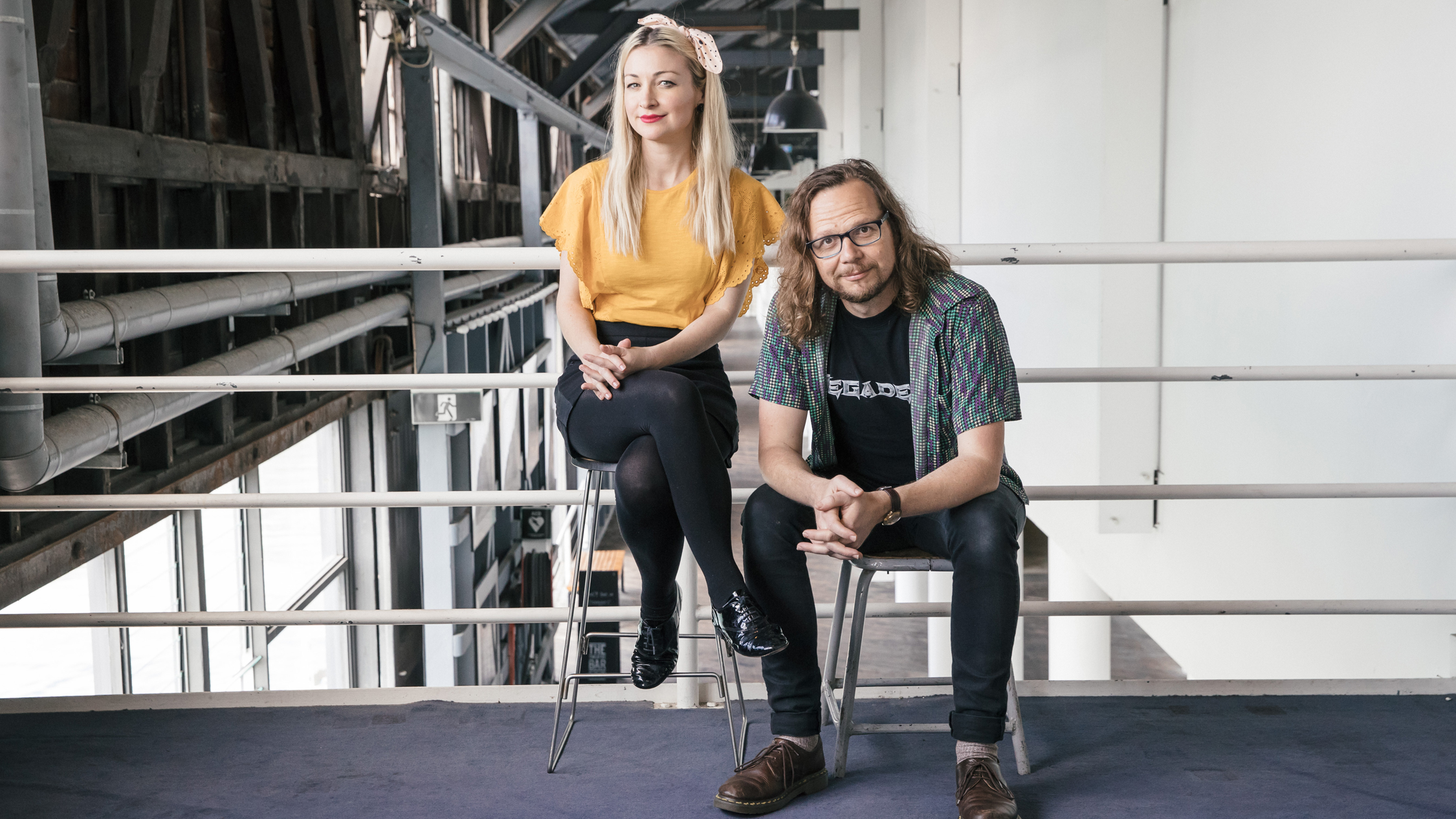 One of the reasons Muriel's Wedding feels like a natural stage show is the ABBA songs sprinkled throughout. So it would make sense if any new songs for the musical borrowed from ABBA's playbook – four-part vocal harmonies, a rock back-beat, a dash of marimba. Right?
Wrong, according to the musical's composers and lyricists, Kate Miller-Heidke and Keir Nuttall, who have created new songs to complement the Andersson-Ulvaeus-Anderson hits Muriel adores. Before starting work on the show, they had assumed they would use elements of the ABBA sound. "But actually, we've stayed as far away from it as possible," says Miller-Heidke. "You can't really improve on ABBA."
The ABBA songs are still there, but they sit alongside a collection of new numbers that draw on contemporary pop. Miller-Heidke and Nuttall tried to imagine what sort of music the characters would listen to, then used that as the basis for their songs; Beyoncé and Taylor Swift for Muriel's mean-girl frenemies, and for her bullying father, Bill, "a Rolling Stones tribute band playing at a casino in Queensland".
"For narrative reasons, the ABBA music has to be contained in its own universe," says Miller-Heidke. "ABBA is Muriel's drug. It's her escape. We wanted to leave it sealed off from the other songs because it has its own special power."
Though Miller-Heidke and Nuttall are best known for the pop music they write together, the married pair have always enjoyed musicals. Early in their relationship they bonded over a shared love of Annie.
Writing for the stage, they say, requires a more disciplined approach than pop. "It has to do with the dramatic flow," says Nuttall. "[Writing for a musical] is more mathematical – more of a puzzle. You need great songs that you can tap your foot to that also drive the story forward."
The girl from Porpoise Spit
Maggie McKenna is 21 years old. That means Muriel's Wedding hit Australian cinemas two years before she was born. Nevertheless, it's been one of her favourite movies since childhood, when she was introduced to it by her grandmother. "I grew up saying, 'You're terrible, Muriel,'" she says. "And I love Toni Collette in everything she does."
All of which makes playing the lead in the musical a bit of a daunting prospect. But, says McKenna, "because this story is set today and my Muriel sings, there is enough that's different that it does feel my own".
Muriel's Wedding the Musical is the Melbourne actress's stage debut. When she first heard about the role, she was living in Los Angeles, attending open-call auditions, supporting herself with admin work and training for a gig as a princess at Disneyland.
"But when I heard about this audition, I felt like it could change my life," she says. "I just had this feeling." Her mother, Kath and Kim's Gina Riley, agreed. "I sent her the audition tape first," says McKenna. "She said, 'I don't usually say this but I feel like this could be the role for you. Go your hardest.'"
McKenna sees herself as an introvert, so Muriel's insecurities feel close to home. "But I think everyone identifies with her," she says. "That's why she's such an iconic character. Everyone feels like an outsider. And, like most of us, she does some terrible things, but she's not a terrible person" – whatever that famous line might say.
Muriel's Wedding the Musical runs until Jan 27 at Roslyn Packer Theatre.
See what else is on Sydney stages in November.