Beth McMullen: Why Am I Still Single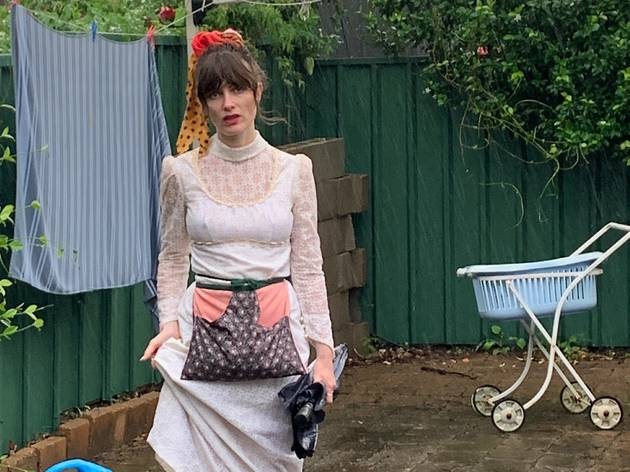 Time Out says
This comedic reclamation of singledom is a performance-art-infused storytelling-cabaret-cum-Ted-Talk
One year and a certain global predicament later, Beth McMullen is still single, and she's as surprised as you. Originally scheduled for the cancelled 2020 Sydney Comedy Festival, McMullen's ode to the uncoupled comes to the Factory Theatre for its third and final incarnation – and as any dodgy ex-partner will tell you, this show has changed and evolved.
Why Am I Still Single is a performance-art-infused, stand-up-style storytelling-cabaret-cum-Ted-Talk – yes, even McMullen thinks it's a lot. We were lucky enough to catch the previous iteration at the Two Queers Festival at the Giant Dwarf in November 2020, a year after it was last performed, and like a well meaning ex-lover, we're on the edge of our seats to find out how this comedian and her show are getting on.
McMullen's stand-up is deceptively clever, stringing together a collection of self-deprecating humour, powerful covers and parodies of pop songs, anecdotes about modern dating, and slideshows featuring crystal dildos into a realised journey of self love and self acceptance.
McMullen teaches us that sometimes, to get past the fuckbois, we must come to terms with the fuckboi within. From wearing a hilariously unflattering peg pouch which her mother sewed for her (she calls a 'gunt') to stripping down for sexy, interpretive performance art, this comedian has range. For all the odd forgotten lines and sometimes confuddling tangents, this show has a charm that carries it. It's a horny and tragic hoot, and we're keen to see how it comes together with all the cobwebs of 2020 shaken off.
The 2021 edition of Why Am I Still Single (Version 3.0: The Finale) is a two-part spectacular on Saturday, May 1 ('The Wedding') and Sunday, May 2 ('The Reception') with special guests including Marissa Saroca, Marcel Blanch-de Wilt, Brendan Hancock and Jacinta Gregory. McMullen promises fun and surprises for anyone who has seen either or both previous versions, as well as the uninitiated.
Tickets are being sold on a 'pay what you feel' basis from $10 to $50, find out more and get yours here.
Details