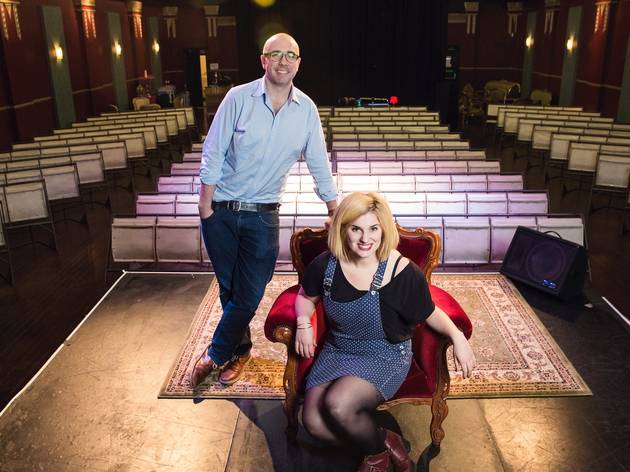 1/7
Photograph: Daniel Boud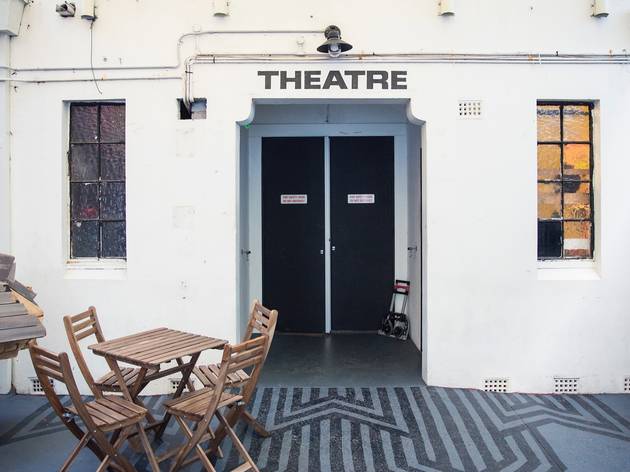 2/7
Photograph: Daniel Boud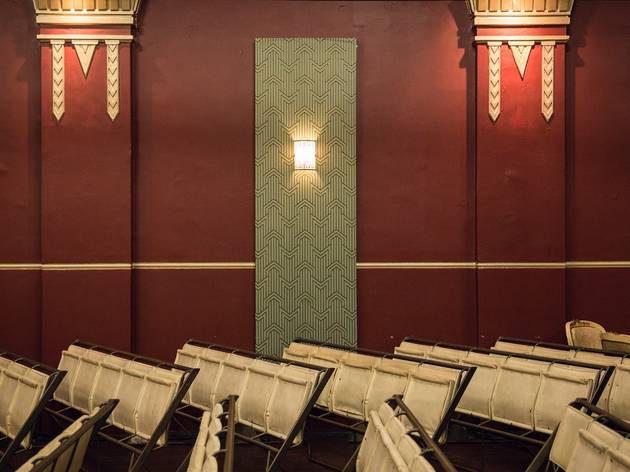 3/7
Photograph: Daniel Boud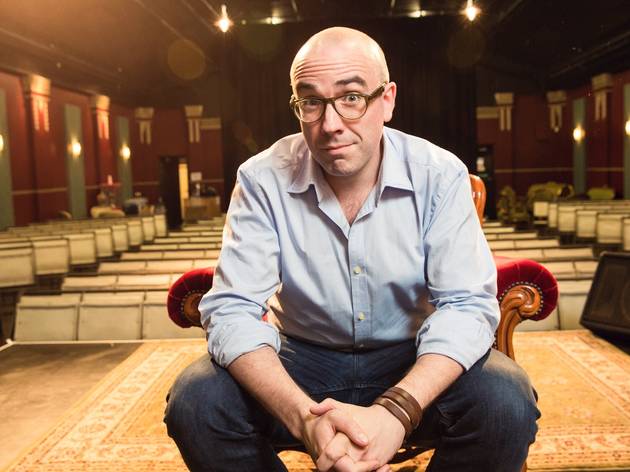 4/7
Photograph: Daniel Boud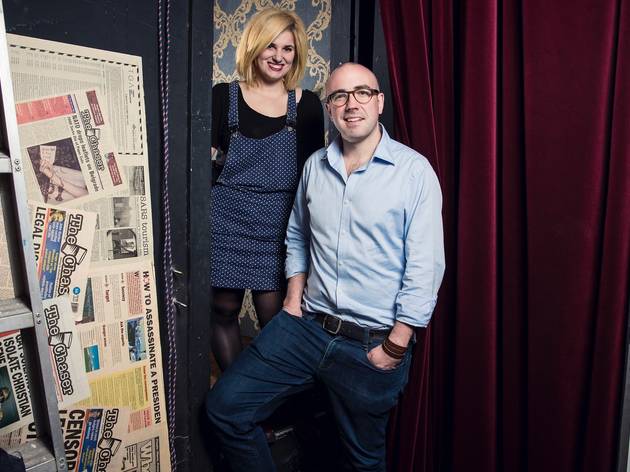 5/7
Photograph: Daniel Boud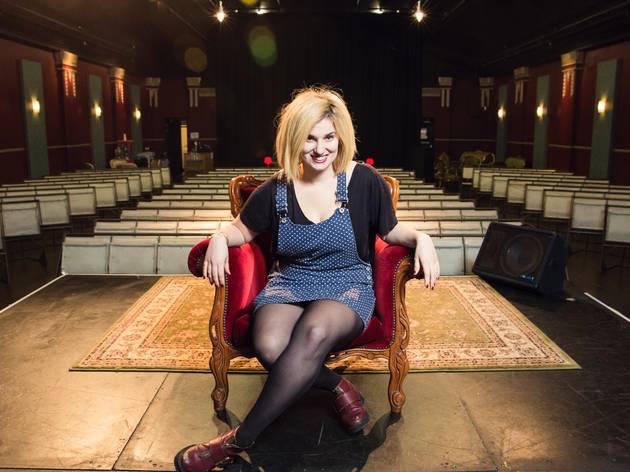 6/7
Photograph: Daniel Boud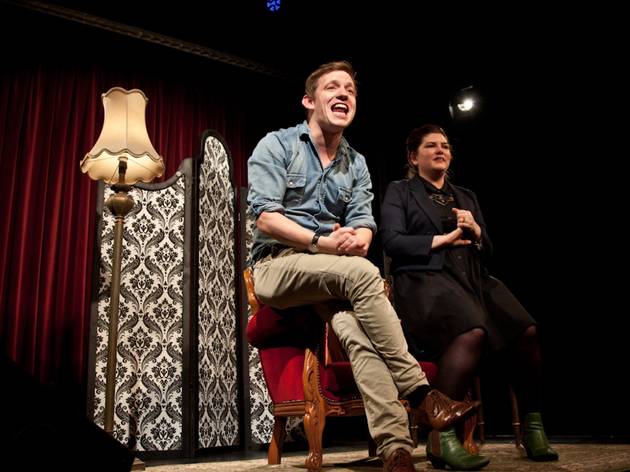 7/7
Photograph: Daniel Boud
The Chaser crew take over the Cleveland Street Theatre
Sydney has too much creative overflow for any venue to go to waste – so it was with some relief that we welcomed this new iteration of the Cleveland Street Theatre, which had been languishing (the odd indie production; irregular training college productions) since Performance Space, residents since 1983, left in 2007.
A privately owned theatre complex, 199 Cleveland Street was leased – quietly – by the Chaser team's Giant Dwarf production company in December 2013. It reopened its doors with little fanfare on February 10 [2014] under the stewardship of The Chaser's Julian Morrow, general manager Nikita Agzarian and bar manager Jessie Gilbert.
The initial impetus for Giant Dwarf (The Chaser's nickname for Andrew Denton) was providing a venue for their Empty Vessel talks series and the Chaser-produced Story Club (Ben Jenkins' and Zoe Norton Lodge's formerly campus-based night). The grander hope was that by creating a home for other like-minded performers, some kind of cross-fertilisation would occur that would be valuable for the creative pool. "We want to be a safe and fun place for them to trial new materials and formats and grow their skills," says Agzarian.
Agzarian, who started working for The Chaser in 2010 as a production assistant, speaks of the difficulty she previously had finding appropriate venues – not just for Story Club but also Dan Ilic's topical comedy panel A Rational Fear and Tom Ballard's Listening Party. "It was so hard to find the right place – either they were in the wrong part of the city and people weren't commuting to them, or they had really bad sight lines, or they weren't big enough…"
The Cleveland Street venue boasts 250 seats – but that's just part of the equation. Events that run there also get promotion and the benefits of Chaser association – for one, big guest names.
Giant Dwarf has not only drawn events like Confession Booth, A Rational Fear, Erotic Fan Fiction and Bear Pack (another formerly campus-based group) into its orbit, but it's now starting to sell out its home-produced shows like Story Club. It has, within six months, become the go-to venue for a certain kind of comedy.
Appearance-wise, the venue has a kind of shabby chic vibe that perhaps belies the amount of hard labour (and cash) that went into the refurb. The basic theme is art deco (with most of the design work done by The Chaser's production designer Sam Asher), with maroon paint and gold accents, and wall-mounted sound-proofing panels cleverly concealed behind Catherine Martin Gatsby-era wallpaper; red velvet curtains; gilt-framed French antique furniture (bought in a one-day Lawsons spree by Craig Reucassel – for a steal); and rows of dirty-white vinyl theatre seats (salvaged from a medical practice in Ipswich, Queensland, via eBay).
If it doesn't look like a comedy club, that's because The Chaser never did stand-up. "Maybe it's inspired by the kind of shows we interacted with when we were doing writers festivals and things like that," Morrow muses.
During the day, the venue often functions as a filming location for The Chaser's TV ventures (and ideally will also become their office space). "We've had a good little run of [TV] shows, and part of the idea behind this venture is 'Let's use that, or invest it,'" says Morrow.
The Chaser have a two year lease on the premises, taking them up to December 2015: "That's the moment at which we have to decide whether we keep going," says Morrow. "The hope is that by that point it will be viable-ish. It's been tremendously fun and feels like a really good thing, so the presumption would be that we want to keep doing it – but in the end it's got to pay for itself."

That said, The Chaser don't have great form when it comes to closing down business they're fond of, Morrow points out: "The Chaser newspaper was meant to be eight editions to test its viability, and if it wasn't viable we'd shut it down. And it wasn't viable after eight editions and so we decided to shut it down. But it took five years to do that."
Venue name:
Giant Dwarf
Contact:
Address:
199 Cleveland St
Redfern
Sydney
2016

Transport:
Nearby stations: Central, Redfern
I'm Not Racist, But…

I'm Not Racist, But… started as an open, interactive conversation about racism in Australia in 2012. Since then, it has morphed into a comedy gig which lets Aussie stand-up comedians, writers and funny folk broach controversial and difficult topics to...

Stand Up

Friday May 31 2019