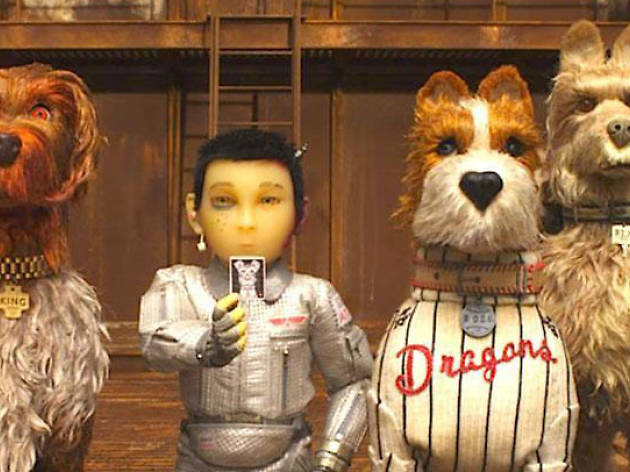 6 Wes Anderson-y things we're looking forward to in Isle of Dogs
For his latest, the writer-director returns to the handcrafted whimsy of Fantastic Mr Fox – but what else can we expect?
Is there another filmmaker on the planet as dependable as Wes Anderson? Knitting a tweedy niche as cosy as a wool cap, he's crafted a signature style so identifiable, it can be parodied (as Saturday Night Live has, affectionately). Anderson's forthcoming Isle of Dogs is almost diabolically constructed from our favorite things: talking animals, adorable Rankin-Bass–style animation and the effortlessly wry intonations of Bill Murray. With our hopes pegged sky-high, here's what we think the movie will deliver.
1. A stream of postcard-perfect images
The rigorous process of stop-motion animation – in which every frame of film is delicately composed and tweaked – is an ideal match for Anderson, a control freak who's essentially been doing this with human beings for his entire career. Every shot will be gorgeous. And to judge from the filmmaker's long-established visual aesthetic, we anticipate lots of symmetry: No director since Stanley Kubrick has mined straight-on tidiness as smartly.
2. Comforting old pros – and a few new players
Anderson is nothing if not loyal, and the vocal cast of Isle of Dogs ought to sound familiar, even if it's hidden under thickly matted fur. Regulars like Jeff Goldblum, Tilda Swinton and Edward Norton return to the fray, while Bill Murray and Scarlett Johansson create a mini–Lost in Translation reunion. Jason Schwartzman seems to be AWOL (he's credited as a co-screenwriter only), but newbies Greta Gerwig and Bryan Cranston more than compensate.
3. A Japanese future but Wes's world
Don't make too much of the fact that, per the trailer, Isle of Dogs is set "20 years in the future" in the fictional city of Megasaki. It's a faraway time and place that, nonetheless, still has room for tube TVs, overhead projectors and propeller planes. Blade Runner it's not. The setting gives Anderson latitude to pay homage to one of his longtime idols, Akira Kurosawa, who himself once made a movie called Stray Dog (nowhere near as cute as this one will be).
4. Justice for canines – finally?
We won't be the first publication to notice that dogs haven't had the easiest time in Wes Anderson's movies: The Royal Tenenbaums and Moonrise Kingdom both turn, climactically, on the death of pooches, while Fantastic Mr Fox casts them as enemies suitable for roofie-ing. Is the director's latest an act of contrition? With names like Rex, King, Duke and Boss, our mangy heroes (self-described as a "pack of scary indestructible alpha dogs") will right a wrong.
5. An eclectic soundtrack for music nerds
As far back as Rushmore and its montage of Max Fischer's extracurriculars set to the Creation's axe-slashing 'Making Time', Anderson has been crafting iconic musical moments. The wellspring of '60s pop continues to feed the director's fantasies: Isle of Dogs features 'I Won't Hurt You', a lesser-known psychedelic lullaby by the short-lived West Coast Pop Art Experimental Band. Score composer Alexander Desplat has already hinted: "It's Mr Fox on acid."
6. Sweet wisdom from unlikely mouths
Anderson's movies have always been beautifully egalitarian: Each one is a universe of grown-up kids and childlike adults. The Grand Budapest Hotel deepened this schism, adding a hint of antifascist politics. Already we're detecting a strong whiff of environmentalism to Isle of Dogs, set on a coastal trash island. Anderson's mid-career maturity is welcome: His scruffy sarcasm should sound especially poignant when it's barked by a pack of outsiders.
Isle of Dogs opens Thu Apr 12.