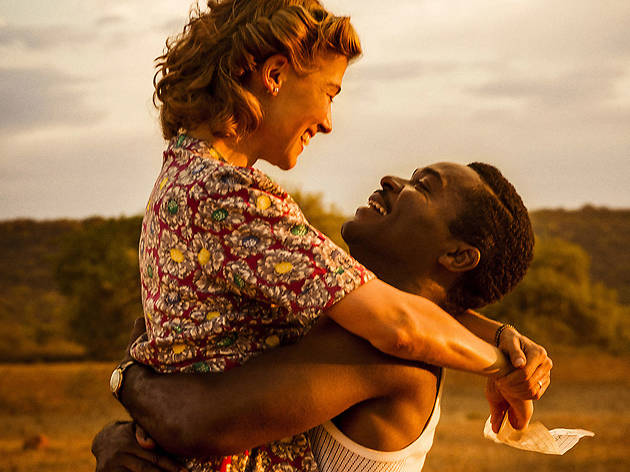 True Brit grit and broad Limey comedy are both on show as the fourth British Film Festival comes to Palace Cinemas
The fourth annual British Film Festival, this year sponsored by BBC First, is a treasure trove of great stars, notable filmmakers and revived film greats. Oh, and just for giggles they're playing a couple of Carry On films too.
Here is Time Out's top ten.
A Monster Calls
Felicity Jones, an Oscar nominee for The Theory of Everything, is white-hot right now having co-starred with Tom Hanks in Inferno and about to star in Rogue One: A Star Wars Story. She's also starring in this adaptation of Patrick Ness's novel about a boy delving into a world of fantasy to deal with his mother's illness.
A United Kingdom
Amma Asante (Belle) directs the true story of Seretse Khama, president of Botswana, whose interracial marriage to an Englishwoman caused international controversy. David Oyelowo (Selma) and Rosamund Pike (Gone Girl) star.
I, Daniel Blake
The second of Ken Loach's films to win the Palme D'Or at Cannes concerns a carpenter who needs support from the State following an accident and encounters only injustice.
The Man Who Fell to Earth
David Bowie lived up to his Starman persona playing an alien who comes to Earth in search of water in a revival of Nicolas Roeg's mystical 1976 film, part of the BFF's Local Heroes classics program.
Sid and Nancy
One of Gary Oldman's earliest movies cast him as the doomed Sex Pistols bass player Sid Vicious, with Chloe Webb as his girlfriend Nancy Spungen. The 1986 film by Alex Cox is incredibly gritty and getting a screening in the BFF.
Tommy's Honour
The debut film by Jason Connery, son of Sean Connery, is about the early days of golf in Scotland and the relationship of its founders, Old Tom Morris and Young Tom Morris. Peter Mullan and Jack Lowden star.
Their Finest
Gemma Arterton and Sam Clafin star in this acclaimed romcom about propaganda filmmakers during the Blitz. Lone Scherfig (An Education) directs, while Bill Nighy steals scenes.
Highlander
A Frenchman (Christophe Lambert) plays a Scotsman. A Scotsman (Sean Connery) plays a Spaniard. And yet Highlander, directed by Australia's Russell Mulcahy, is pure 1980s hyper-style, telling the epic story of immortals locked in a battle across time, and is worthy of a big-screen viewing. Songs by Queen are a bonus.
Trespass Against Us
Michael Fassbender and Brendan Gleeson are the powerhouse duo playing father-and-son crooks in a tense thriller featuring a score by the Chemical Brothers.
Carry on Camping
The English brand of ooh-er, how's-your-father comedy is not everyone's cup of Tetley's and the 31 Carry On films vary wildly in quality. But Camping (1969), with its nudist camp premise, is generally held to be one of the best and features all the regulars: Sid James, Kenneth Williams, Joan Sims and Barbara Windsor.