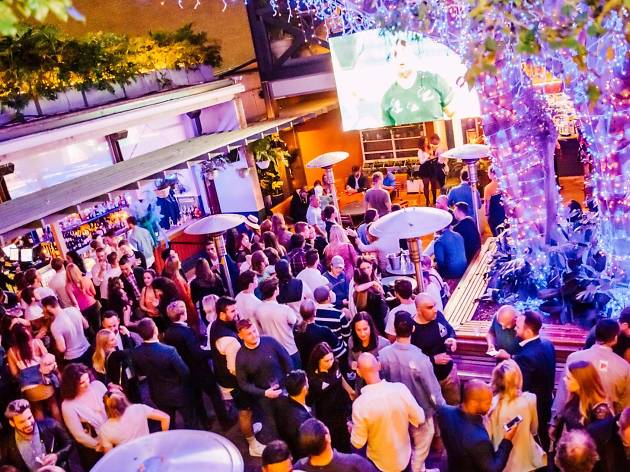 Time Out says
Enjoy spring evenings with masterful movies and delicious gins at the Golden Sheaf Hotel
Spring has sprung, and that means one thing in Sydney: it's time to go alfresco. This is a city that thrives outside, preferably with a refreshing beverage in hand. That classic Sydney combo is exactly what you'll find at the Golden Sheaf's Canvas Cinema, where you can enjoy a great film under the stars, plus a limited-edition gin and tonic on arrival, for just $10.
The Sheaf's upstairs Canopy Bar has been transformed into a pop-up outdoor movie oasis for five weeks, and a limited-edition Bombay Sapphire gin and tonic botanicals menu lets cinemagoers create their own bespoke thirst-quenchers.
A range of flavoured tonics – including an elderflower infusion, a sharp Sicilian lemon and a rich blend of aromatics – can be paired with your choice of fruity, herby or spicy botanicals, for a choose-your-own-adventure spin on the ever-popular G and T. Alternatively, you can sample a selection of gin-based cocktails, including a fresh yet creamy rhubarb and vanilla Gimlet and that classiest of Martinis, the Vesper.
There is also a finger food-style menu on offer, and best of all, your eats can be brought directly to your cinema seat, so you won't miss a moment of your movie.
A culturally eclectic program of films will be screening throughout October, with tickets priced at just $10, which includes your choice of limited-edition G and T. Proceedings kick off on October 3, with the 2002 biographical drama Frida, starring Salma Hayek in an Oscar-nominated portrayal of Mexican surrealist artist Frida Kahlo. The following week on October 10, we head to Tokyo with Bill Murray and Scarlett Johansson for Sofia Coppola's Oscar-winning Lost in Translation. On October 24, comedy-drama Almost Famous gets groovy in 1973 with Kate Hudson, before a visit to the Big Apple on October 31, in the intimate 2010 documentary exploring the world of a revered fashion photographer, Bill Cunningham: New York.
Details