David Stratton's the 2nd Great Britain Retro Film Festival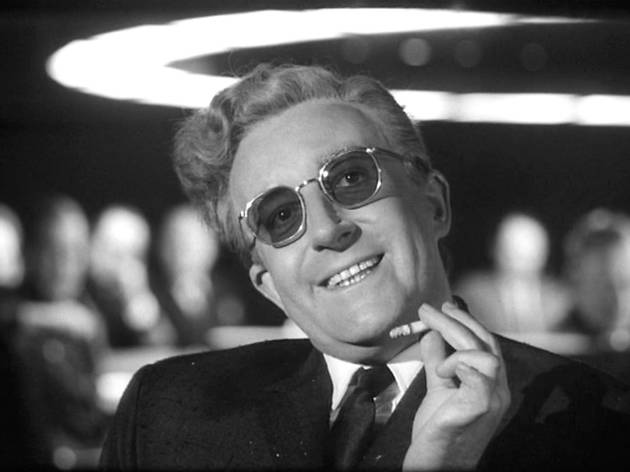 The beloved film critic presents a fresh round of great films from the UK, back on the big screen
The British-born critic, festival director and film expert David Stratton is presenting a new season of UK cinema classics at the Orpheum. Sixteen films will screen, along with two of last year's most popular films that are returning for encores.
Great British filmmakers David Lean, Carol Reed, Alexander Mackendrick and Powell & Pressburger are represented in the season, and there are also UK-made pictures by Americans George Cukor and Stanley Kubrick.

If you buy a pass of ten you can save up to $5 on every ticket.

Here is the full program of films:
Blithe Spirit (1945)
David Lean directs this supernatural comedy based on Noel Coward's 1941 play, starring Key Hammond and Margaret Rutherford.
Odd Man Out (1947)
Carol Reed's film noir is based on the novel by FL Green and stars James Mason as a fugitive Northern Ireland insurgent who has started to question the use of violence.
Our Man in Havana (1959)
Based on the Graham Greene novel, Carol Reed's espionage comedy set in Cuba stars Alec Guinness, Burl Ives and Maureen O'Hara.
The Life and Death of Colonel Blimp (1943) TIME OUT PICK!
One of the best films ever made on the politics and psychology of war, this epic follows an idealistic soldier (Roger Livesey) through the Boer War, World War I and World War II, his friendship with a German officer (Anton Walbrook) and his romances with various women, all played by Deborah Kerr.
A Matter of Life and Death (1946)
A WWII pilot (David Niven) runs out of fuel over the English Channel but survives due to a celestial error. Made by the writing-directing-producing team Michael Powell and Emeric Pressburger, it uses effects like the Technicolor Dye-Monochrome and Three-Strip Technicolor to distinguish the difference between Earth and the Other World.
A Passage to India (1984)
Lean's final film is an adaptation of the 1924 EM Forster novel that stars Peggy Ashcroft, Judy Davis, Victor Banerjee and James Fox among others. It's a sweeping and intimate portrayal of UK-Indian relations during the Raj and received 11 Academy Award nominations.
Dr Strangelove or How I Learned to Stop Worrying and Love the Bomb (1964) TIME OUT PICK!
US directing great Stanley Kubrick moved to England in the 1960s, where he shot his immortal black comedy about nuclear madness, which stars Peter Sellers in three different roles.
Mrs Brown (1997)
Judi Dench plays Queen Victoria in this film exploring her friendship with her Scottish servant John Brown (Billy Connolly), directed by John Madden (Shakespeare in Love).
Hobson's Choice (1954) TIME OUT PICK!
Winner of the British Academy Film festival award for best film in 1954, this is a superb romantic comedy about the ballsy eldest daughter (Brenda De Banzier) of an alcoholic 19th century shoe shop owner (Charles Laughton) who takes her destiny into her own hands.
The Ladykillers (1955)
Black comedy The Ladykillers involves a gang of criminals who rent rooms from a dotty old dear in order to rob a security van of its cash. Alec Guinness stars as criminal mastermind 'Professor' Marcus and his gang includes Peter Sellers, Herbert Lom and Jack Warner.
The Lavender Hill Mob (1951)
Alec Guinness stars in another heist comedy, from A Fish Called Wanda director Charles Crichton. The film won the Academy Award for Best Writing, Story and Screenplay, in 1951.
Whiskey Galore! (1949)
Based on the novel by Compton MacKenzie, Alexander Mackendrick's film stars Basil Radford, Bruce Seton, Joan Greenwood and Gordon Jackson. The inhabitants of an isolated Scottish Island are delighted when a freighter containing 50,000 cases of whiskey is sunk nearby.
The Man in the White Suit (1951)
The film follows the Ealing Studios theme of the common man against the establishment and concerns a research chemist (Alec Guinness) who invents an everlasting fibre whose invention is suppressed by wealthy mill owners.
The Prime of Miss Jean Brodie
Downton Abbey fans will enjoy seeing Maggie Smith in her, well, prime in this 1969 comedic drama about an unconventional schoolteacher who impact upon her students in positive and negative ways. Smith won an Oscar for the film, based on the novel by Muriel Spark.
Chariots of Fire
This 1981 British historical drama stars Ben Cross and Ian Charleson star as athletes competing in the 1924 Olympics who must overcome prejudices. It was the surprise winner of the Best Picture Oscar in 1982.
Travels with my Aunt
Smith plays a woman twice her age in the George Cukor-directed 1972 comedy based on Graham Greene's novel. A bank manager (Alec McCowen) meets his aunt at his mother's funeral and goes on a madcap adventure.
Encore! The Third Man (1949) TIME OUT PICK!
Screening again this yeat is this movie masterpiece set in postwar Vienna. An American writer (Joseph Cotton) arrives in postwar Vienna and is embroiled in a mystery over his friend's death and black market penicillin. Orson Welles' shadowy villain Harry Lime dominates this movie, despite a short amount of screen time.
Encore! Lawrence of Arabia (1962)
The story of TE Lawrence, who united the Arabian tribes during World War I and led several daring attacks, is the subject of this extraordinary epic movie from David Lean. Peter O'Toole became a star in the title role and the film swept the 1963 Academy Awards.