Human Rights Arts and Film Festival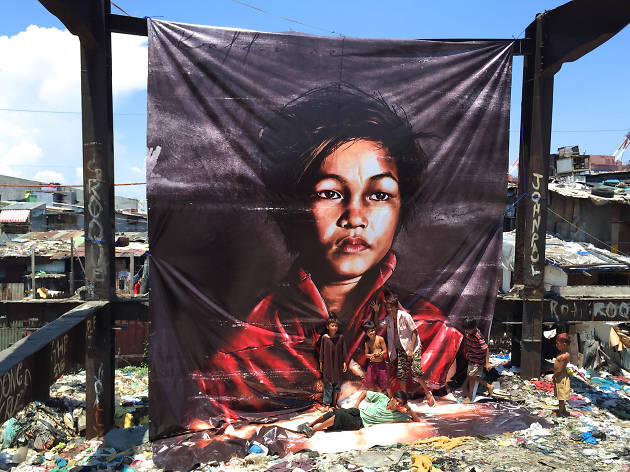 Films that aim to open your eyes and change your mind screen this May
After a two-week program in its home base of Melbourne, the Human Rights Arts and Film Festival will embark on a national tour that includes a stopover in Sydney. Over five days, the Dendy Newtown will screen documentary shorts and films that touch on activism, human rights and social change.
Opening night's film promises to be a highly publicised and controversial documentary. Highlights from the program already anounced include the world premiere of Happyland by director Marti Salva. It's set in Manila's slum communities of Baseco and Happyland (from a local word 'hapilan' for dumpsite) where most residents live in makeshift homes built with scavenged waste. In 2016, street artists Cheeseagle and Kaff-eine decided to change this with an art installation and housing project. They raised money and installed thirty large art tarpaulins, featuring Kaff-eine's portraits of local residents.
Raving Iran spotlights the music of Iranian DJ's Blade & Bear whose music is deemed illegal in their country. Susanne Regina Meurs followed the DJs for a year, during a crucial phase in their lives.
From the Netherlands comes Radio Kobanî. When liberation came to the Syrian border town of Kobanî, 20-year-old Kurdish reporter Dilovan started a radio station. She and her friend Biter report on refugee camps, talk to survivors and interview fighters and musicians.
Filmed over ten years, Australian feature documentary Constance on the Edge by director Belinda Mason is a portrayal of one refugee family's resettlement story in Australia. This session will be followed by a post-film Q&A with the producer Marguerite Grey.
Winner of the Golden Bear for Best Film at the Berlin Film Festival (2016), Hear My Eyes: Fire at Sea is Gianfranco Rosi's incisive, poignant and deeply moving portrait of the Mediterranean island of Lampedusa - and the humanitarian crisis occurring in the seas around it. This session is a special event and will feature a live rescore by Evelyn Ida Morris (Pikelet) and a group of specifically chosen musicians who will provide a completely original score to accompany the film using a variety of rare instruments from Ethiopia and the middle-east.
Winner of the Grand Jury Prize Best Documentary Feature at Tribeca Film Festival (2016), director Craig Atkinson's Do Not Resist is a shocking exposé that crosses the United States to reveal the heavily militarised face of policing and the insidious racism that lies just below the surface.