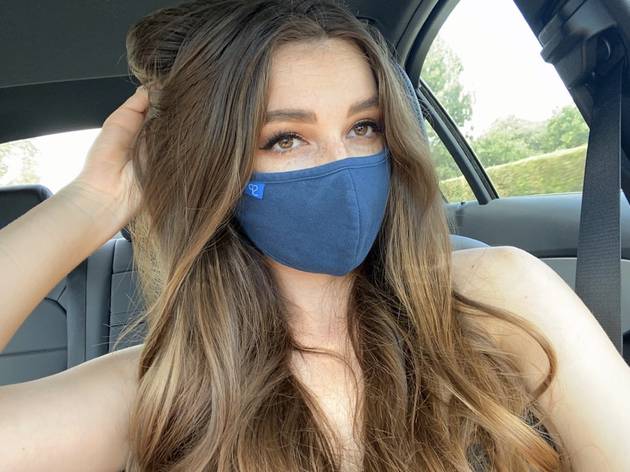 Buy one of these reusable face masks this spring
They're affordable, elegant and for every online purchase SParms will donate a mask to charity
Everyone in the world is in the market for a good quality mask right now. You've most likely found yourself in the recesses of the internet looking for a mask that will offer proper coverage, won't break the bank and won't make you look like your aunty pulled it out of a glittery bargain bin at Lincraft. Well, look no further, Gold Coast-based sun protection apparel company SParms have got you (quite literally) covered. The company pivoted quicksmart to making masks in April and have been plying the public with their chic and affordable creations ever since.
SParms face masks have been designed with an athletic and active wearer in mind. Using a 3D contoured design for comfort and a choice of fabric ideally suited to breathability make these masks a great choice for those on-the-go or required to wear one for long periods of time. Each face mask contains a copper or nano-silver infused inner layer and there are three varieties to choose from. In terms of wearability and comfort you know you're in good hands when SParms products are the number one choice of celebrity golf stars around the world.
The SParms mask material (particularly on the V2 and V3 models) is also ideal for the warmer months. As the mercury rises this spring, you're going to want to make sure your face mask is made of breathable fabric so it doesnt get steamy and uncomfortable as you carry out your day. The SParms V2 and V3 face masks have been designed with warmer climates in mind with coolness and comfort of utmost importance, without compromising the mask quality.
If you purchase one of SParms fab masks online in September they will donate a mask to charity. The company have already made over $75,000 in face mask donations since they launched and have been collaborating with a number of LPGA tour players in a global mask share campaign. In Australia, you can purchase a mask and one will go to one of these local charities and if you choose to make a donation SParms will also match it.