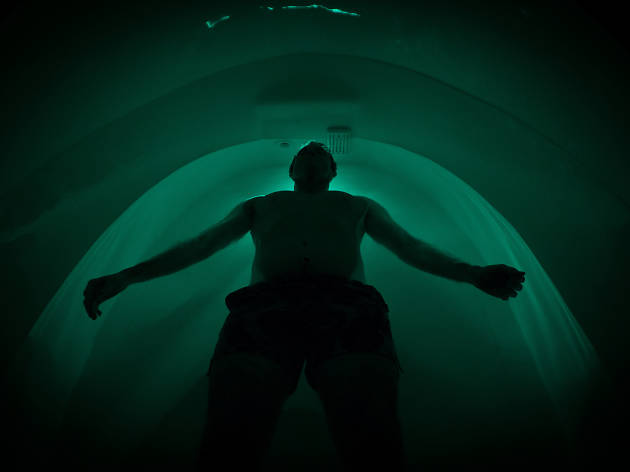 Time Out says
This alternative therapy session will leave you floating on air
Spending more than an hour half-submerged in lukewarm water inside something that looks like a space-age cryogenic freezer might sound a little off-putting, but it's one of the most relaxing things you'll do this side of a tropical cruise. At Flow Revive in Paddington, you can escape the buzzing bright lights of the city inside a flotation therapy tank and melt away your worries.
When Time Out visited, we set aside our minor claustrophobia and plunged into the water. Often referred to as sensory deprivation tanks, these lightless, soundproof pods are filled with about two feet of body-temperature water and 350kg of epsom salts. This gives it Dead Sea-level buoyancy and somehow makes it feel as if you're floating beyond the confines of the water. It also means you won't want to get the water in any cuts or your eyes, so use the handy fresh-water spray bottle in the tank to stave off stings.
We were skeptical at first about all the touted benefits – glowing hair and skin, achieving meditation, stress reduction, pain relief and joint injury rehabilitation – but after clambering out of the capsule we had a complete perspective overhaul. The post-float feeling is a little dizzying, but leaves you calm and every limb or sore muscle completely relaxed.
At Flow Revive they recommend a 75-minute float, which seems like overkill, but will pass in a blissful flash once you acclimatise to a screen-free environment and break through the 20-minute wall. All too quick, you're called to rise from your womb-like state with gentle music, and basically levitate towards the shower in your private room. You'll want to ascend the stairs to the street-level entry slowly to maintain that ethereal feeling for as long as possible, before you're shocked back into reality by the busy traffic on Oxford Street.
It's suitable for everyone from athletes to office workers looking for a restorative mind and body therapy session. With six private flotation rooms available, it could also make for a liberating group activity. The experience costs $65, and while you're there, you can book a 45-minute session in the infrared sauna (that's right, no hot rocks or steam) for $45, or 30 minutes of compression therapy for $30 that helps with post-exercise or injury recovery.
Details
Address:
50
Oxford Street
Paddington
Sydney
2021

Contact:
Opening hours:
Mon-Wed 2-9pm; Thu, Fri 10am-9pm; Sat 8am-9pm; Sun 10am-9pm