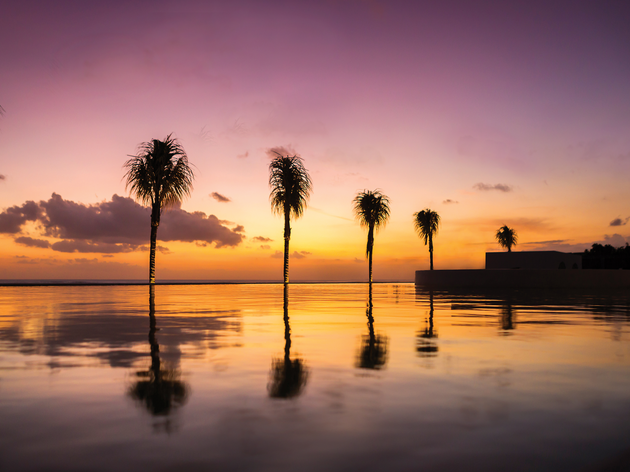 Café del Mar is bringing Ibiza to Bali with a sprawling new beach club
Plan your next trip to Bali in time for the opening of Café del Mar Bali beach front club
Part Bali, part Ibiza and all luxury, Café del Mar Bali is the only reason you need to book your next holiday.
Café del Mar is opening up its luxe new location in Canggu, Bali this September. This two-level club by the beach features ocean views, cocktail bars (including a lush swim-up bar), a world-class AV set-up primed for outdoor concerts, VIP cabanas, and a restaurant. Oh, and did we mention the 700 square metre infinity pool? Swim through crystal clear waters that melt into the sky, while you soak up the Bali sunset and sip cocktails under the tropical sun.
Speaking of announcements, the restaurant's food promises to be a blend of the Mediterranean flavours Café del Mar is known for with delicious nods to local Indonesian cuisine under the direction of its just announced executive chef team. Lead by Australian Justin Dingle-Garciyya in the executive chef top spot, the team will be serving up his signature simple food with bombastic flavours.
Café del Mar is the crew responsible for 15 luxe locations around the world and a chill house music label. The latest iteration in Bali promises to bring you the perfect blend of Café del Mar's Ibizan vibe and local culture, playing on Bali's growing music scene. Café del Mar's newly appointed musical director Rodd Richards will bring his expertise from over twenty years in the biz (including working with heavyweights like Boy George, Basement Jaxx, and Chicane) and ensure that the venue regularly stages some of the world's best artists.
Café del Mar Bali is due to open its doors in September, and will celebrate the launch of this sprawling Canggu venue witha handful of massive music events in 2019 and an epic three-day music festival next year.
Head to the Café del Mar website for a sneak peek of the new location.