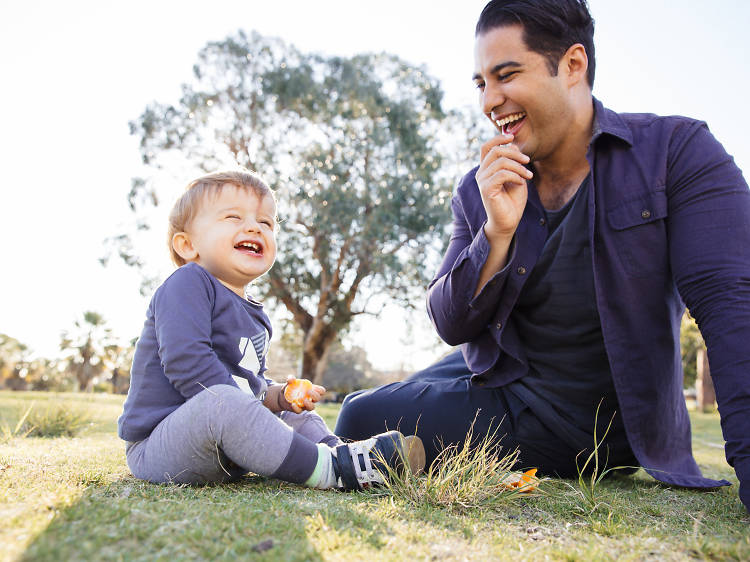 Daniel Boud
Marc Fennell, 30, and Max, 16 months
"The thing I wish someone told us before my son was born was this: 'You Are Not in Control. Make Your Peace with It'," says the TV and radio presenter.
"My wife and I are used to having some control over our lives. When a small human comes along they reset everything. They don't care that you're tired and have to prep an interview or write a chapter, they do what their body tells them."
In the time since Max was born, Fennell has maintained 4.5 jobs: a nightly, live TV show The Feed and cult movies for SBS; weekly radio program Download This Show for ABC RN; and he's written a new book, The Planet According to Movies; and filed weekly movie reviews for Triple J.
"I basically try to pack it into Monday to Thursday so I can give Madeleine a proper break Friday to Saturday. Madeleine produces breakfast radio (hello, 4am starts!) and the other days she has a running, yelling, mandarin-obsessed one year old to contend with. So yeah, we're both tired a lot."
One thing Max has taught him is to stop multitasking. "Whether he's waking up in the night or screaming for more pushes on the swings – I find my anxiety level drops if I leave everything that needs to get done to one side and focus on him. His presence forces me to do one thing at a time. Which is kinda good for me.
"Parenting a baby is such a stressful, disempowering time. Everyone has to find their own way and try not to judge people that do it differently. Except for people that put their kids in Baby Crocs. That shit is abuse if you ask me."