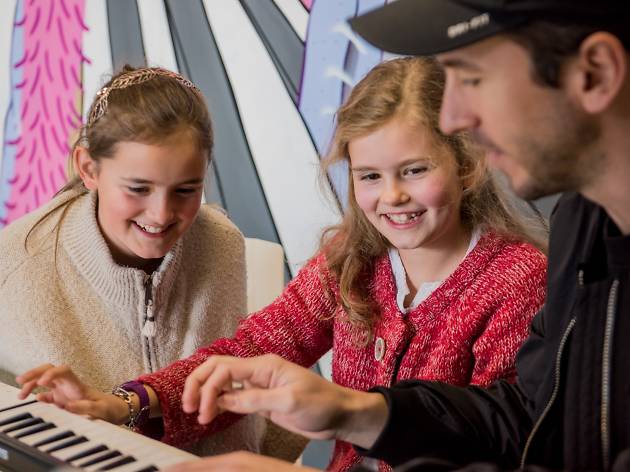 Time Out says
Unleash your kid's creative streak with these free, expert-led workshops exploring music, art and self-expression.
Whether your kids enjoy painting, making music, performing or simply trying new things, they're going to love the workshops coming to Darling Quarter these school holidays.
A range of artistic activities are on offer as part of the Little Creators Project, an initiative providing kids with the opportunity to get involved with the arts and express themselves in original ways. Running from October 2-7, each workshop lasts an hour and children of all ages are welcome to participate.
Noted First Nations artists (and siblings) David and Noni Gragg will guide your little culture vultures through hands-on art workshops. Kids can experiment with different materials such as acrylics, watercolours and paint pens to create artworks inspired by native flora and fauna. All art materials are provided.
The introduction to music production workshop will see the young participants unleashing their inner-popstars under the guidance of the Heaps Decent team, who work with young, up-and-coming artists from diverse communities. Your mini-maestros will have the chance to try their hand at songwriting, singing, rapping and playing a range of electronic instruments.
Mimi and Laura from The Beanies – a children's performing group who have received recognition for their educational podcasts – will bring the written word to life. Children will be encouraged to join in with an interactive performance designed to encourage storytelling skills and self-expression through improvisation.
Every workshop is free and no pre-booking is required, however places are limited so it is advised you arrive early to secure your spot. There are two workshops a day – at 11.30am and 1pm – and if your little ones are feeling especially creative, they're welcome to attend both.
Details